DeWitte calls for full repeal of SAFE-T Act, launches petition
As more and more detrimental effects of the SAFE-T come to light, I can't walk down the street anymore without being stopped by someone who asks how the SAFE-T Act can be stopped.
Constituents are particularly worried about criminal offenses that will, as of January 1, be considered 'non-detainable.' People have legitimate concerns, and we need to pump the breaks on implementation so the long list of unintended consequences tied to the Act can be addressed.
On Thursday, launched a "Repeal the SAFE-T ACT" petition so Illinois residents can weigh in officially on this new law. According to state's attorneys across the state, the Act will make it extremely difficult for them to hold violent criminals pre-trial, including crimes as serious as murder if the accused person no longer poses a significant threat to a specific, identifiable person. General risk is no longer good enough, and that heightened standard will cause some very dangerous individuals to be released within hours of their arrest.
Those same state's attorneys have said offenses like second-degree murder, arson, aggravated battery, kidnapping, burglary, robbery, intimidation, aggravated DUI, aggravating fleeing & eluding, drug offenses, threatening a public official, and drug-induced homicide could no longer meet the standard for pre-trial detention.
In a recent emergency responders roundtable discussion with DeKalb, Kane, and McHenry County law enforcement officials, Kane County Chief Judge Clint Hull said about 130 current detainees in Kane County will be released at the end of the year because the offenses for which they are currently being held will become "non-detainable.
Kane County officials have also expressed concern over the cost of implementing the provisions of the SAFE-T Act and have requested several additional staff members to review body camera footage on prescribed timelines, additional prosecutors and public defenders, court reporters and bailiffs to meet mandates within the bill. The County is also building two new courtrooms because of the Act.
In their rush to pass their bill during the waning hours of the 101st General Assembly, the SAFE-T Act includes timelines for initial court hearings that do not account for weekends or holidays. In order to be in compliance with the Act as written, court hearings will need to be held seven days a week, 365 days a year. This is just one of many sloppy errors within the legislation that need to be cleaned up. Trailer bill after trailer bill is not the answer. We need to repeal the Act and rewrite it so we can preserve the beneficial elements, like the use of body cameras, and eliminate portions that are not in the best interests of Illinois residents and crime victims.
If you agree that public safety must be paramount in any criminal justice reform legislation, please sign my petition to halt implementation of the SAFE-T Act.
After a successful Senior Fair in Dundee Twp, DeWitte to host second Fair in Crystal Lake
More than 100 seniors attended a Senior Fair I hosted last week with Senate Minority Leader Dan McConchie. I enjoyed talking with most of the attendees and with the individuals staffing over 35 booths that represented agencies and organizations that assist seniors.
I'm co-hosting another Senior Fair this week on Friday, September 16. Senator Craig Wilcox (R-McHenry) and I are bringing together close to 50 vendors for an event that will be held from 9:00-11:00 a.m. at McHenry County College. The college is located at 8900 U.S. Route 14 in Crystal Lake, and attendees should enter the campus from the Route 14 entrance and park in Lot D. People should enter through the main doors for Building B.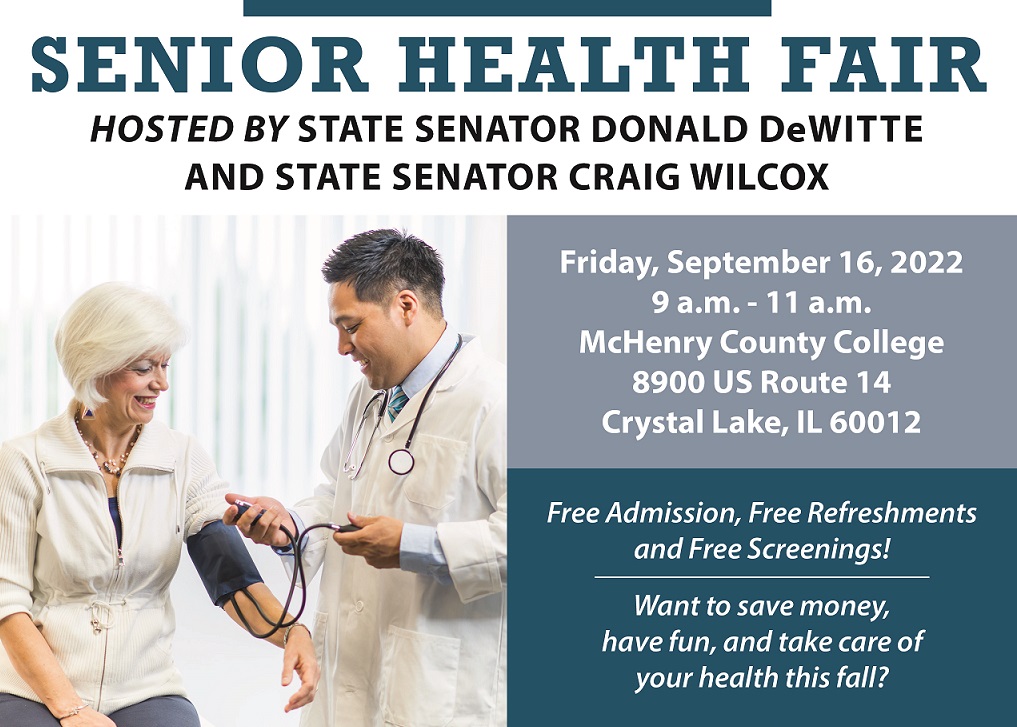 Flu shots and free health screenings will be available, and those who attend can learn about alternative ways to lead a happier and healthier lifestyle. Admission is free and refreshments will be served.
Participants include (the list may change as additional vendors are added): Algonquin Township, Amedisys Home Health, Cedarhurst of Woodstock, Citizens Utility Board, ComEd, Comfort Keepers, Crystal Lake Park District, Crystal Lake Public Library, Cycle without Age of McHenry County, Encompass Health Rehab, Fair Oaks Healthcare Center, Greater Family Health, Humana Market Point, IL Attorney General, IL Department of Aging- Office of State Long Term Care Ombudsman, IL Department of Veterans Affairs, IL Secretary of State, IL Treasurer, IL Comptroller, Independence Health & Therapy, James A Lovell Federal Health Care Center, Village of Lake in the Hills, McHenry County Sheriff, McHenry Public Library, PACE Bus Service, Paxxon Healthcare, Prairie State Legal, Residences of Lake in the Hills, Senior Care Volunteer Network, Senior Lifestyle Solutions, Senior Services Associates/McHenry Township Senior Center in Johnsburg, SOAR of Dorr Township, The Heathers, The Pointe at Eastgate, Transitions Hospice, United Insurance Services, Veterans Assistance Commission of McHenry, Pathways to Hope, Senior Club of Lake in the Hills, Visiting Angels, Walgreens, Woodstock Public Library, Harvard Community Senior Center, Ardenrose, and Valley Hi Nursing Home.
Masks will be available but not required, and hand sanitizer will also be available at the event. For more information, please contact Hannah at hseaver@sgop.ilga.gov.
Lack of reform continues to plague downstate state-run mental health and developmental center
Widespread abuse and neglect have been plaguing a southern Illinois state-run mental health and developmental center for years. A series of recent investigative news pieces, highlighting these systemic issues, found that little has been done to reform the facility.
The Choate Mental Health and Developmental Center in Anna, Illinois, a 270-bed facility serving people with intellectual and developmental disabilities and mental illnesses, has had at least 26 employees arrested on felony charges over the last ten years. And since 2019, more than a dozen have had charges filed against them, including three administrators.
The arrests and charges stem from a range of mistreatment and accusations of whipping, choking, punching, and sexually assaulting residents. Most recently in 2022, an employee was charged for allegedly grabbing a nonverbal patient with the mental capacity of a 15-month-old by the neck and punching him in the back of the head. This case is still pending.
After years of accusations, charges, and arrests, the Illinois Department of Human Services, which is charged with overseeing the facility, failed to seriously address the poor conditions. It wasn't until just a few months ago that a plan was unveiled to begin taking steps to reform the facility. Yet, many of those reforms have yet to be implemented. 
Another child on DCFS radar dies 
According to a CBS 2 report, another child on the radar of the troubled Illinois Department of Children and Family Services (DCFS) has died. This brings the number of child deaths under DCFS's watch to ten this year. This latest death was a 12-year-old boy. 
The news comes on the heels of several other shocking and disturbing trends at the embattled agency, including the deaths of two of its employees, widespread wellness check failures, and a dozen court orders of contempt against DCFS Director Marc Smith for failing to properly place youth in care.
Despite these staggering failures, Governor Pritzker says he has complete confidence in Director Smith and has refused to remove him from the position. 
Illinois Recreational Marijuana Sales Still Growing 
Sales of adult-use, recreational cannabis grew at a much faster clip this calendar year. According to data from the Illinois Department of Financial and Profession Regulations, statewide sales reached the $1 billion mark in August of 2022, with $129 million during that month alone. In 2021, total sales didn't cross the billion-dollar threshold until October. Since dispensaries first opened in 2020, sales have topped $3 billion. 
During the previous fiscal year, which ran from July 1, 2021, to June 30, 2022, total sales hit approximately $1.5 billion, generating nearly $450 million in tax revenue for the state. Local municipalities received $146.2 million of the revenue during the same period. Twenty-five percent of the tax revenue is required to be invested in supporting economically distressed communities that have been disproportionately impacted by drug criminalization.
Despite the growth in revenue, there has still been significant controversy from many business owners over the Pritzker Administration's rollout of so-called "social equity" licenses. Several businesses, industry organizations, and minority advocates held a press conference during the week saying that the program is plagued by red tape that is keeping new businesses from opening. You can find out more on the controversy here.