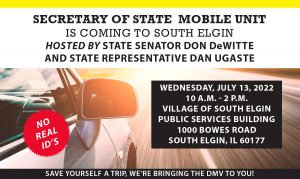 On Wednesday, July 13, State Senator Don DeWitte (R-St. Charles) and State Representative Dan Ugaste (R-Geneva) are hosting a Mobile Secretary of State event in South Elgin. The free event will take place from 10:00 AM until 2:00 PM at the South Elgin Public Works Building, 1000 Bowes Road, in South Elgin.
"Lines at the DMV remain long, and it's a pleasure to bring the mobile drivers' services team to South Elgin for this local event," said Sen. DeWitte. "I would encourage everyone to visit www.cyberdriveillinois.com ahead of time to find out what kinds of identification is required for different services. A quick review of the site will ensure those who seeking assistance have the proper identification with them."
Services provided at this event include driver's license and state ID renewal, replacement, and correction. Other services include license plate renewal stickers, organ/tissue donor registry, motor voter registration, and vision screening. No Real ID cards can be obtained at the mobile unit and cash is not accepted.
"It's always great to bring the Secretary of State to 65th District residents to make the DMV a more convenient and accessible experience," said Rep. Ugaste. "I encourage constituents to save themselves a trip and stop by the mobile Secretary of State unit we are bringing to South Elgin next week!"
Seniors ages 75 and older must visit a Secretary of State Driver Services facility to renew their driver's license. To renew a current Illinois driver's license or ID card, a valid driver's license or ID card must be presented. Constituents applying for a duplicate or corrected driver's license or ID card must present two forms of identification.
For additional information, please call Sen. DeWitte's office at (847) 214-8245, or Rep. Ugaste's office at (630) 797-5530.