DeWitte to offer variety of summer outreach events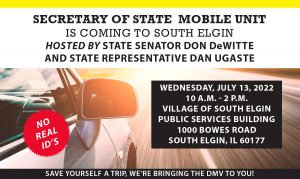 My staff and I are putting the finishing touches on a comprehensive summer/fall constituent outreach calendar of events. We're offering a variety of activities with something for everyone.
Our events calendar kicks off this week with two local events. On Wednesday, July 13, I am partnering with State Representative Dan Ugaste for a Mobile DMV event in South Elgin. A mobile team from the Secretary of State's drivers' services department will be at the Village of South Elgin's Public Services Building at 1000 Bowes Road in South Elgin from 10:00 AM until 2:00 PM to provide quick and convenient DMV services for residents. Services at this four-hour event include:
Renewal, replacement, corrections to driver's licenses and State ID cards
Free State IDs for seniors age 65+
Motor vehicle registration
License plate renewal stickers
Organ/tissue donor registry
Vision screenings
Please note: NO REAL ID CARDS CAN BE OBTAINED AT THIS EVENT, and all payments must be made by check, credit card, debit card, or money order (no cash will be accepted).
Those who plan to attend this local event should visit www.ilsos.gov ahead of time to learn about the specific identification requirements for the different services that will be offered. A quick review of the site will ensure visitors have the proper identification with them so they can complete their business with the mobile DMV team.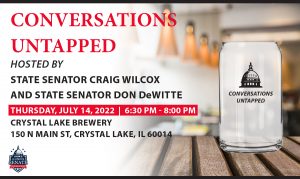 The following day, on Thursday, July 14, I'm partnering with neighboring Senator Craig Wilcox for a Conversations Untapped event in Crystal Lake. Senator Wilcox and I will be at the Crystal Lake Brewery from 6:30 PM until 8:00 PM for casual one-on-one or small group conversations with constituents. We'll talk about public safety, the rising cost of living, and government accountability. But most importantly, we'll listen to what you have to say about issues that are important to you. We welcome your thoughts and ideas and are truly interested in hearing your concerns. We're hoping for a large turnout, so I hope you can join us.
Other upcoming events include:
Tuesday, August 23 Unclaimed Property Day: Representatives from the Illinois Treasurer's office will be at the Crystal Lake Library's Ames Meeting Room, 126 W Paddock St in Crystal Lake to help connect Illinoisans with more than $3.5 billion in unclaimed property and cash. One in four Illinoisans who search the state's database find items or money that is owed to them, so please take a few minutes to participate in this free event.
Wednesday, September 7 Senior Fair: Senate Minority Leader Dan McConchie and I are co-hosting a Senior Fair at the East Dundee Township Building, 665 Barrington Avenue, Carpentersville, from 10:00 AM until noon. A variety of local vendors will be on site to discuss and provide information about several local programs that benefit seniors. There will be free refreshments and health screenings.
Friday, September 16 Senior Fair: State Senator Craig Wilcox and I are co-hosting a free Senior Fair at McHenry County College, 8900 U.S. Route 14, Crystal Lake, from 9:00 AM until 11:00 AM. A variety of local vendors will be on site to discuss and provide information about several local programs that benefit seniors. There will be free refreshments and health screenings.
Suspect Charged in Highland Park Shooting  
Authorities have filed charges, including seven counts of first-degree murder, against the man suspected of opening fire on the crowd attending Highland Park's Independence Day parade. Lake County State's Attorney Eric Rinehart stated that further charges will be filed.
Just after 10 a.m. on Monday, July 4th, as the community's annual parade had just started, a man fired on the crowd from a rooftop along the parade route, killing seven people and injuring dozens more.
On Tuesday, Governor Pritzker issued a disaster proclamation for Lake County to help provide additional state resources for recovery efforts in the community.
As with any disaster, there will likely be "bad apples" among individuals and groups that will try to take advantage of the Highland Park shooting to scam money from those who wish to help the victims. Please note that there are only two organizations accepting donations for the victims of the shooting that are overseen by local government in the Highland Park area:
Highland Park Community Foundation's July 4 Shooting Response Fund – Donations support individual victims and families directly impacted by the shooting.
The Lake County Community Foundation Crisis Relief Fund – This serves as a permanent countywide funding resource in times of emergencies. We are currently raising funds to support crisis relief efforts in the wake of the Highland Park shooting. Funds will be granted to support emergency response needs, mental health counseling services, downtown repair and revitalization, violence prevention and education and other urgent needs as they arise in the aftermath of this tragedy.
New State Supreme Court Justice Sworn In
The Illinois Supreme Court has a new justice. Lisa Holder White was sworn in at a ceremony at the Abraham Lincoln Presidential Library to replace retiring Justice Rita Garman. Holder White is the first African American woman to serve on the state's highest court in its 203-year history.
Justice Holder White received her undergraduate degree from Lewis University and her law degree from the University of Illinois at Urbana-Champaign. She has previously served as a judge on the Illinois Appellate Court, a Circuit judge, an assistant state's attorney, and as a public defender.
State Supreme Court Urges General Assembly to Open Access to Small Rivers and Streams 
Under current state law, landowners can restrict access to rivers and streams that cross their property, unless that body of water is considered navigable (of sufficient depth for use in commerce).
That concept was tested in a recent decision from the Illinois Supreme Court involving two landowners. One landowner has two parcels along the Mazon River. One of the parcels is landlocked, so the owner would access it by paddling a kayak on the river from the other parcel. However, the owner had to traverse a part of the river that flowed through a parcel owned by a second individual. The second owner was trying to block the first owner from being able to travel that section of the river.
The Illinois Supreme Court ruled in favor of the second landowner, saying that he does have the right under state law to restrict access to the part of the river that crosses his property.
However, multiple justices on the state's high court have urged the Illinois General Assembly to take up the matter and change state law to allow recreational use of waterways that cross private property.