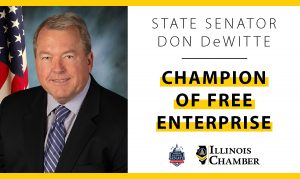 State Senator Donald DeWitte (R-St. Charles) has been named a Champion of Free Enterprise by the Illinois Chamber of Commerce after receiving a 93% rating for strongly defending free enterprise and advocating for the furtherance of economic opportunities for all Illinoisans.
"The General Assembly continues to pile burdensome regulations and taxes on job creators, which stifles economic growth, shrinks our tax base, and grows our debt," Sen. DeWitte said. "Businesses, especially small businesses, are the backbone of our economy in this State, and rather than adding to their burdens, State Government should do more to create an environment where they can thrive."
The Illinois Chamber's staff and Government Affairs Committee rated all members of the 102nd General Assembly based on legislators' votes on the key business legislation. DeWitte's ranking was among the highest in the Illinois Senate.
"Senator DeWitte is a trusted leader in Springfield," said Illinois Chamber President & CEO Todd Maisch. "His tireless advocacy for fiscal-responsibility and the State's infrastructure and transportation needs have made him a true ally of Illinois businesses and taxpayers."
The Champion of Free Enterprise Award is given biennially to members with Illinois Chamber ratings averaging 85% or higher over the previous two General Assemblies and who have demonstrated their commitment to legislation that frees the entrepreneurial spirit. The votes in the Senate and House are selected based on their impact on the business community.