Sen. DeWitte named Champion of Free Enterprise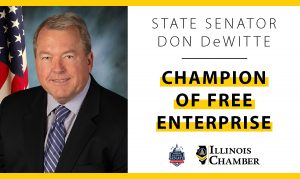 Keeping Illinois businesses here and attracting new ones is a priority, so I am pleased to announce that I was recently named a 2022 Champion of Free Enterprise Award recipient by the Illinois Chamber of Commerce. The Illinois Chamber rated all members of the 102nd General Assembly based on each legislator's votes on the key business-related legislation of the past two years. My personal rating was 93%, among the highest in the Legislature.
Click here to view the 102nd General Assembly Legislative Ratings report.
IDES audit highlights Pritzker Administration's failure to use recommended fraud-preventing software
Every state in the nation experienced fraud as federal pandemic relief funds were paid out. But in Illinois' case, more than half of the federal pandemic relief money distributed between July of 2020 and June of 2021 was paid out to fraudsters. This stunning revelation was included in an audit of the Illinois Department of Employment Security (IDES) that was released last week by the Illinois Auditor General (IAG).
The IAG's June 16 audit highlighted widespread failings at IDES, and two key findings in the report are:
IDES failed to follow a federal recommendation to utilize free, fraud-fighting tools to help prevent the payment of bogus claims
Sloppy and absent unemployment payment records made it impossible to determine the true extent of the money paid to fraudsters
While fraudsters received checks through an IDES system that failed to verify identities and the legitimacy of claims, real business owners that were forced to close their doors through Gov. Pritzker's executive orders waited months for service or even a return phone call. Some never received money owed to them, and many never reopened their doors for business.
In a required report to the federal government last year, Gov. JB Pritzker estimated Illinois had only paid out about $14.2 million in fraudulent pandemic assistance claims. In the IAG's report, it was determined that the state paid out at least $2 BILLION in fraudulent claims.
Knowing the scope of the fraud in Illinois could have been reduced if the Pritzker Administration had followed the recommendation to utilize free anti-fraud software is infuriating. The utter indifference shown by not taking every available step toward fraud prevention is unacceptable, and Gov. Pritzker and his appointees at IDES must be held accountable.
The audit also made mention of sloppy or absent record-keeping at IDES. As a result, we may never know the true extent of the fraud that took money away from Illinois business owners and channeled it to criminals. Some experts estimate the true fraud number may be close to $10 billion.
We cannot forget that the State of Illinois still has a $1.8 billion hole in the Unemployment Insurance Fund. Due to the sheer negligence shown by Gov. Pritzker and his IDES appointees, it is the business owners and taxpayers in this state that will pay the cost of replenishing those funds.
DeWitte's design-build legislation signed into law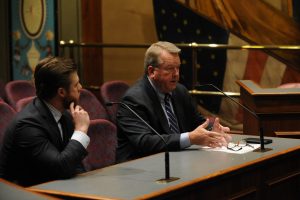 This year it was an honor to work on bipartisan legislation that will provide for a new, efficient method for completing the state's infrastructure improvements. Last week Gov. Pritzker signed Senate Bill 2981 into law. I served as the Chief Republican Sponsor of this bill.
SB 2981 creates the Innovations for Transportation Infrastructure Act, authorizing the Illinois Department of Transportation (IDOT) and the Illinois Tollway Authority to adopt the use of the design-build delivery method on highway construction projects. IDOT currently utilizes the design-bid-build project delivery method in which the department designs a construction plan, then reviews bids from contractors. Design-build would create a more efficient process, allowing a single contractor to handle both design and construction of the project. Any projects that adopt this method would be capped at a combined total of $400 million.
The Act also authorizes IDOT and the Tollway to use the construction manager-general contractor delivery method on at most two projects per year. In adopting this method, the department would contract with a single contractor to serve as the construction manager for the design phase, then agree on a price to serve as general contractor for construction. Additionally, the Act requires IDOT and the Tollway to ensure full participation for minority and women-owned businesses by implementing separate goals for design and construction, bid-shopping protections, and requiring independent construction managers for projects costing over $30 million.
This innovative approach to designing and building our state's infrastructure will save time and money, and that's a win-win for the taxpayers of Illinois. We're streamlining processes, maximizing efficiencies, and fostering a collaborative approach from start to finish. I am proud to be the leading Republican sponsor of this bipartisan legislation.
Senator DeWitte, Representative Spain point to flaws in FWTF report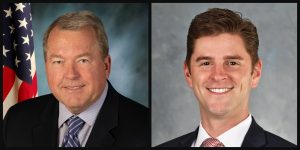 In 2021, the Legislature created the Future of Work Task Force. The panel included 35 stakeholders, including one legislator from each of the four legislative caucuses. I was the Senate Republican representative on the task force. Along with my House Republican counterpart, State Rep. Ryan Spain (R-Peoria), we were also named as two of the four co-chairs of the task force.
While the task force did some very good work, over time we noticed the panel became more fractured and partisan, and in the end, we were not pleased with the final product. Rep. Spain and I penned an op ed that expressed our frustrations and disappointment, and it was recently published in the Chicago Sun Times and in Crain's Chicago Business. Click here to read the op ed.
Caterpillar headquarters leaving Illinois
Born and bred in the Land of Lincoln, the long-time Illinois company Caterpillar, Inc. announced last week its plan to move its headquarters from Deerfield, Illinois, to Irving, Texas. For Illinois, the announcement is devastating news, with an expected loss of about 230 direct jobs by the end of the year on top of indirect jobs and potential new job growth that could result from any expansion within the company.
The giant manufacturing company's move comes just weeks after another Fortune 500 company, Boeing, announced its plans to leave the state.
The Wall Street Journal reported that Illinois is among the states that has lost the most manufacturing workers in the last five years. Additionally, Illinois' unemployment rate continues to lag behind other states at 4.6 percent. The national average is at 3.6 percent.
Summer heat is here
Illinois was under a heat advisory much of last week and will continue to see those high temperatures continue into this week.
The Illinois Emergency Management Agency is offering tips to help everyone stay safe when temperatures rise, including:
Keep hydrated and avoid alcohol and caffeinated beverages.
Wear lightweight, loose-fitting clothing and stay out of the sun when possible.
Avoid strenuous activities.
Check on your neighbors, particularly older residents, and make sure they are OK.
Do not keep pets in cars (even with windows cracked) on hot days.
Manteno Veterans' Home experiences COVID outbreak
Sixteen residents and six staff members at the Manteno Veterans' Home, located 50 miles south of Chicago, contracted COVID-19 in recent days, and one veteran has died. The individual who passed away was on hospice care and was reported as "completely asymptomatic." The resident died within hours of receiving a positive test.
I am pleased to report that unlike the outbreak at the LaSalle Veterans' Home when the Illinois Department of Public Health (IDPH) took almost two weeks to arrive on site and 36 veterans died, IDPH officials were at the Manteno Veterans' Home within hours of the tests coming back positive. According to IDPH, residents who tested positive were moved into an isolated area while symptoms were monitored. The State's Department of Veterans' Affairs said they are conducting daily screenings of residents and staff at the Manteno Home, and the highest safety protocols are in place.
The outbreak at Manteno comes just one month after the Pritzker Administration was criticized in an Illinois Auditor General report for its handling of the LaSalle outbreak in November of 2020.