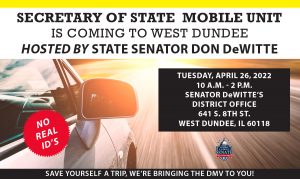 State Senator Donald DeWitte (R-St. Charles) is hosting the Secretary of State's Mobile Drivers' Services team for a mobile SOS event on Tuesday, April 26. The 10:00 a.m. to 2:00 p.m. event will take place at Senator DeWitte's District Office, located at 641 S. 8th Street, in West Dundee.
"Our last mobile drivers' services event was a huge success and I am pleased to partner with the Secretary of State's office for another event in the 33rd District," said Sen. DeWitte. "A wide variety of vehicle services can be completed at this local event."
According to Sen. DeWitte, services available include:
Driver's License/State I.D. Cards (renewal, replacement, corrections)
Free State IDs for seniors age 65+
License Plate Renewal Stickers
Organ/Tissue Donor Registration
Voter Registration
Vision Screenings
Seniors age 75+ must visit an established Secretary of State Driver Services facility to renew a driver's license, and no Real IDs can be obtained at the event. Payments for services must be made by check, credit card, debit card, or money order. No cash will be accepted.
"Even though expired driver's licenses remain valid for a few more months, motorists are encouraged to avoid the summer rush and get their new license at a convenient location," Sen. DeWitte said. "My District Office in West Dundee is centrally-located, easy to access, and will provide for quick, professional service."
Residents are encouraged to pre-register for this event, and can secure their spot by visiting https://www.ilsenategop.org/sen_dewitte_west_dundee_sos_mobile_unit. Before coming to the event, residents can visit www.cyberdriveillinois.com to learn about identification requirements for specific services.
For additional information or help with pre-registration, please contact Hannah at hseaver@sgop.ilga.gov.