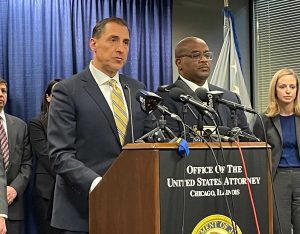 On Wednesday, a federal grand jury returned a 22-count indictment against former Speaker of the Illinois House Mike Madigan that includes charges of racketeering, bribery and extortion. Following the issuance of the 106-page indictment, State Senator Donald DeWitte (R-St. Charles) issued the following statement:
"You reap what you sow in this life, and today's 106-page indictment proves that no one is above the law. I think we all knew this day was eventually coming, but it does not lessen the shock of hearing words like racketeering, bribery, and extortion in relation to the state's longest-serving lawmaker. In the coming months we will all learn the extent to which one man's greed and thirst for power have damaged our state, and just how large of a corruption tax every Illinoisan has paid as unwilling participants in this alleged criminal enterprise."
Read the full indictment here.
https://drive.google.com/file/d/1X58OwHMoBvQLMlog3O5mapw6q1GfS5Kv/view?usp=sharing