Supreme Court Denies Pritzker Appeal, Vacates TRO as Moot
Late in the day on Friday, the Illinois Supreme Court denied Gov. Pritzker's petition to appeal the Appellate Court decision on his school mask, vaccine, and testing mandate. The state's highest court also vacated (eliminated) the Circuit Court's temporary restraining order (TRO) that was in effect, deeming it moot. Additionally, the Court also denied the Governor's stay on the TRO since it is moot. Despite the denials, the Gov. quickly took to the airwaves and declared victory.
"The Governor's declaration of victory on Friday is indicative of his refusal to respect the actions of the two other co-equal branches of Illinois Government. The plain fact is that Gov. Pritizker lost his right to appeal. His spin-doctoring is just another attempt to save face on an issue where he was clearly acting outside of his authority.
 "Gov. Pritzker's attempt to spin the rulings to his advantage is disingenuous at best, as he once again refuses to acknowledge the Joint Committee on Administrative Rules (JCAR) decision that suspended his continued overreach with these mandates. Even the Supreme Court recognized the significance of the JCAR decision when they declared the TRO was no longer needed since the emergency rule was no longer in effect.
"Governor Pritzker has taken this case as far as it can go, and its time for him to acknowledge that he represents just one of three branches of state government that hold equal power." 
Read the decision denying the petition to appeal and to vacate the TRO here. Read the decision denying the request to stay and TRO here.
Mask Mandate Expires for Most on February 28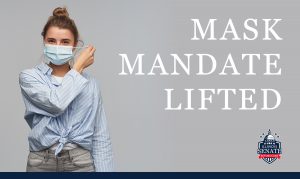 Masks officially become optional on Feb. 28 in most settings in Illinois. Gov. JB Pritzker announced the policy change recently following similar moves from governors in other states.
Last week Chicago's Mayor announced the city would be following suit, dropping both its mask mandate on Monday, as well as its more-strict proof-of-vaccination mandates.
In the meantime, mask requirements will remain in place after Feb. 28 for healthcare facilities, public transit, and congregate facilities such as prisons.
Senators Unveil Legislation to Empower Parents and Increase Opportunities for Students
Senate Republicans unveiled a new legislative package last week aiming to help Illinois parents not feel voiceless and in the dark when it comes to their children's education.
Members of local school boards are held accountable to the families of their districts via elections. Even though the Illinois State Board of Education (ISBE) makes decisions on rules and guidelines that affect all public schools, the State Board is made up entirely of members who have been appointed by the Governor.
To give parents a greater voice on statewide education decisions, the Senate Republicans want to add five new elected positions to ISBE. These members, elected from each of the state's five judicial districts, would be directly accountable to the parents and families who elect them. That legislation was filed as Senate Bill 4180.
Another component of the package, Senate Bill 4179, seeks to bring greater transparency to school curriculums. Under the legislation, schools would be required to publicly post on the district's website, at least twice per year, all the learning materials and activities used for student instruction, as well as the policies and procedures for review and approval of the materials and activities. This would ensure that parents can find out what their children are being taught so that they can work with their school board members regarding any concerns.
The Senators are also working to strengthen and make permanent the "Invest in Kids" program, which helps disadvantaged students in struggling schools by offering them scholarships to private schools. The program is funded by private donations that qualify for state tax credits. Republicans identified two major issues with the program that create uncertainty for participating families, including a pending expiration for the entire system, along with concerns that students who receive a scholarship one year may not receive it the following year. Senate Bill 4181 eliminates the expiration date while creating an award preference for existing recipients.
The final piece of the legislative package, Senate Bill 4182, updates the Invest in Kids Program's tax credit language to better align it with existing federal tax credits, allowing donors to maximize existing federal tax benefits while channeling more private funds into scholarships for underprivileged children.
Legislation Advances to Allow DCFS Workers to Protect Themselves
Department of Children and Family Services (DCFS) workers may soon have a new option to protect themselves while working. Senate Bill 1486 would allow DCFS employees who receive proper training to carry mace or pepper spray while on the job, and it received unanimous support in the Senate on Friday. I am a proud co-sponsor of this bill.
This bill was filed in response to the recent brutal killing of Deidre Silas, a DCFS investigator who was in the process of checking the welfare of a child, and Pamela Knight, who died in 2018 from injuries received while attempting to take a child into protective custody.
Encouraging the Purchase of Cars Made in Illinois
Consumers in the market for a new car or truck may soon be eligible for a modest rebate on the title fee if they purchase a vehicle made in Illinois.
The Senate passed bipartisan legislation to provide a $25 rebate toward the title fee for cars and light trucks manufactured in Illinois. The proposal was initially filed by State Sen. Dale Fowler (R-Harrisburg). The Senate passed a new version of the bill, Senate Bill 3609, on Feb. 23.