DeWitte Receives Outstanding Legislative Leadership Award from IL Assoc. of Park Districts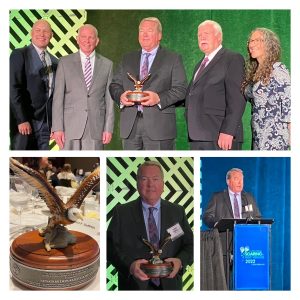 On Friday, I was both humbled and proud to receive the Outstanding Legislative Leadership Award from the Illinois Association of Park Districts. The award was announced at the association's annual Soaring to New Heights conference.
I also want to congratulate the Forest Preserve District of Kane County for becoming the first forest preserve district in Illinois to achieve accreditation. It's an outstanding achievement, and one for which all who call Kane County home can be proud.
The Illinois Association of Park Districts is a nonprofit service, research and education organization that serves park districts, forest preserves, conservation, municipal park and recreation, and special recreation agencies. The association advances these agencies, their citizen board members and professional staff in their ability to provide outstanding park and recreation opportunities, preserve natural resources and improve the quality of life for all people in Illinois.
Senate Republicans Unveil 2022 Ethics Package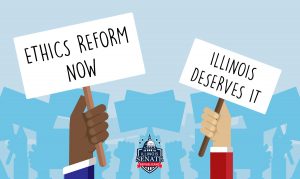 Senate Republicans are once again pushing for tougher ethics reforms that will hold politicians more accountable and better equip officials to investigate public corruption, and on Jan. 27 I stood with several of the Senate Republican colleagues as we announced several much-needed and long-overdue reforms to help restore Illinoisans' faith in their state government. The legislation was filed as Senate Bill 3636. Click here to be directed to the Facebook recording of the press conference.
Our package of reforms ensures that lawmakers are looking out for their constituents rather than special interests, and gives prosecutors and the Attorney General enhanced tools to effectively investigate and prosecute public officials who break the law.
Specifically, Senate Bill 3636:
Prohibits a General Assembly member, their spouse, or any immediate family member from lobbying as long as the individual is a member of the General Assembly.
Prohibits a legislator during their term of office from negotiating employment with a lobbying firm (such as a job after their term of office), if that firm lobbies the General Assembly.
Strengthens the revolving door for General Assembly members to prohibit them from lobbying for 12 months after leaving office (currently 6 months).
Limits a lobbyist's political activity so that anyone who is a lobbyist cannot be an officer for a candidate's political committee or be a candidate supported by a political action committee.
Expands the authority of a statewide grand jury to investigate and indict offenses involving the corruption of a public official, to include theft, fraud, extortion, or a violation of the official misconduct and public contracts articles of the criminal code of 2012.
Expands Illinois' R.I.C.O. law to include bribery, official misconduct, solicitation of misconduct, and legislative misconduct.
Our announcement of SB 3636 comes on the heels of the resignation of former Legislative Inspector General (LIG) Carol Pope. Currently, that position remains vacant after Democrat members of the Legislative Ethics Commission failed to accept the recommended candidate brought forward by an independent search committee and instead want to hand pick their own candidate.
On January 6, following Pope's resignation, Senate Republicans announced Senate Bill 3030, which would give the LIG more power to investigate potential corruption. Neither Senate Bill 3030 nor Senate Bill 3636 have been released from the Senate's Assignments Committee.
Legislators Face Bill Filing Deadline
Lawmakers spent the end of last week putting the final touches on their legislative agendas for 2022, as bills had to be filed with the Secretary of the Senate or Clerk of the House by the end of the day on Friday, Jan. 28. The deadline loomed even though lawmakers had only met face-to-face in Springfield just once so far this year. Eight January session days were canceled due to the omicron-driven spike in COVID-19 cases.
The legislature is scheduled to be in Springfield this week, with session days scheduled for Feb. 1-3. The Governor's combined State of the State/Budget Address is scheduled for noon on Wednesday, Feb. 2.
Illinois Ranked Near the Bottom for Best Places to Retire
In the most recent rankings by WalletHub, Illinois was ranked 45th in the country in a study of the best places to retire. Forty-seven different indicators related to retirement-friendliness were considered, including quality of life, affordability, and healthcare access. In the taxpayer ranking, Illinois came in dead last, and in the ranking for health care facilities per capita, Illinois came in 48th.
According to the study, only Oklahoma, Kentucky, New York, Mississippi, and New Jersey ranked lower than Illinois overall. Florida, Virginia and Colorado were ranked number one, two, and three in the study.
Senators Continue to Collect Valentines for Seniors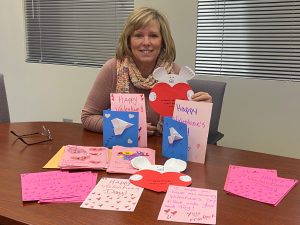 Last year members of the Senate Republican Caucus collected and distributed more than 45,000 valentines for seniors living in nursing homes, in assisted living facilities, and in long-term care settings. The card drive for 2022 is underway, and cards are beginning to arrive at Senate offices across the State. My District Office Director Becky is shown here with a sampling of cards that have been delivered so far this year.
I am hoping to meet or beat the number of cards that were distributed in the 33rd District last year. Cards, poems, and other well-wishes will be collected through Feb. 7, and can be dropped off or mailed to my West Dundee office, at 641 S. 8th Street, West Dundee, IL, 60118. For more information about this popular community outreach activity, please call my office at (847) 214-8245.