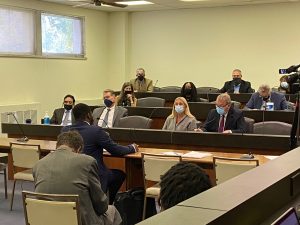 After initially indicating they had no intention of using the Joint Committee on Administrative Rules' (JCAR) rule-making process to create the enforcement policy for Governor Pritzker's Pre-K-12 mask mandate for schools, the Illinois State Board of Education (ISBE) reversed course this week and told members of JCAR that rules would be filed in the coming days.
"JCAR serves an important purpose, as we are responsible for ensuring state agencies do not arbitrarily set policies that do not align with state statute or with legislative intent behind bills that are signed into law," said State Senator and JCAR member Donald DeWitte (R-St. Charles). "I'm pleased to know that ISBE has reconsidered their position and will be following the proper channels for the creation of their enforcement mechanisms."
A few months ago, members of JCAR learned that ISBE had been using a different set of rules to enforce Governor Pritzker's school mask mandate for public and non-public schools. Whereas public schools were given a defined time period to respond and remediate after being notified of non-compliance, private schools were allowed virtually no due process. In some cases, private schools had their recognition status pulled by ISBE on the same day they were notified of non-compliance.
"We simply cannot have a different set of rules for public and non-public schools, especially since it is the students who would suffer the consequences," added Sen. DeWitte. "Private school students stood to lose a great deal through ISBE's lopsided enforcement policy."
Challenges to the school mask mandate continue to work their way through the court system, and while ISBE quietly changed course and offered due process to private schools a few weeks ago, official rules requested by JCAR have not been received.
"I hope ISBE stays true to their word and indeed files rules that outline and clarify procedures for mask enforcement that includes identical due process for public and private schools," said Sen. DeWitte. "We need to see those rules. The Pritzker administration has a track record of arbitrarily changing the rules in the middle of the game, so outside of JCAR's rule-making process we simply cannot trust that ISBE will continue to provide equal treatment for public and non-public schools with regard to executive order enforcement.  They have not earned that trust. We need it in writing, and we need it established within the administrative rules process."