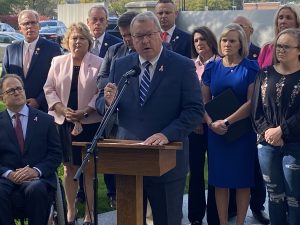 State Senator Donald DeWitte (R-St. Charles) joined Amber Oberheim, the wife of fallen Champaign police officer Chris Oberheim, and several of his Senate Republican colleagues on Wednesday to renew their push for comprehensive public safety reform measures that impose stricter penalties on violent gun offenders and those who would supply weapons to them.
As the surge in violent crime continues in Chicago and across the state, two weeks ago Senate Republicans filed a package of bills to address the crisis on several fronts. The package includes a "Fund the Police" component, which would provide a major infusion of resources to criminal justice and mental health programs. The package also includes a measure that would require those who assault police officers or bring weapons into penal institutions to serve at least 85% of their sentence. Another bill would strengthen sentencing for violent gun offenders to a mandatory 10- year sentence for a first offence and a sentence of life for a second offence. An additional bill in the package would provide for a minimum 10-year minimum sentence for those who would purchase or supply a gun to any individual who is prohibited from owning a gun. Click here to view the entire package of bills.
"Senate Democrats had an opportunity to show they are serious about addressing violent crime yesterday, when the Senate's Criminal Justice Committee met to consider bills. Not one of our bills was scheduled for a hearing," said Sen. DeWitte. "Crime is increasing because of a severe lack of enforcement, and because of weak penalties that do not act as an effective deterrent. We're trying to remedy that."
During the press conference, which was held next to the fallen police officers' memorial outside of the Illinois Capitol building, Amber Oberheim urged the majority party to take action on the proposals. "We stand here today to hold our state leadership accountable," she said. "It is with the utmost respect and compassion that I ask you to not leave your time in Springfield without getting something done to protect the citizens of Illinois. You had an opportunity to send this proposal to committee yesterday and you didn't. You have four days left. Do not let the State of Illinois down. Do something to ensure the safety of the residents who elected you to make these decisions."
Sen. DeWitte added that the first duty of government is to protect its people, and that the State of Illinois is currently failing in that mission. "It's time the majority party stops placing the rights of the accused ahead of the rights of law-abiding citizens, and especially victims, who have every right to feel safe in their homes and communities."
The fall veto session is set to conclude on Thursday, October 28.