Revised legislative maps pass despite criticism of process
Using the same non-transparent process they used when the first set of redistricting maps were approved in May (maps that were tossed out because they did not meet Constitutional representation requirements), majority party Democrats used the same rushed, non-transparent tactics to slam their revised maps through the General Assembly in just one legislative session day on Tuesday, giving very little time for anyone outside of the majority party to review them and offer input. Click here to view a short montage of testimony from community groups pleading for a fair map.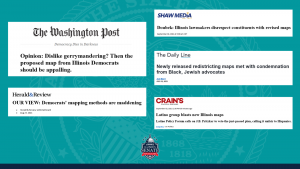 Hearings with next to no notice were scheduled, those wishing to provide testimony showed up to find doors to hearing rooms locked, and some who registered to provide testimony on Zoom were not sent links that allowed them to participate. Despite this horribly non-transparent process, maps were approved through strictly party line votes. Community groups representing good government and ethnic rights organizations denounced the new maps and claim certain groups remain underrepresented in the new maps. As you can see from the graphic, news coverage of the passage and content of the new maps included scathing headlines.
The new maps now head to the Governor's desk. I encourage all Illinoisans to fight back against these unfair maps by signing a petition urging Gov. JB Pritzker to keep his campaign promise and veto these partisan-drawn maps. You can also voice your disapproval by calling the Governor at one of these four phone numbers:
Springfield: 217-782-6830
Springfield: 217-782-6831
Chicago: 312-814-2121
Chicago: 312-814-2122
If voice mailboxes are full, you can register your opinion through a contact form at: https://www2.illinois.gov/sites/gov/contactus/Pages/VoiceAnOpinion.aspx.
Senate passes comprehensive energy bill
After almost two years of negotiations on comprehensive energy legislation, the Illinois Senate approved an overhaul of Illinois' energy sector in the wee hours of Wednesday morning. Senate Bill 18, which contained the language, passed the Senate with a 39-16 vote. As has become customary with controversial and unpopular legislation, the bill was not brought to the floor until after 1:00 AM, when most Illinoisans were asleep.
I fully support a cleaner energy future for Illinois, but as written, the people I represent in the 33rd District are undeniable "losers" through the provisions of this bill. Click here to listen to a radio interview I did after we adjourned early Wednesday morning. The interview outlines my objections to the bill.
The nearly 1,000-page bill contained several sweeping provisions that will have both short-term and long-term effects on the state's energy portfolio, including:
Provides state subsidies to help keep Illinois' nuclear power plants online.
Provides state subsidies to invest in renewable energy, like wind and solar.
Requires the closure of all private-owned natural gas facilities by 2045.
Requires the closure of all private-owned coal plants by 2030.
Closes the Prairie State coal plant in Southern Illinois and the CWLP coal plant in Central Illinois in 2045.
Gives private companies the power to invoke eminent domain in seven counties, stretching from Pike County to Clark County, to build out new transmission lines.
Requires public utilities to create a chief ethics and compliance officer who must submit annual reports to the Illinois Commerce Commission. However, this does not apply to renewable energy companies which received state subsidies.
As the bill stands, utility rates will increase across the board for every level of user, from residential, to business, to industrial. Residential utility customers will see an increase of approximately 4% and industrial utility users will see rates increase by about 7%.
While the energy package passed in the Senate, the House had already adjourned before taking up the bill. In addition, Gov. Pritzker issued revisions and additions he wanted to see before agreeing to sign the bill.
Legislative Audit Commission calls for audit of PUA and BIG programs
This week, the members of the Legislative Audit Commission passed two resolutions requesting that the Illinois Auditor General perform full audits of the state's Pandemic Unemployment Assistance (PUA) and Business Interruption Grant (BIG) programs.
In July, the Illinois Auditor General released a blistering but limited financial report of the Illinois Department of Employment Security (IDES) that covered roughly two months of the 16-month PUA program. That report, which prompted the Commission's resolution, noted numerous failures by the Pritzker Administration in its management of the state's unemployment programs, including payment of unemployment benefits to deceased individuals and awarding potentially ineligible claimants during the two-month period with nearly $155 million.
I support the call for a more in-depth audit of the entire PUA program, and believe that many of the program's failures could have been avoided. I also support the Commission's decision to call for an audit of the state's BIG program, which has had concerns raised about grants going to businesses already permanently shut down, its failure to meet statutory goals for the distribution of grants to downstate businesses, and the prioritization of businesses in some pre-selected ZIP codes for grant funding.
Senate Republicans honor those lost in Afghanistan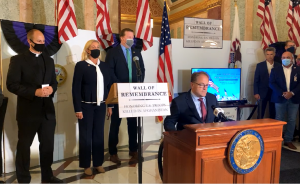 To mark the official ending of the war in Afghanistan, Senate Republicans filed a resolution to honor the memory of all U.S. service members killed in the country, including the 13 who died on Aug. 26.
The resolution pays tribute to the more than 2,400 U.S. servicemen and women who died serving their country in Afghanistan over the past two decades.
Around midnight Afghanistan time on Aug. 31, Senate Republicans held a special ceremony in the Illinois Capitol to mark President Joe Biden's withdrawal deadline. At the ceremony, Republican Senators joined members of the House Republican Caucus to dedicate a temporary memorial in the Capitol's Rotunda to those who made the ultimate sacrifice while serving in Afghanistan.
DeWitte Encourages Food Pantry Donations during Hunger Action Month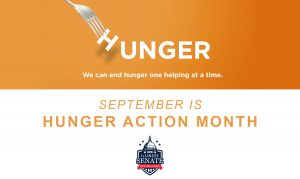 Today is National Food Bank Day to kick off Hunger Action Month. It is estimated that more than 42 million people may experience profound hunger this year, including 13 million children. Don't we all have a few items in our pantry that we could donate to a local food pantry? Find a food pantry near you at: https://www.feedingamerica.org/find-your-local-foodbank
OSFM Opens Application Process for FY 2022 Small Equipment Grants
The Office of the State Fire Marshal (OSFM) is now accepting applications for the Small Equipment Grant Program. Interested departments should send an application to OSFM no later than Oct. 22. OSFM will award $2.5 million to eligible fire departments and ambulance services during the application period.
The Small Equipment Grant Program was established to provide grants of up to $26,000 for the purchase of small firefighting and ambulance equipment. A total of $3.3 million was awarded to 149 fire departments/districts and EMS providers in June.