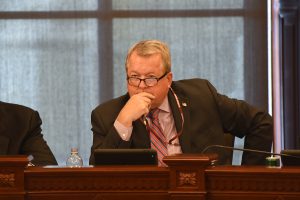 On Thursday, Aug. 26, Governor Pritzker issued his 87th Executive Order (EO) since the start of the COVID-19 pandemic. That's 87 times since March of 2020 when Governor Pritzker has unilaterally issued a mandate without engaging the legislature. Click here to read the full text of Executive Order #2002-20 and click here to read a summary.
The legislature returns to session on Tuesday, Aug. 31, and as the elected Senator for the 33rd Senate District I am renewing my call that Senate Democrats allow Senate Bill 103 to be heard and brought forward for a vote. SB 103 would require the Governor to seek approval from the Senate and House before any disaster proclamation is extended (the expanded authority granted to the Governor for Executive Orders and mitigations exists only while the disaster proclamation is in place). That bill was filed in February of this year, was never granted a hearing, and never received a vote.
As a co-equal branch of government, the Governor needs to work with legislators rather than continuing with this "go it alone" approach. With lawmakers already in town to take action on other issues, it is the perfect time to move SB 103 through a committee and to the floor of the Senate for a vote.​