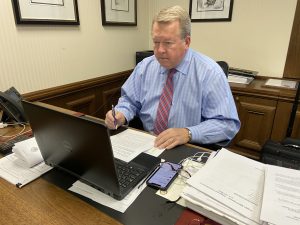 In an effort to gain greater insight into the opinions and priorities of the residents living in the 33rd Senate District, State Senator Donald DeWitte (R- St. Charles) has launched a summer survey.
"The viewpoints of my constituents are very important to me and help me take votes on their behalf in Springfield," said Sen. DeWitte. "I am hoping for wide participation in the survey so I can develop a full understanding of the opinions and priorities of the people I serve."
The summer survey was included in an end-of-session report that was recently mailed to households in the 33rd District, and it is also available online. Those who wish to take the survey digitally can access it at https://senatordewitte.com/summersurvey. Additional paper copies of the survey are available through Sen. DeWitte's district office. To have a paper survey mailed, please contact the office by phone at (847) 214-8245.
"I will be accepting survey responses through September 30, and I look forward to receiving this community feedback," Sen. DeWitte said. "The survey includes just seven questions plus additional space for comments, so it can easily be completed in about 5-10 minutes. I would encourage all residents in the 33rd District to provide input through this survey."