Schools regain some local control
On July 9, 2021, the federal Centers for Disease Control (CDC) released its updated Guidance for COVID-19 Prevention in Kindergarten (K)-12 Schools. Immediately thereafter, the Illinois Department of Public Health (IDPH) announced it was fully adopting the CDC's updated guidance for schools. Final decision-making authority over protocols in the classroom- including for masks- has been given to locally-elected school boards. Here locally in the 33rd District, some school boards have opted for optional mask-wearing, while others will be enforcing mask requirements for all unvaccinated students and staff. If you have school-aged children, your school will be providing information regarding their protocol decisions.
While school officials now have final say on COVID-19 protocols within their buildings, the updated CDC guidance states masks "should" be worn indoors by all individuals (ages 2 and older) who are not fully vaccinated, and recommends that if school administrators remove any prevention strategies based on local conditions that they should do so "one at a time" to monitor the effect on COVID-19 cases.
Despite the local control, masks will still be required for all passengers on school buses in accordance with CDC guidelines, regardless of the school's mask policies.
DeWitte to join Senators McConchie and Wilcox for joint town hall in Crystal Lake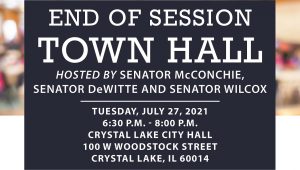 Next week you won't want to miss a joint town hall meeting I am hosting with Senate Minority Leader Dan McConchie and State Senator Craig Wilcox. As the three Senators who represent McHenry County, we will all be in attendance as we share an update of the recently completed spring legislative session and take questions from audience members.
The event will be held on Tuesday, July 27 at Crystal Lake City Hall, 100 W. Woodstock Street in downtown Crystal Lake. We will begin at 6:30 with a short PowerPoint detailing key legislative issues that came before the General Assembly this year. Then we will spend the remainder of the evening fielding questions from attendees. RSVPs are appreciated for this event, so if you would like to reserve your spot, click here.
Senator DeWitte celebrates art with contest winners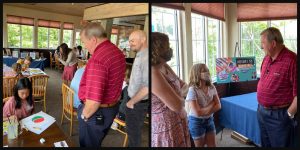 Each year I host an art contest for elementary-aged students in the 33rd District, and this year I received several wonderful drawings that depict the State of Illinois and its many treasures. On Thursday, I invited this year's winners to an ice cream celebration at Colonial Café in St. Charles. Each student had an opportunity to tell the group about the inspiration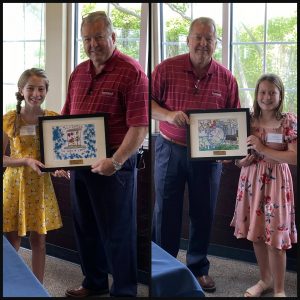 behind their creation, and after passing out certificates of achievement, the students were able to do a small art project using pastels. Following the art project, we all enjoyed some delicious ice cream. This year's grand prize winner was Abigail Creed, a 5th grade student from St. Patrick School in St. Charles. She is pictured on the left side of the picture to the left with her winning drawing. Other winners this year include: Liam Bragg, Jack Galivan, Sydney Acosta, Stella Cooney, Rihanna McElroy, Lilly Ann Schmitz, Perla Martinez, Noemi Castro, and Lucy Rivera. Congratulations to all!
On Thursday we also recognized last year's winner, Izabella Boniak. Due to COVID-19, we were not able to have an in-person celebration last year, so I was happy Izabella could join us this year. She is shown in the photo above on the right side. These two winning artists will have their framed artwork displayed in their school.
DeWitte hosts successful Coffee & Conversation event in Hampshire



On Tuesday morning I had an opportunity to enjoy a cup of coffee and have casual conversations with several constituents from the Hampshire area at the Rose Garden Family Restaurant. I always enjoy these events because I get to connect with the people I serve in a relaxing setting. A special thank you goes out to Ane, for providing delicious pastries and cookies for the event. Thanks to all who came out to say hello or to discuss issues of importance.
My next Coffee & Conversation event is scheduled for Tuesday, August 10 at the Arcedium Coffeehouse in St. Charles (60 Indiana Street). Mayor Lori Vitek will join me at the event, which is set for 8:00 AM. If you live in or near St. Charles, I'd love to see you, so mark your calendars now for this upcoming event.
Illinois to receive nearly $800 million after opioid settlement
Johnson & Johnson and three opioid distributors have agreed to pay billions to settle thousands of government lawsuits accusing them of helping to create the opioid public-health crisis. The deal will have McKesson Corp., Cardinal Health Inc. and AmerisourceBergen Corp. pay approximately $21 billion to settle claims that they ignored unusually large opioid shipments. Johnson & Johnson will pay $5 billion to resolve allegations it illegally marketed opioids.
The Illinois Attorney General announced that the state will be signing on to the settlement and, if finalized by all local governments, would receive approximately $790 million. The majority of the settlement money would be spent on opioid treatment and prevention.
Illinois unemployment fraud exceeds $15 million
For months, the Illinois Department of Employment Security (IDES) has declined to disclose how much it has lost to fraudulent claims. Recently, WGN 9 news discovered that IDES has reported to the United States Department of Labor that it has lost more than $14.8 million to fraudulent claims since the beginning of the COVID-19 pandemic.
After the number was made public, an IDES spokeswoman confirmed that the $14.8 million sum is reflective of fraud committed by people who were allegedly working while receiving benefits, and doesn't include those associated with identity theft-related unemployment fraud. This would likely mean that the total amount of money that IDES has lost to fraudulent claims is much higher than the nearly $15 million figure.
Rampant fraud is just one more reason why IDES should reopen its offices to the public. IDES has been closed for almost 500 days and continues to be criticized for fraud issues, the slow response time, and the backlog of unaddressed claims.