Illinois Schools Call on State Board to Restore Local Control
I believe firmly that state government should be supporting and assisting school districts to make the best decisions possible for the safety of their students and staff, while providing districts with the flexibility and local control they need to deal with changing situations in their communities. Superintendents from across the state evidently agree, because this week hundreds of superintendents from downstate school districts sent a letter to Gov. JB Pritzker and the Illinois State Board of Education (ISBE), asking them to allow districts to make their own decisions on COVID-19 protocols for the fall.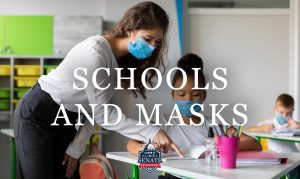 This letter follows a similar effort from the members of the Large Unit District Association (LUDA), which includes more than 50 Illinois school districts with enrollments of more than 3,500 students. In their letter, LUDA members requested updated guidance from the state, and that "social distancing, quarantining, and masking guidelines in schools be consistent with health guidelines of Phase 5 as applied to other venues in Illinois." Most of the school districts in the 33rd Senate District are members of LUDA, so our superintendents voiced their concerns through the LUDA letter.
On July 9, the Centers for Disease Control (CDC) issued new guidance on the use of masks in schools, and stated that students who are fully vaccinated can go without masks unless they are riding the school bus or if their school makes a local decision to require masks. Since the vaccine is only available to those 12 years of age and older, these CDC guidelines would not remove a mask requirement for younger students. Within a few hours of the announcement of the CDC guidelines, IDPH announced that Illinois would follow the CDC recommendations with regard to masks in school.
I still view this as a government overreach. Local school boards should be making these decisions.
Full Week of Community Outreach Events Coming to 33rd District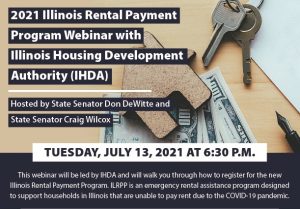 My staff and I are putting the finishing touches on a busy week of community outreach events planned for the week of July 12-17. I hope to see a large turnout at these upcoming events:
Tuesday, July 13: Coffee & Conversation with Algonquin Village President Debby Sosine: 7:30 AM at Syrup, 2555 Bunker Hill Drive, Algonquin.
Tuesday, July 13: Renters Assistance Webinar: 6:30-7:30 PM, this event, done in cooperation with the Illinois Housing Development Authority (IHDA), is designed to help renters who are unable to pay their rent due to COVID-19 fill out and submit forms for a renters assistance program (application window is open now and until 11:59 PM on Sunday, July 18). Participants must register to obtain the Zoom link. Register here.
Thursday, July 15: Mobile Secretary of State DMV Event: 10:00 AM until 2:00 PM at my district office, 641 S. 8th Street, West Dundee. Skip the long lines at the DMV! While Real ID's cannot be processed at this event, most DMV transaction can be completed, including:

Traditional driver's license renewals and corrections (No Real IDs)
New/renewal/corrections of State ID cards (ID cards are free for seniors age 65+)
License plate renewal stickers
Voter registration with renewal of driver's license/ID
Organ donor registration with renewal of driver's license/ID
Completing change of address forms

Saturday, July 17: Free Pfizer COVID-19 Vaccine Clinic: 10:00 AM until 3:00 PM, at the Boys & Girls Club of Elgin, 355 Dundee Ave, Elgin. This clinic will offer first and second dose vaccines. People can pre-register by emailing DeWitteVaccine@gmail.com or simply just walk in.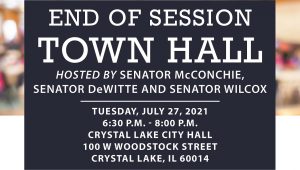 Other upcoming community events include:
Tuesday, July 20: Coffee & Conversation with Hampshire Village President Mike Reid, Jr.: 8:00 AM, Rose Garden Family Restaurant, 199 S. State Street, Hampshire.
Tuesday, July 27: Joint End-of-Session Town Hall Meeting with Senate Republican Leader Dan McConchie and State Senator Craig Wilcox: 6:30 PM until 8:00 PM, Crystal Lake City Hall, 100 W. Woodstock Street, Crystal Lake
Thursday, July 29: Traveling Office Hours: 9:30 AM until 11:30 AM, Gail Borden Public Library, 70 N. Grove Ave., Elgin.
IDOC Still Delaying Many Prisoner Transfers
Sheriffs are still struggling to transfer convicted felons out of county jails and into the Illinois Department of Corrections (IDOC) prisons where the criminals are supposed to be serving their sentences. During the COVID-19 pandemic, Gov. Pritzker's administration halted these types of transfers to help stop the spread of the virus in the prison system. In July 2020, however, the Governor issued a new executive order authorizing IDOC to resume the transfers.
According to numerous county sheriffs, however, IDOC is still delaying and dragging their feet on processing many transfers. Unfortunately, most county jails aren't equipped or staffed to hold large numbers of state inmates indefinitely. I spoke with officials from the Kane County Sheriff's Office, and was told the County has run up $1.1 million in expenses with no response from IDOC on reimbursement.
The Illinois General Assembly appropriated $50 million to help counties cover the costs, but there is uncertainty over whether that is enough to cover the actual costs, and how the funding will be distributed.
Watch Out for Text and Email Scams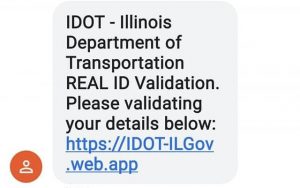 Illinois drivers are being targeted by scammers phishing for their information via text and email. According to news reports, some Illinoisans have received what appears to be an email or text from the Illinois Secretary of State's (SOS) office saying that the individual's license has been suspended. Officials from the SOS, however, say that they only send important communications like that by mail.
Officials from the Illinois Department of Transportation say that they too have been contacted by hundreds of people who have received similar emails and texts, leading them to believe that thousands of residents have actually been targeted. In both cases, officials urge people not to click the links contained in the emails and texts, but to report them to the appropriate authorities.
Constituents are also reporting suspicious texts from an entity claiming to be the IL Department of Employment Security regarding suspension of unemployment benefit accounts. IDES will not text you. This is a scam.
The FBI offers tips to avoid becoming a victim of phishing and spoofing types of scams at: https://www.fbi.gov/scams-and-safety/common-scams-and-crimes/spoofing-and-phishing