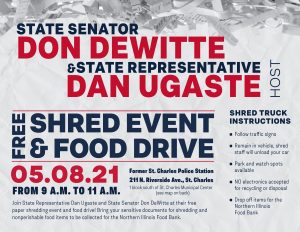 State Senator Donald DeWitte (R-St. Charles) and State Representative Dan Ugaste (R-Geneva) will be hosting a free Paper Shredding Event on Saturday, May 8th, to help residents protect themselves from identity theft.
Residents can bring up to 2 boxes of paper documents they would like shredded to the event that will run from 9:00am—11:00am at the former St. Charles Police Station, 211 N. Riverside Ave (one block south of St. Charles Municipal Center). The event will also accept food donations for the Northern Illinois Food Bank.
"The shred truck provides residents with a safe and secure way to dispose of sensitive documents like old bank statements, tax documents, and receipts," Sen. DeWitte said. "People can just drive up and let our volunteers unload papers to be shredded and collect food items to be donated to the Food Bank."
Residents are encouraged to remain in their vehicles as they drive through the event to drop off their items, but parking will be available to constituents who wish to watch their items discarded.
Representative Ugaste encourages all area residents to attend the event. "Paper documents we acquire over time hold personal information which needs to be properly discarded," said Rep. Ugaste.  "This event is an easy way residents can do that, to ensure the safety of themselves and their families—without having to leave their cars."
No electronics will be accepted at this time. If you have any questions about the upcoming event, contact Sen. DeWitte at (847) 214-8245 or Rep. Ugaste at (630) 797-5530.