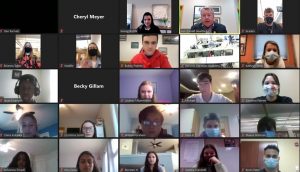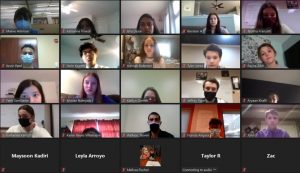 More than 50 high school students from the 33rd Senate District joined State Senator Donald DeWitte (R-St. Charles) this week for his annual Youth Advisory Council meeting. The meeting, which typically takes place in person at the State Capitol, was held over Zoom due to COVID-19.
"I enjoy having these bright groups of students in Springfield, where we can do a deep dive into the legislative process, but COVID-19 restrictions prevented me from hosting this year's group in person," said Sen. DeWitte. "We still had a very successful event, and students were able to hear from and ask questions of some really great guest speakers."
Students from Huntley and Jacobs High Schools in McHenry County, and Geneva, Harvest Christian Academy, Einstein Academy, and St. Charles East High Schools in Kane County participated in the two-hour online event. Guest speakers included Springfield news reporter Hanna Meisel, who spoke about the career path that led her to the Illinois Capitol, motivational speaker Jeff McGoy, who provided useful advice for the students as they prepare for life beyond high school, and Springfield lobbyist Matt O'Shea, who shared personal stories about his path through legislative staff, to holding a seat in the Illinois Senate, to ultimately creating his own lobbying firm.
"Our speakers kept the students engaged and entertained as they spoke about various paths available to them post-high school, and how they can maximize their future successes," Sen. DeWitte said. "This was a sharp group of future leaders, and it was a pleasure to expose them, albeit online, to our legislative process and different career paths available to them in state government."