Veto Session Continues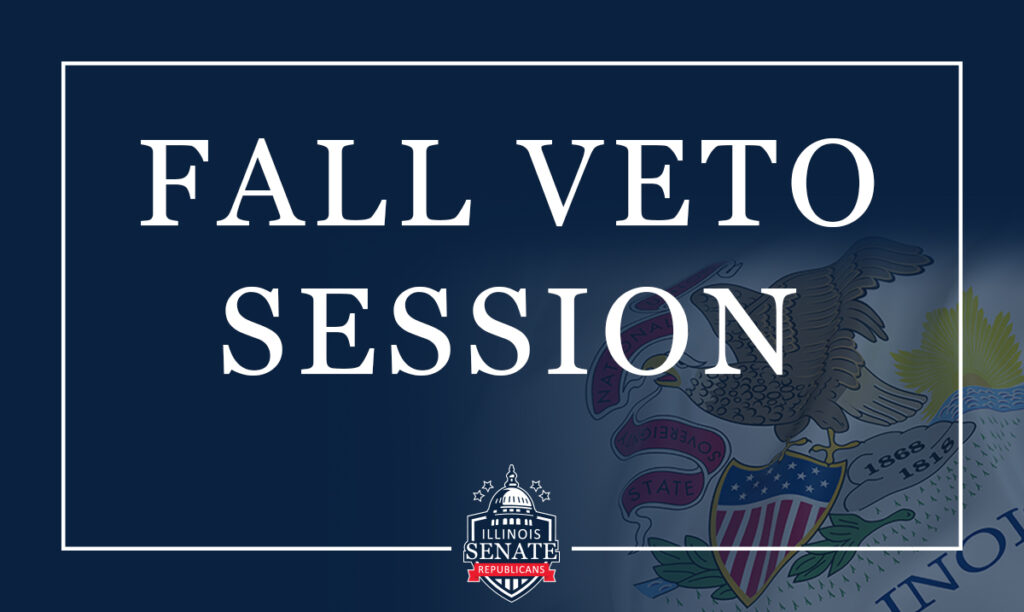 This week, state legislators will gather once more in Springfield for the last three days of the annual fall Veto Session. The first week of Veto Session concluded at the end of October without substantial action on the vetoed bills.
Instead, the Illinois Senate chose to address alternative measures, which are now heading to the House of Representatives for further consideration. With much left on the legislative agenda for the people of Illinois, lawmakers are gearing up for the final stretch of the Veto Session, beginning on Tuesday, Nov. 7.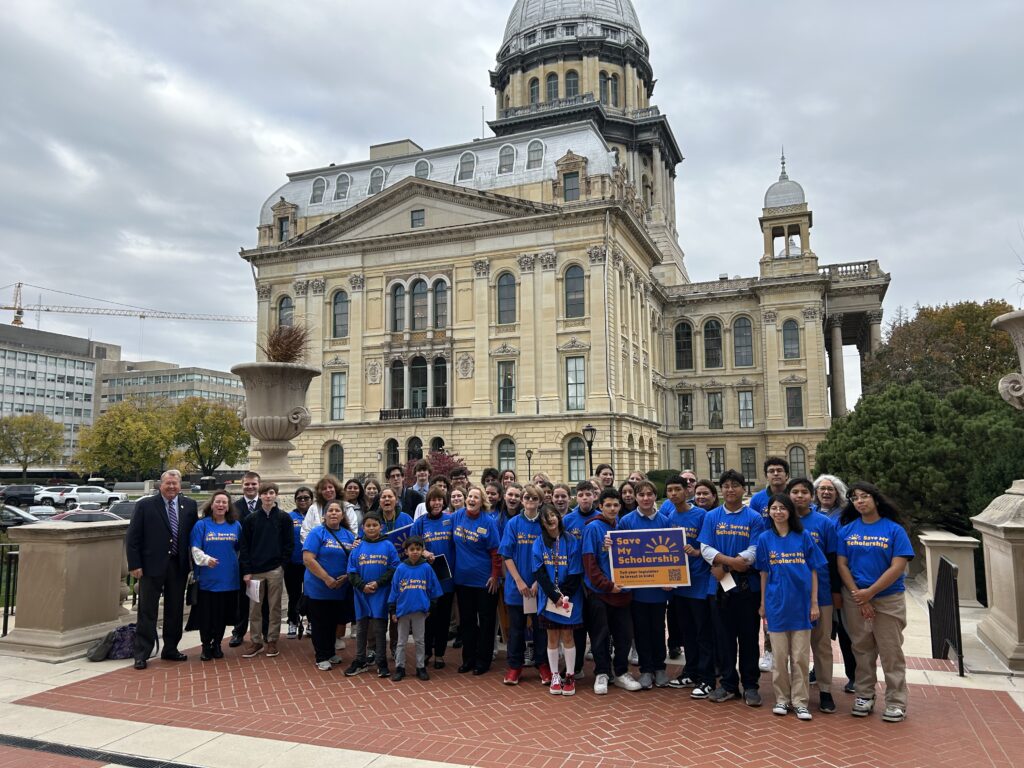 Senate Republicans are focused on using the last week of Veto Session to continue to try to save the Invest in Kids scholarship program, which provides tax credits for donations to scholarships given to low-income families to allow them to send their children to a school of their choice. Additionally, we are pushing for a legislative solution to the Governor's veto of a bill that would have ended the moratorium on nuclear power plant construction.
I would encourage people to follow the action (or inaction) on Invest in Kids this week. This program, which provides life-changing tuition scholarships to low-income K-12 students in schools that are failing them, provides an opportunity to maximize struggling students' opportunities for educational success. Education-focused unions, which donate millions to lawmakers who support their agenda, want the program to expire on December 31. Will legislative Democrats, many of whom send their own kids to private schools, put their money where their mouth is and prioritize educational outcomes for their student-constituents? Or will they kill the bill that would extend the program? Again, their action or inaction this week will speak volumes about their true priorities.
Click here to view a video I made this morning from my Springfield office about Invest in Kids.
Republican Senators Encouraging Pritzker to 'Think Illinois'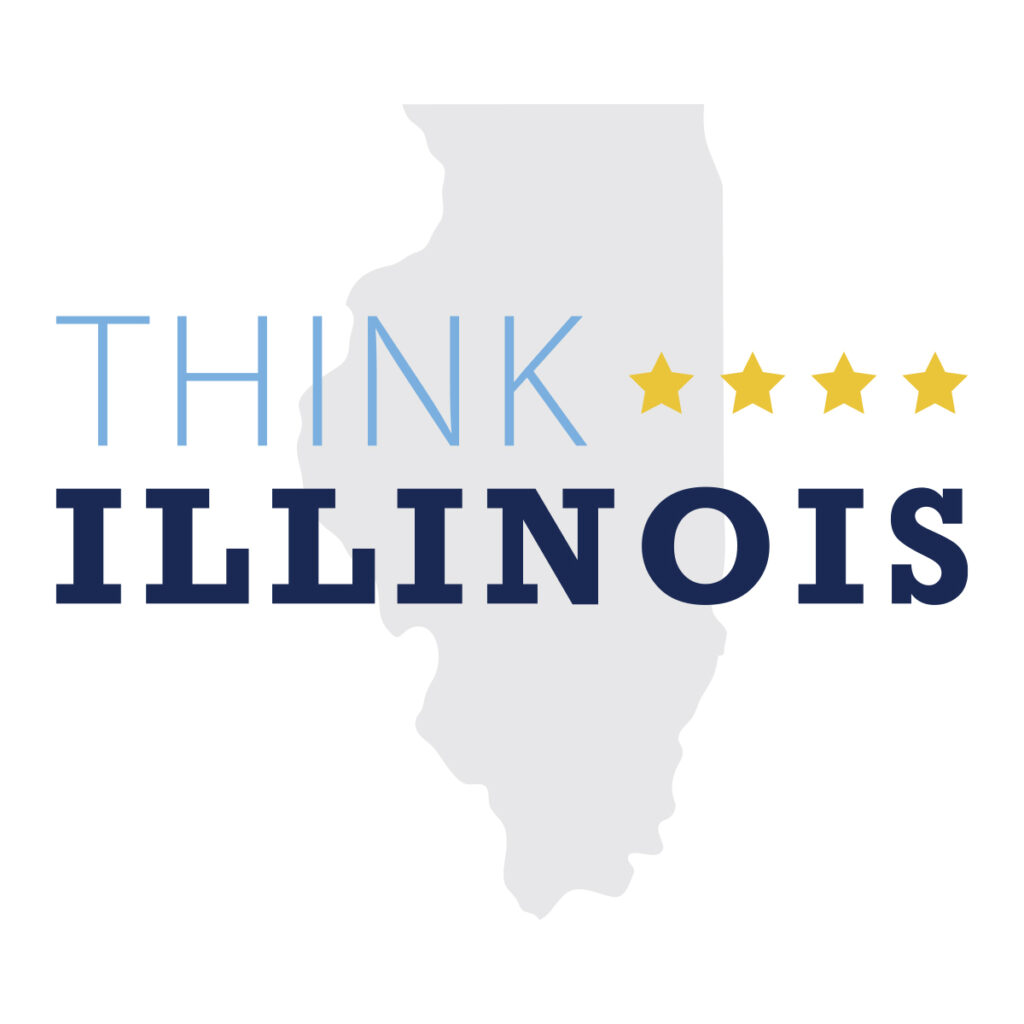 Senate Republican Caucus members are calling for Gov. JB Pritzker to focus on managing his administration here in Illinois, instead of traveling the country trying to increase his national profile.
Members joined a press conference on Nov. 1 to highlight the ongoing concerns regarding the Pritzker Administration's continued mismanagement and failures within multiple state agencies. The call is in response to the national media tour Gov. Pritzker has been conducting to promote "Think Big America," a new national political organization he started to support policies in other states.
Republican Senators are calling on the Governor to refocus his attention on the job he was elected to do here in Illinois. During his time in office, his administration has been embattled in a multitude of agency failures including:
Illinois Emergency Management Agency (IEMA) – Recent investigative news reports highlighted several high-profile resignations/terminations at the agency, along with egregiously high taxpayer-funded salaries including one assistant who was being paid up to $60,000 – PER MONTH.
Illinois Department of Financial and Professional Regulation (IDFPR) – Long delays in license renewals are negatively impacting many skilled professionals throughout the state including doctors, nurses, pharmacists, dentists, social workers, other healthcare workers, and business owners.
Illinois Department of Children and Family Services (DCFS) – Continued long-running issues of mismanagement and neglect for Illinois' most vulnerable children continue to plague the agency whose director recently announced his resignation following being found in contempt of court numerous times.
Illinois Department of Human Services (HFS)– Despite analyses showing that the agency's Health Benefits for Immigrant Adults and Seniors program that provides free healthcare to undocumented adult immigrants would likely top $1 billion, Gov. Pritzker insisted he could keep the program within its $550 was budget. Despite being given the tools he said he needed to rein in spending, the agency is projecting the cost to exceed its budget by more than 50% to more than $800 million.
Illinois Department of Employment Security (IDES) – A recent audit called for by Senate Republicans showed Pritzker's IDES made more than $5 billion in improper payments during the pandemic while many Illinoisans were still struggling to get the benefits they were rightfully owed. Even more concerning, evidence shows the Pritzker Administration intentionally instructed employees to ignore red flags of fraud and other guidelines suggested by the federal government.
These are just some of the major problems facing Illinois taxpayers that must be addressed. Senate Republicans will continue to call on Gov. Pritzker to take a break from chasing the national spotlight and take significant action to reform the Illinois agencies that have been flailing under his sole control.
On Nov. 7, the Legislative Audit Commission (LAC) will hold a hearing to review the most recent scathing audit covering IDES and the Administration's handling of the state's unemployment system during the pandemic. That audit was the result of a resolution filed by Senate Republicans.
At the LAC hearings, Republicans will be filing a resolution to perform a similar audit covering the staffing issues that have recently come to light at IEMA. They will also be filing legislation in the full Senate calling for a similar audit.
While state legislators were in session last week working on solutions for the people of Illinois, the Governor was out in Washington D.C. weighing in on foreign policy and national politics. Personally, I would encourage Gov. Pritzker to alter his focus and prioritize issues here at home. 
Illinois State Police Hold Hearings on Gun Ban Rule
Illinois State Police (ISP) officials have finished holding hearings over a confusing and controversial aspect of the state's new "Assault Weapon" ban.
The new law bans the possession of many different makes and models of firearms and firearm attachments, but it allows current owners to keep them if they were purchased before Jan. 23, 2023, and if the owners fill out an endorsement affidavit.
To implement the affidavit requirement, ISP filed an emergency rule to be reviewed by the Joint Committee on Administrative Rules (JCAR). Lawmakers on JCAR reached an agreement with the agency to conduct hearings on the proposal before implementation.
The first hearing was held in Springfield on Nov. 2, and the second was in Chicago the following day. The final hearing was held this morning in Caseyville.
Numerous individuals submitted comments and questions at the hearings, with much of the focus on conflicting and confusing language within the law itself regarding what specific models of firearms and accessories are affected. Many of them were not given answers at the hearing by ISP officials but were instead asked to submit their questions in writing and were promised answers at a later point.
Navigating Illinois Roads Safely During Autumn's Animal Migration
In November, Illinois roads can become particularly hazardous due to increasing numbers of deer during the peak of the animals' autumn breeding season, typically leading to an increase in the number of deer-related accidents. Warning signs mark known deer crossing areas, reminding drivers to exercise extreme caution. Last year in Illinois, these accidents claimed four lives, injured more than 629 individuals, and led to 14,529 reported crashes.
Motorists are advised against the instinct to swerve upon encountering a deer; instead, experts emphasize the importance of braking hard, driving straight, and gripping the steering wheel to absorb the impact. This approach not only increases the chances of survival but also reduces the risk of losing control or colliding with other vehicles, emphasizing the critical need for stability and vigilance on the roads.
If you hit a deer, pull over. Turn on your car's hazard lights and call 9-1-1. Do not approach the injured deer.
The top 10 Illinois counties for crashes involving deer in 2022:
1. Cook: 542
2. Madison: 396
3. McHenry: 351
4. Lake: 350
5. Will: 344
6. Peoria: 323
7. Fulton: 313
8. Kane: 286
9. Sangamon: 282
10. Macoupin: 271
For information on how to claim a deer involved in a crash, or to report possession of a deer killed in a crash, go to the IDNR website.