Senator DeWitte to host 'Back to Business' grant webinar on May 3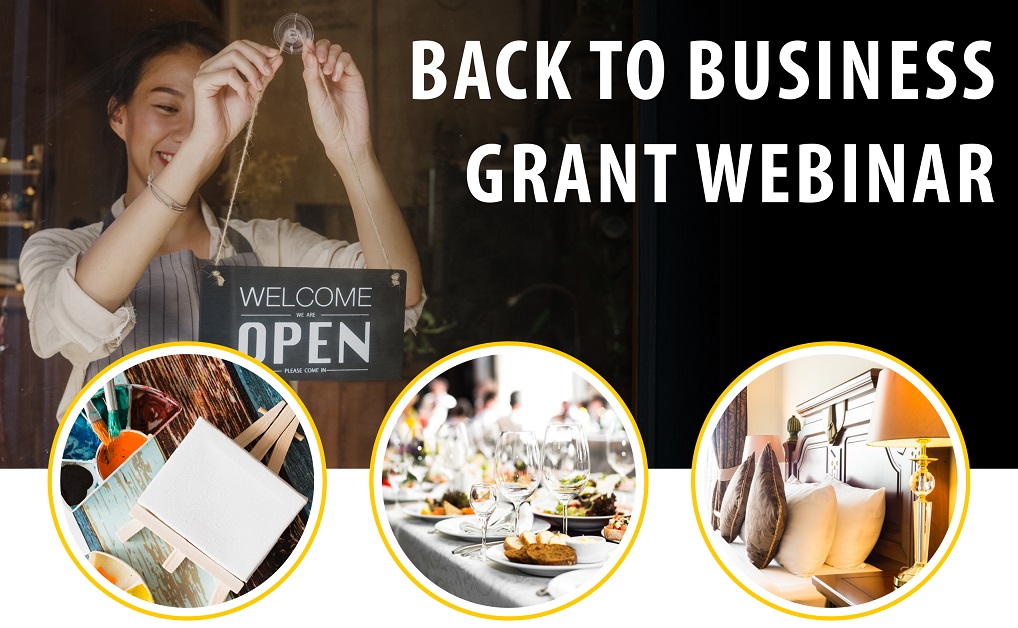 Support of Illinois' job creators is critical to a thriving state economy. This year I filed legislation that lifts up our businesses and helps them succeed and reach new levels of success. But my advocacy in this area is not limited to legislative endeavors.
If you or someone you know is the owner of a restaurant, hotel, or creative arts organization, I would like to invite you/them to join me and representatives from the Illinois Department of Commerce and Economic Opportunity (DCEO) for a FREE webinar to learn how to apply for a significant outlay of grant money.
Senator DeWitte's Back to Business Grant Webinar
Wednesday, May 3
10:30-11:30 AM
Online via Zoom
DCEO is offering $175 million in recovery grants through the Back to Business (B2B) program. Through this program, businesses in three select categories that have been hardest hit by the pandemic will be able to apply for grants from April 5 through May 10.
In total, $75 million will be available for the hotel grants, while $50 million will be available for restaurants and creative arts organizations respectively. Grants are wide-ranging, from $5,000 to $50,000 for restaurants, up to $1,500 per room for hotels, and $5,000 to $250,000 for creative arts organizations. Businesses in either the restaurant or creative arts categories will be awarded with flexible spending to support losses; however, for those in the hotel category, 80 percent must be used for payroll-related costs with the remaining 20 percent being flexible spending.
Participants must register for this webinar, and once registered and prior to the May 3 event, registrants will receive a link via email that will allow them to connect to the webinar.
To register for this event, please send your name, as well as your business name, address, and phone number to this email address: RSVP@sgop.ilga.gov. 
Senate Republicans Push Victim Protection Bills at Capitol
Recent public policy has too often prioritized criminals rather than focusing on bringing justice to the victims. This week, Senate Republicans stood together to put justice for crime victims front and center at a press conference.
During the April 24 press conference, Senators highlighted several policy responses aimed at reducing fentanyl deaths and protecting victims of domestic abuse, drunk driving, and childcare center threats.
The legislation includes:
Senate Bill 73 creates a new Class X penalty for someone who unlawfully sells or dispenses any scheduled drug containing a detectable amount of fentanyl. In addition, the bill makes it a Class 1 felony for someone to knowingly use an electronic communication device in the furtherance of controlled substance trafficking involving a substance containing any amount of fentanyl.
Senate Bill 1086 in every case in which fentanyl is determined to be the cause or a contributing factor in the death, the coroner or medical examiner shall report the death to the Department of Public Health as "fentanyl poisoning."
Senate Bill 1405 creates a blended sentencing provision for aggravated driving under the influence where there is an accident that results in the death of one person and great bodily harm or permanent disability or disfigurement to one or more persons.
Senate Bill 1968 creates a felony offense for those who threaten a childcare institution or daycare center building or threaten violence, death, or bodily harm directed against someone at a childcare institution or daycare center, a childcare institution or daycare center function.
Senate Bill 1974 enhances the penalty of a domestic battery, other than by discharge of a firearm, in cases when it is committed against someone 60 years of age or older so that they commit the felony offense of aggravated domestic battery.
Senate Bill 1976 expands the offense of domestic assault to cover situations where someone engages in conduct that places any family or household member in reasonable apprehension of great bodily harm or permanent disability or disfigurement. In addition, the bill provides for a 72-hour stay-away order.
 House Bill 3203 provides that a pharmacist or retailer may sell fentanyl test strips over-the-counter to the public to test for the presence of fentanyl, a fentanyl analog, or a drug adulterant within a controlled substance.
DeWitte encourages high school students to apply for FREE urban planning program
The Chicago Metropolitan Agency for Planning (CMAP) is now accepting applications for its 2023 Future Leaders in Planning (FLIP) program. FLIP is a free summer program for high school students to explore the field of urban planning and learn about the issues that shape our region and communities. Students learn about planning topics through engaging sessions, activities, and site visits.
When: Monday, July 10, through Friday, July 14, from 10:00 a.m. to 4:00 p.m.
Where: CMAP's office in downtown Chicago (433 W. Van Buren St.), plus locations around the region
FLIP is open to high school students in Cook, DuPage, Kane, Kendall, Lake, McHenry, and Will counties. The program is completely free to students and includes snacks, meals, public transportation to and from sessions, and swag.
Students must apply online by Tuesday, May 30. Learn more at www.cmap.is/FLIP
Undocumented Healthcare Program Breaks Budget
A recent news article shined a light on a glaring budget liability heading into Illinois' new fiscal year, as a program that provides free healthcare for undocumented immigrants has ballooned to nearly $1 billion.
In 2020, Illinois implemented the Health Benefits for Immigrant Adults and Seniors, a program that gave Medicaid-type coverage for noncitizens 65 years or older. Since then, the program has expanded to include those 42 and older.
In its first fiscal year, the program exceeded its entire year's appropriation within the first month of implementation. This trend has only increased. Currently, Fiscal Year 2023 spending is estimated to be $567.6 million, over three times the budgeted amount of $150 million. The disparity between budgeted and actual spending is expected to continue as the state is now projecting a total cost next fiscal year of $990 million, leaving a program deficit of $770 million.
Illinois taxpayers are completely on the hook for the cost of this program as there is no matching federal funding like there is for Medicaid. At a time when the state is failing some of its most vulnerable citizens, such as largely underfunding services for the developmentally disabled by over a half billion dollars over the last three years, I believe the state has its priorities backward. I strongly believe the State of Illinois has a responsibility to fully fund its current financial obligations before spending $1 billion on healthcare for non-citizens.