Republicans Promote Business Agenda in Press Conference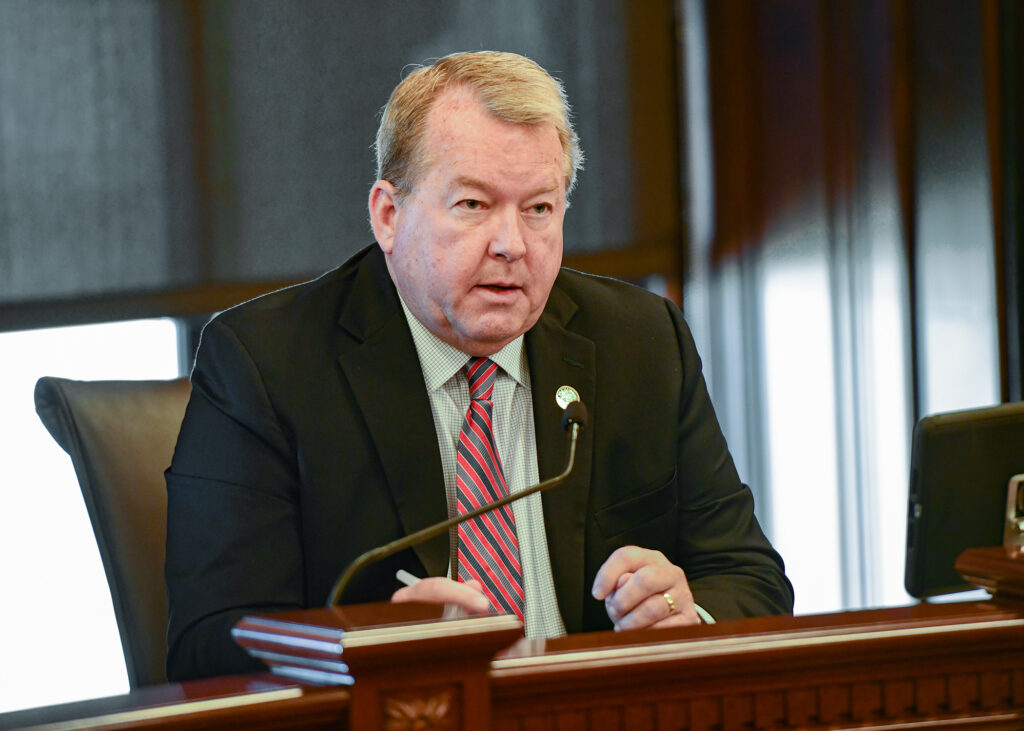 As Illinois' unfriendly business climate has pushed large companies like Stellantis, Caterpiller, Tyson Foods, and Boeing to leave the state or significantly reduce their corporate presence, last week I joined several of my Senate Republican colleagues to promote a package of business-centered legislation. The package of bills will allow Illinois to improve its economic approach to businesses by helping Illinois better compete, create jobs, and boost its economy.
The bills I presented include:
Senate Bill 163: Expands a tax credit to fund research and development.
Senate Bill 2084: Creates the Illinois Innovation Tax Credit.
You can hear my portion of the press conference here.
Other bills highlighted in the April 17 press conference include:
Senate Bill 1406 (Sponsored by Senator Win Stoller): Repeals the franchise tax that includes three different taxes on money used to build a business as opposed to revenue or net worth.
Senate Bill 140  (Sponsored by Senator Jil Tracy): Eliminates the Estate Tax for persons dying on or after the effective date, or for transfers made on or after the effective date.
Senate Bill 1810 (Sponsored by Senator John Curran): Removes the $100,000 cap on Net Operating Loss deductions to help businesses invest and grow their organizations without losing revenue to the state.
Senate Bill 2140 (Sponsored by Senator Andrew Chesney): Reduces the filing fee for limited liability corporations by 50 percent.
Senate Bill 2075 (Sponsored by Senator Seth Lewis) Creates a legacy tax credit for companies headquartered in Illinois and corresponding employee tax credits to support and retain Illinois' legacy businesses.
Most of these proposals work to undo a series of tax increases pushed through by the Governor and Majority Party when the Pritzker Progressive Income Tax proposal failed in 2021.
Chicago Mayor-Elect Johnson Delivers Speech to General Assembly
On April 19, the Mayor-elect of Chicago gave an address to a joint session of the Illinois General Assembly to tout his plans for the City of Chicago. In his speech, Mayor-elect Johnson made a lot of promises for programs that will likely be funded by businesses and could lead to the continued exodus of employers that Chicago has seen recently.
While no specific mention was made by Johnson on April 19, he has proposed a series of tax increases in recent months. Those proposals would be a direct hit to job creators that not only employ thousands in the City but also the greater Chicagoland area. One such proposal would implement a hotel tax, which would stifle tourism and make it less attractive for visitors and major trade shows.
Instead of more tax-and-spend policies, Senate Republicans were hoping to hear the Mayor-elect present real, concrete plans and solutions to the crime problem facing Chicago. Rather than announcing how he intends to hold criminals accountable, Johnson glossed over the major issue that continues to receive negative national headlines.
DCFS Faces Questions During Appropriations Hearing
On April 20, members of a Senate Appropriations Committee had a chance to question officials from the Illinois Department of Children & Family Services (DCFS) on the Department's proposed budget for Fiscal Year 2024. DCFS funding has increased over the past few years and reflects an increase of $767 million since Fiscal Year 2018.
Despite this increase and the recent request during the Appropriations hearing for even more money, the number of child deaths under the agency's radar continues to grow each year. From Fiscal Years 2015 to 2018, an average of 100.5 children died per year, while from Fiscal Years 2018 to 2022, that number increased to 129.5 children. In 2022 alone, there were 171 deaths of children who met the criteria for an investigation by DCFS.
DCFS has still failed to improve the quality of care for these vulnerable children. Instead, the issue has only worsened over time. And this is not the only issue that DCFS has faced. In the past few years, the Director of DCFS has faced multiple contempt of court charges over child placements and the agency has been accused of mishandling numerous cases. Despite these disturbing trends, the Governor has refused to change the agency's leadership.
Spring Outreach Events in Full Swing in 33rd District

Thank you to everyone who participated in recent 33rd District outreach events, which include a toiletry and personal hygiene item drive for local pantries, a shred event/food collection drive, a conversations untapped event with Senator Dan McConchie in Algonquin, and a prescription and over-the-counter drug drop-off event. Attendance has been remarkable at all of my events so far this spring!
Other than a Nurses Appreciation event that is planned for May 12 at Sherman Hospital in Elgin, May will be devoted to time in Springfield as we finish the spring legislative session, but details are coming soon for my summer outreach events.