DeWitte Toiletry Drive and Shred Event/Food Drive a Huge Success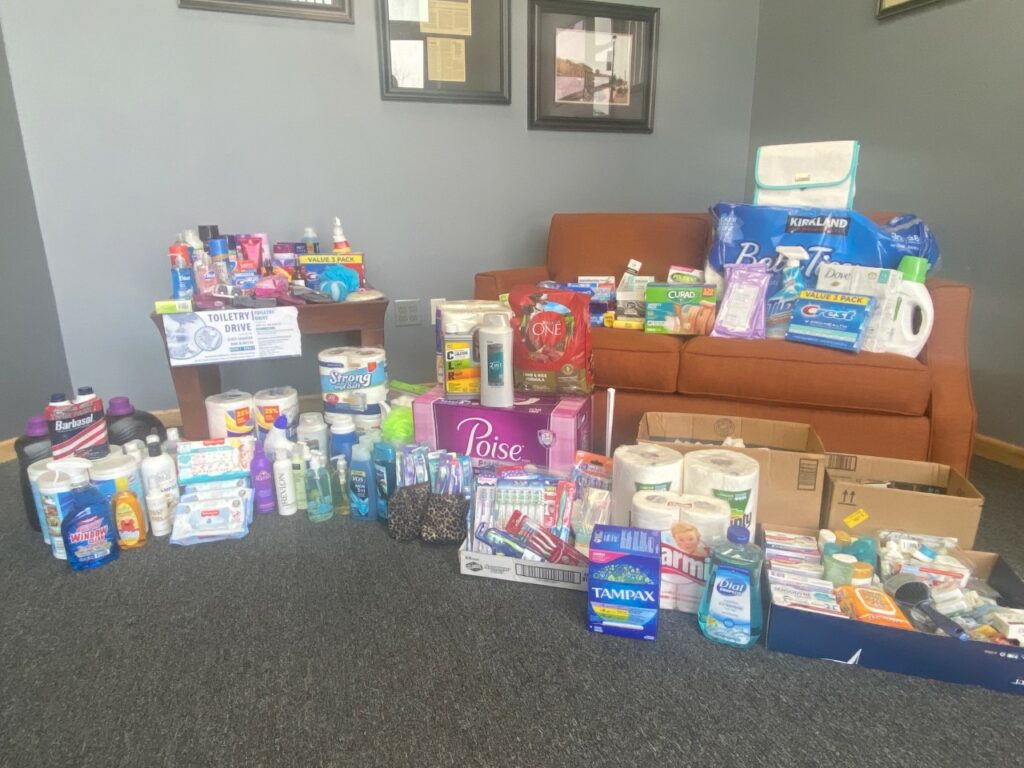 Thank you to everyone who donated cleaning and personal hygiene items to my recent toiletry drive. These items are just as important as food to those in need, and they are typically the items of the least supply at pantries.
Through the generous and giving spirit of the people in this area, we were successful in collecting hundreds of items that were distributed to the St. Charles Salvation Army and the Food for Greater Elgin Pantry. In this photo you can see just a small portion of the items we collected.
If you still have items you would like to donate, please feel free to drop them off at my district office, located at 641 S. 8th Street in West Dundee between 8:30 AM and 4:30 PM.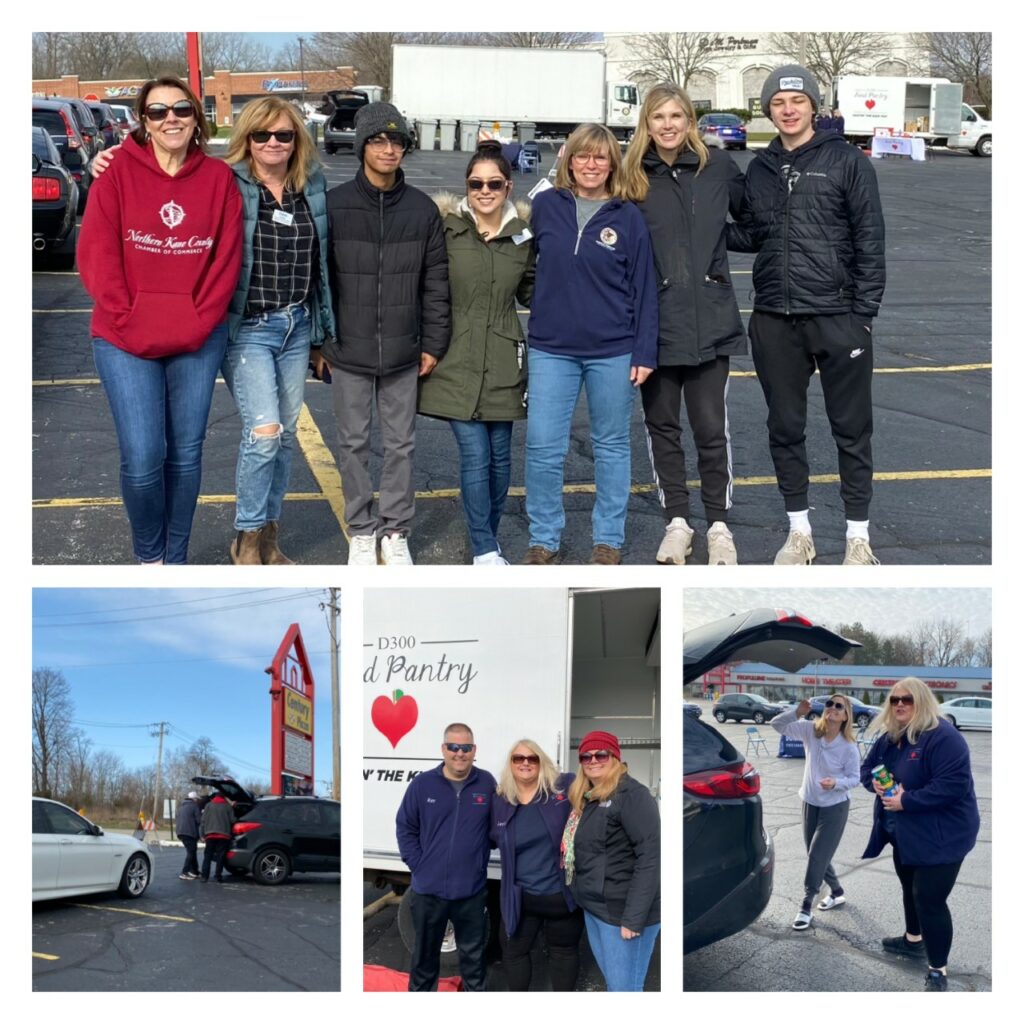 We also had a very successful shredding event and food drive over the weekend in West Dundee. There was a steady stream of cars dropping off sensitive paper documents for safe shredding, and we collected a great deal of nonperishable food for the District 300 Food Pantry.
The generosity of the people living in the 33rd Senate District never ceases to amaze me. When the pantries and service providers said their supplies were running low, the community responded. Thank you for all of your donations!
Illinois One of the Highest Tax Burdens in United States
A study released by the personal finance website WalletHub has determined that Illinois has the ninth highest overall tax burden on its residents. Breaking it down, Illinois ranks tenth in the country for highest property tax and is in the top half of states for individual income and total sales and excise tax burdens.
This study is based around the idea of tax burdens rather than tax rates. Tax rates can vary wildly depending on taxpayers' different circumstances, but tax burdens will reflect the amount of an individual's income that is paid in a variety of taxes. By looking at that percentage, it is easier to see the impact of taxes on the average person.
The WalletHub study showed that when accounting for property, individual income, and sales and excise tax rates, Illinois residents lose 9.3% of their personal income to taxes. This division means almost one hour's pay for every eight-hour work shift is being taken from Illinoisans when all taxes are accounted for. Unsurprisingly, this study also found a wide disparity between two groups of states. When averaged, Republican-led states have a significantly lower total tax burden than Democratic-led states.
Illinois' high tax burden coupled with record-high inflation are the major reasons that Senate Republicans are advocating for relief for Illinois families. Senate Republicans continue to push for passage of measures that would provide Illinoisans with savings on food, drugs, childcare, and energy costs. You can review the Senate Republican proposals here.
Disaster Declaration Issued for Severe Weather Damages
All of Illinois has been experiencing a great deal of bad weather lately. In fact, over a recent four-day stretch, Illinois saw 22 tornadoes and several strong thunderstorms with high winds. Unfortunately, this weather brought with it property damage and, tragically, lost lives. As a result, the Governor recently issued a disaster proclamation to help provide some relief for communities.
A disaster proclamation enables the state to provide immediate assistance to the communities outlined in the proclamation, in this case including Boone, Crawford, DuPage, Marion, and Sangamon counties. Additionally, the Governor has also directed the Illinois Emergency Management Agency to coordinate a statewide response.
Upcoming Events in the 33rd District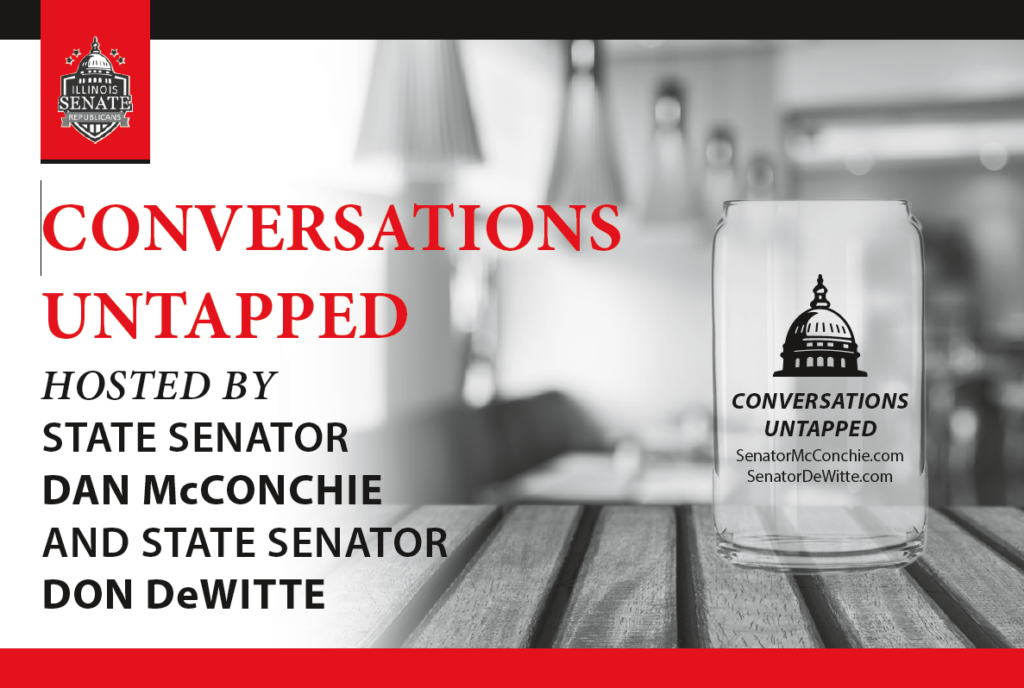 It's been a busy month so far with outreach events in the 33rd District, but we have more events coming. Please mark your calendar for these upcoming events:
April 17: Conversations Untapped: 5:30 – 7:00 PM, Bullseye Pub & Eatery, 119 S. Main Street, in Algonquin. I will be joined by Senator Dan McConchie for this casual event. Come meet with your local Senators and discuss issues that are important to you in a low-key setting. We want to hear your thoughts, ideas, and concerns, so please stop by.
April 22: Prescription Drug Dropoff Event: 10:00 AM – 2:00 PM, Campton Hills Police Department, 40W270 LaFox Road, B in Campton Hills. Accepted items include unused and expired prescription and over-the-counter medications, pet medications, and vitamins. We cannot accept liquids, creams, needles, or illegal drugs.