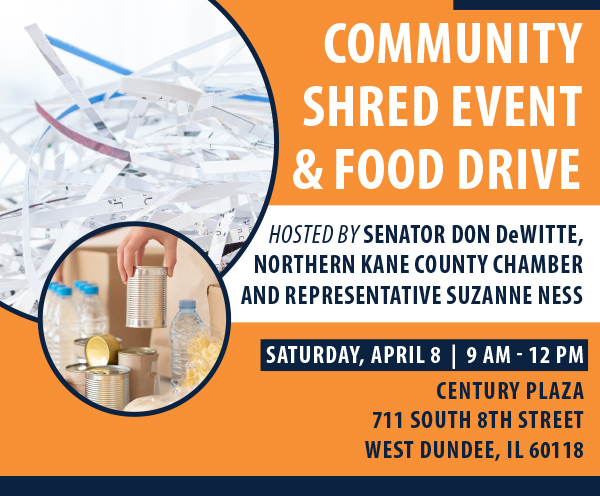 State Senator Don DeWitte (R-St. Charles) is partnering with the Northern Kane County Chamber of Commerce and State Representative Suzanne Ness (D-Crystal Lake) for a free community document shredding event on Saturday, April 8. Non-perishable food donations will also be collected during the three-hour event for the District 300 Food Pantry.
"We are happy to provide secure document shredding for residents of Northern Kane County and Southern McHenry County," said DeWitte. "We all have old receipts, bank statements, and other sensitive documents that need to be disposed of safely, and this April 8 event provides the perfect opportunity for residents to do some spring document cleaning."
A shred truck will be at Century Plaza, 711 S. 8th Street in West Dundee from 9:00 AM until noon, and participants may bring up to two banker boxes or similar-sized bags of paper documents for shredding. The truck will be on site until noon, or until the truck is full. Food pantry donations will be accepted through noon. Acceptable items include white and colored paper, envelopes, post-it notes, paper folders, staples and paper clips. Items that cannot be accepted include binder clips, binders, trash, CDs/DVDs, floppy disks, electronics, and metal or plastic items.
"As residents take advantage of this free shredding service, I'm hoping they will grab a can or box or two from their home pantry to donate to the District 300 Food Pantry," DeWitte said. "We have hungry families right here in our community that rely on this pantry, so let's all do our part to help replenish their supply."
For additional information about this event, please contact Hannah at hseaver@sgop.ilga.gov.