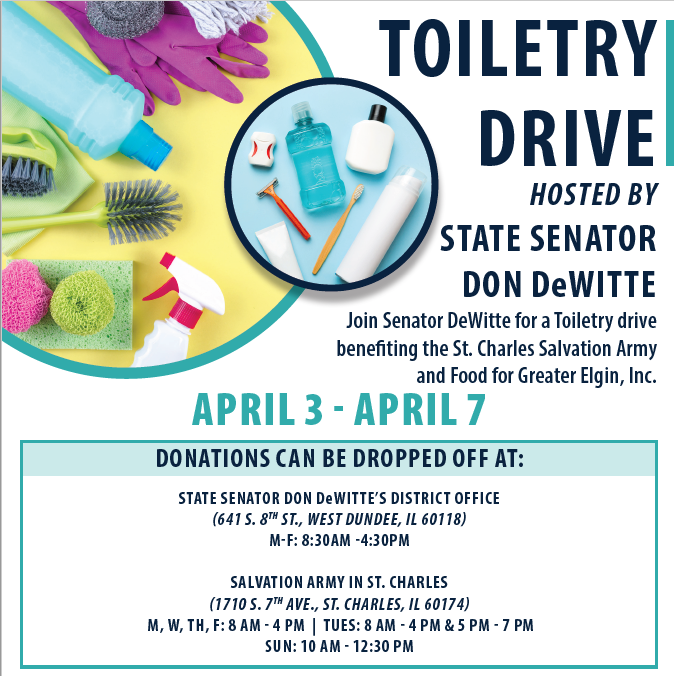 In response to a growing need for household cleaning and personal hygiene products at local pantries and assistance centers in Kane County, State Senator is hosting a product donation drive from April 3-7.
"Residents of the 33rd District have always given generously to food drives, and I am hopeful they will be equally generous to help replenish cleaning and hygiene product supplies at the Food for Greater Elgin Pantry and the St. Charles Salvation Army," said DeWitte.
New, unused products, including household cleaners, lotions, soaps, shampoos/conditioners, toothbrushes/toothpaste, shaving supplies, baby wipes/diapers, etc. can be dropped off between April 3-7 at the following locations:
Senator DeWitte's Legislative Office
641 S. 8th Street, West Dundee
Monday-Friday, 8:30-4:30
St. Charles Salvation Army
1710 S. 7th Avenue, St. Charles
Mon, Weds, Thurs, Fri, 8:00-4:00
Tuesdays, 8:00-4:00 and 5:00-7:00
Sundays, 10:00-12:30
"These items are just as important to struggling families as food, and our local pantries never seem to have an adequate supply to meet the need," added DeWitte. "I look forward to seeing the District 33 community once again do what they do best, and that is stepping up to help their neighbors who are experiencing difficulties."
For additional information about this event, please contact Hannah at hseaver@sgop.ilga.gov.