Committee Deadline for Senate Bills Approaches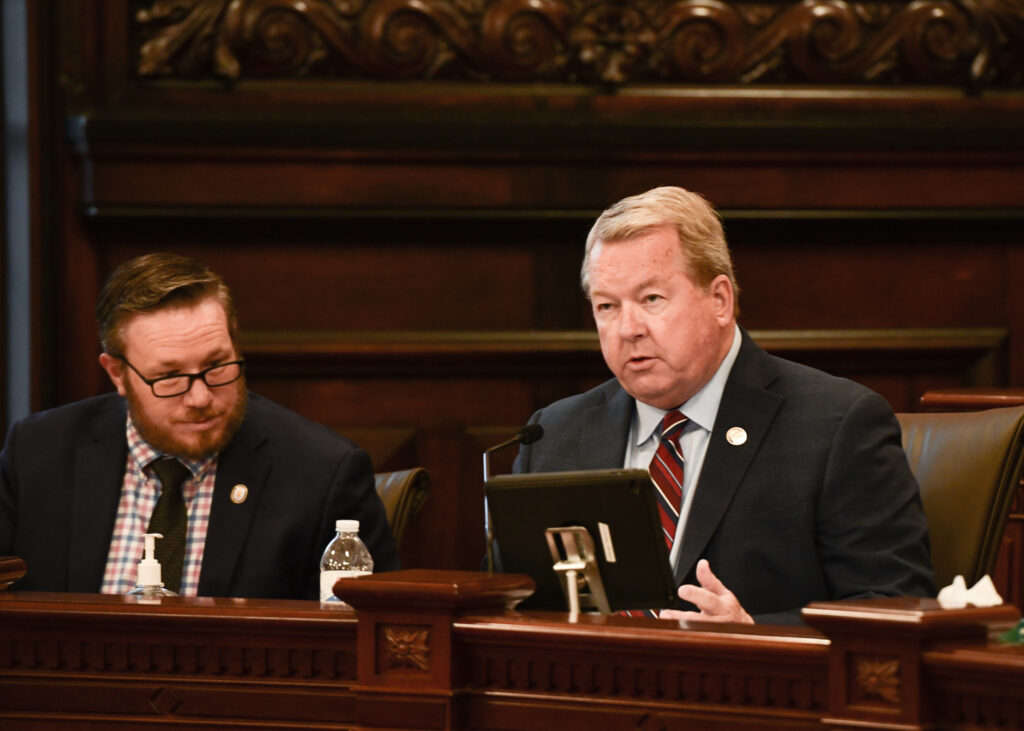 The Senate returns to Springfield this week with an eye on the March 10 deadline for Senate Bills to have cleared a committee. While there are legislative loopholes that still allow some bills to advance past this deadline, for the most part, bills that do not receive a positive vote at the committee level by Friday, March 10 are considered "dead" for this session year. I personally have several bills that are pending before substantive committees, and I am hopeful all of them will receive hearings. It will be a very busy week in Springfield as legislators seek to move their bills through the legislative process.
Once a bill is approved by the substantive committee to which it has been assigned, the legislation then advances to the full Senate for consideration before being sent over to the House of Representatives, where the vetting process in the other chamber begins.
To find the Senate Committee schedule for the week and a list of bills to be heard, click here.
DeWitte Events Calendar Coming Together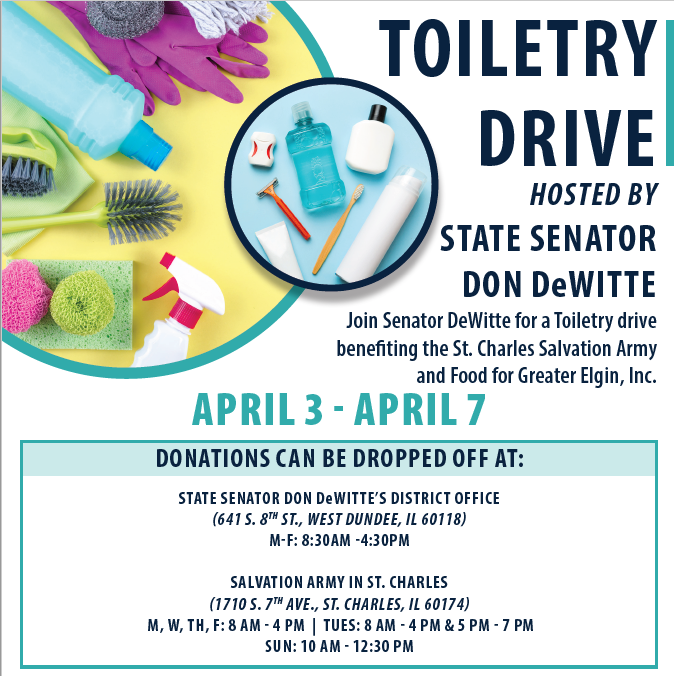 Thank you to everyone who participated in my Feb. 15 Unclaimed Property Event. We successfully connected several people with unclaimed cash that was waiting for them to claim from the IL Treasurer's Office. While March is heavy with session days, my staff will hold traveling office hours on March 15 in Crystal Lake, and I have a few community outreach events in the works for April. Please mark your calendars now for the following free events:
March 15: Traveling Office Hours at the Crystal Lake Public Library: 10:30 AM – 12:30 PM, 126 W. Paddock Street, Crystal Lake. A member of my staff will be available to assist constituents with issues involving state agencies and departments.
April 3-7: Toiletry Drive to benefit the St. Charles Salvation Army and Food for Greater Elgin, Inc.: New, unused household cleaning products, hygiene products, and other toiletries will be collected.
April 22: Prescription Drug Dropoff Event: 10:00 AM – 2:00 PM, Campton Hills Police Department, 40W270 LaFox Road, B in Campton Hills. Accepted items include unused and expired prescription and over-the-counter medications, pet medications, and vitamins. We cannot accept liquids, creams, needles, or illegal drugs.
Chrysler Plant Owner Stellantis Cites Illinois' High Taxes as they Shutter Belvidere Auto Facility
On March 1, about 1,350 people did not return to work in Belvidere at the Stellantis Assembly Plant, which until that point had been a main producer of Jeep Cherokees, among other models. This factory has served as a critical part of Belvidere's economy since the 1960s. Its importance to the local economy means that in addition to the jobs lost at the plant, 400 jobs at different companies that supplied the plant have also been cut.
Stellantis cited Illinois' high taxes as a main reason for its departure. On the same day the Belvidere plant was officially closed, Stellantis announced a new $155 million investment in Indiana. The closure of the plant is a devastating blow, and is just one more example of how failed Democratic policies are driving businesses and jobs out of the state. The Stellantis Chrysler Plant was a staple in the Belvidere community for more than 60 years.
Local Park Districts throughout the Illinois Receive Grants
The Illinois Department of Natural Resources has announced nearly $60 million in state grants being awarded to park districts across Illinois. The Open Space Land Acquisition and Development (OSLAD) grants are awarded to qualified recipients to help communities acquire land and further develop recreational, outdoor opportunities.
Grants totaling $2.4 million will be distributed in the 33rd Senate District. The breakdown is as follows:
Crystal Lake Park District – $600,000
Geneva Park District – $600,000
St. Charles Park District – $600,000
Village of South Elgin – $600,000
Medicaid Customers Should Update Address to Avoid Risk of Loss of Coverage
Medicaid members are encouraged to update their contact information, specifically their home mailing address, with the Illinois Department of Healthcare and Family Service (IDHFS) or they may risk losing their health insurance coverage.
IDHFS is encouraging all Illinoisans currently covered by Medicaid to verify their current address as most will soon be receiving critical renewal notices in the mail.
On March 31, the protections put in place to maintain continuous enrollment in Medicaid will lapse. Prior to the pandemic, Illinois residents were required to annually renew their health insurance coverage to prove they still qualified for the program; however, during the COVID-19 pandemic, the federal government began to provide extra funding to states who did not disqualify any residents from Medicaid. Illinois Medicaid members were automatically re-enrolled during this period.
Now, this protection has come to an end. Currently, the first round of anticipated renewal notices will begin to arrive in mailboxes in May, to be due in June. The month participants receive their renewal notices in the mail will depend on when their coverage is expected to expire. Notices will be mailed over the course of a year.
Some Illinois residents may still automatically renew; however, most will have to fill out paperwork to maintain their coverage. It is critical that participants focus on verifying their current address with the HFS. Those who have moved addresses recently can update their information on the HFS website. Residents should keep in mind that it may take some time for contact information to update in the government's systems and should verify their information before May.
Furthermore, residents can check renewal dates online on the Application for Benefits Eligibility website. If Medicaid policyholders are unresponsive to IDHFS notifications and inquiries, they will be unenrolled and lose health insurance coverage.
SNAP Benefits Reduced to Pre-Pandemic Levels
Under direction from the federal government, the Illinois Department of Human Services (IDHS) has returned SNAP benefits to pre-pandemic levels. Since April 2020, an emergency SNAP allotment was added to the regular monthly benefits in order to address the worsening food insecurity challenges from the COVID-19 pandemic. The federal Families First Coronavirus Response Act gave households who participate in SNAP an additional $95 to $340 per month.
In Illinois, this reduction will impact approximately two million families, even as inflation continues to increase in grocery stores. As a result, Illinois food banks and pantries are beginning to brace for a difficult month. Already this year, many food pantries have reported a continued increase in families served throughout January and February.
In an effort to reduce strain on households, IDHS has put together a resource page for constituents who may need assistance in managing this reduction in funds. Furthermore, IDHS has said that it will be working closely with various communities and organizations to develop additional support and resources for families struggling with this reduction.