DeWitte renews calls to empower Illinois voters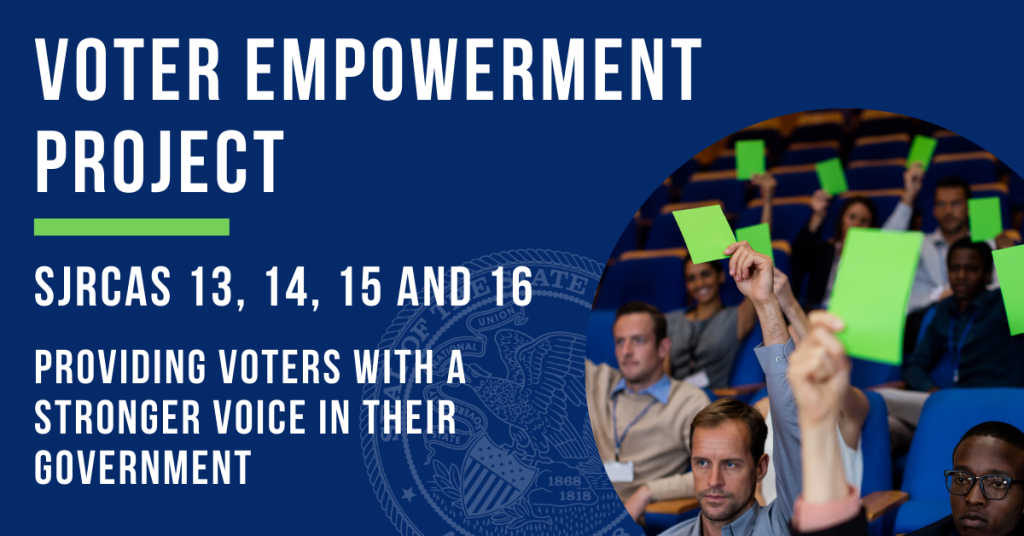 In the wake of yet another company facing federal charges after admitting it illegally attempted to influence former House Speaker Michael Madigan, I am renewing my calls to implement the Illinois Senate Republican Caucus' Voter Empowerment Project.
The Voter Empowerment Project is a series of constitutional amendments that would allow Illinois residents to hold corrupt politicians accountable and take back control from the current pay-to-play environment that has plagued the state for far too long.
The package of legislation contains four state constitutional amendments tailored to increase the voice of voters, including allowing them to repeal laws and recall elected officials.
In addition to the Voter Empowerment Project, I also believe that the Illinois Senate should adopt Senate Resolution 759, which would change Senate Rules that currently consolidate power over the legislative process to a few individuals. The changes to the Senate Rules would include:
requiring all bills to be assigned to a committee,
setting firm guidelines for the assignment of bills,
making it easier to discharge bills from a committee,
establishing a mechanism to force a committee hearing,
allowing members to file a minority report on any bill the member voted against during a committee hearing,
creating a mechanism to establish an investigative committee independent of Senate leadership,
requiring longer posting notices for bill amendments to allow the public adequate time to review the changes, and
requiring a daily final action calendar to allow the public to anticipate what will be heard daily.
Passage of the Voter Empowerment Project and Senate Resolution 759 are critical to undo years of public corruption created by elected officials who conduct business solely for their personal benefit and ignore the will of the Illinoisans they are supposed to represent.  
New Inflation report shows 40-year high core price increase 
According to the U.S. Bureau of Labor Statistics' Consumer Price Index (CPI) report for September, the overall index rose 8.2 percent over the past year. This CPI price increase was mostly driven by the cost of food, shelter, and medical care. Additionally, the report revealed that the core price index, which includes all items except food and energy, rose by 6.6 percent, marking the highest yearly increase in the past 40 years.
Meanwhile, energy prices have soared 19.8 percent over the previous 12 months, which doesn't include the recent jump in gas prices, and the food-at-home index rose a staggering 13 percent over the past year. These high prices are putting considerable strain on American consumers with one survey finding that nearly six in 10 Americans are now living paycheck to paycheck.
Given the new inflationary report and the latest rebound in high gas prices, I am once again calling for the General Assembly to pass legislation that provides real and long-term relief for financially strained Illinoisans by capping the state's sales tax on motor fuel at 18 cents per gallon and permanently eliminating the state's sales tax on groceries and medicine. 
Traveling Office Hours scheduled for Tuesday, Oct. 25 in St. Charles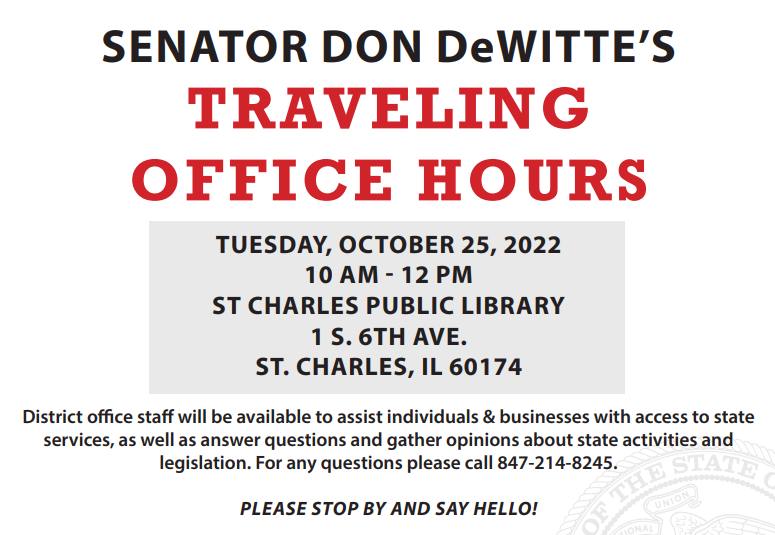 The 33rd District is geographically quite large, and it is not convenient for some of my constituents in the southernmost parts of the district to travel to my West Dundee office for assistance. This week, on Tuesday, Oct. 25, my office is hosting traveling office hours from 10:00 a.m. until noon at the St. Charles Public Library, 1 S. 6th Avenue, in St. Charles.
A member of my staff will be available at this event to assist constituents with issues involving state departments and agencies, including issues with unemployment, professional licensing, FOID cards and Concealed Carry licenses, and social services issues.
Senators DeWitte & McConchie to host prescription drug drop-off event on Oct. 29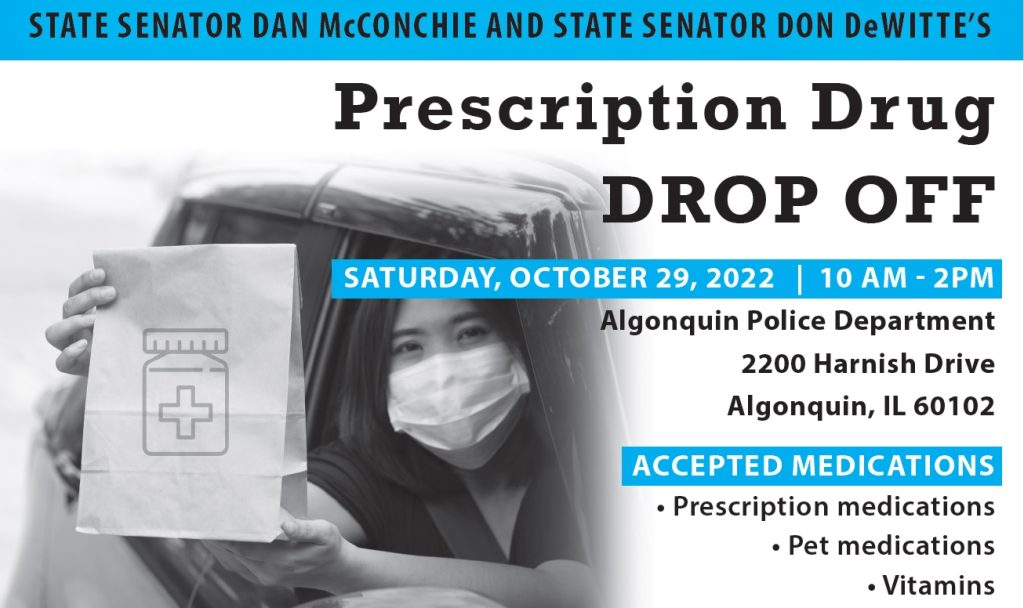 Saturday, October 29 is National Prescription Drug Takeback Day, and State Senators Dan McConchie (R-Hawthorn Woods) and I are partnering with the Algonquin Police Department for a drug drop-off event at the Algonquin Police Station.
Senator McConchie's and Senator DeWitte's Prescription Drug Drop-Off Event
Saturday, October 29, 2022, 10:00 a.m.- 2:00 p.m.
Algonquin Police Department
2200 Harnish Drive, Algonquin
Human and pet prescription and over-the-counter drugs and vitamins will be accepted, and those dropping off unused or expired medications can remain in their vehicles while event volunteers collect their items. Liquids, creams, needles, and illegal drugs will not be accepted.
By properly disposing of unused and expired medications, we are protecting our water supply from contamination, and preventing accidental poisonings or misuse of drugs. I think we call have items in our medicine cabinet that we no longer need, so this provides the perfect opportunity to safely dispose of drugs and vitamins and prevent accidental harm.
For more information about this upcoming event, please contact Hannah at hseaver@sgop.ilga.gov.
Senate Republicans to showcase veterans at Illinois Capitol 
For the past several years, Illinois Senate Republicans have been hosting an annual Veterans Day display to pay tribute to our state and nation's veterans. This year's "Honoring All Who Served" Veterans Day Display will be available for visitors to view from November 10 through November 28 in the State Capitol Rotunda.
To showcase the legacy of our nation's brave men and women, I am encouraging residents throughout the 33rd District to submit a photograph and written story of any veteran, so it can be displayed.
Families who would like to participate in this year's display should submit a photo and written story (max: 250 words) with the following information: name, military branch (Air Force, Army, Coast Guard, Marine Corps, National Guard, Navy) and conflict served (Afghanistan, Iraq, September 11, Gulf War, Vietnam, Korea, WWII, WWI, Peacetime, other). Military photos are preferred but not necessary.
If possible, please email submissions to veteransday@sgop.ilga.gov by November 10, 2022. Submissions will be accepted through November 28, and the display will be updated daily to include new entries. Submissions can also be mailed to Veterans Day Wall, 108 Statehouse, Springfield, IL 62706. For questions, please call (217) 782-0956. 
October is Domestic Violence Awareness Month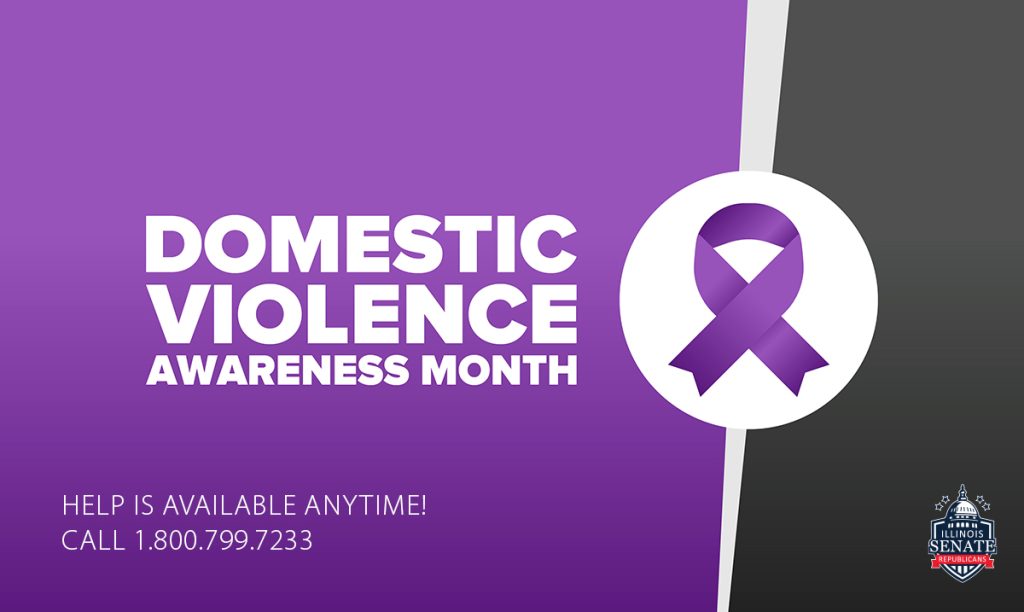 Each October has been designated as Domestic Violence Awareness Month ever since 1989. Since that first year, the month of October has served as a time to recognize domestic violence survivors and their supporters.
Over the past 30-plus years, a lot of progress has been made to support victims and survivors of domestic violence; however, there is still more work to be done as one in three women, and one in seven men are still victims of domestic violence throughout the world according to the Illinois Coalition Against Domestic Violence (ICADV). 
Click here to learn more details on ongoing campaigns, events and volunteer opportunities organized by the ICADV, and click here for more information about domestic violence victim services provided by the state. 
Student Loan Forgiveness Application Opens Despite Court-Ordered Block on Program
On October 17, the application process for the federal student debt cancellation program officially opened, but due to a federal court order, debt discharges are temporarily blocked while the lawsuits against the program go through the legal process.
However, the online application is still open, and submissions are being reviewed. People who choose to submit their application now will not have to reapply if the court order blocking the processing debt discharges is removed.
The application takes about five minutes to complete with the necessary information. To apply, people who believe they qualify should go to studentaid.gov and click "Start Application." Next, they should enter the required information into the webform, which includes name, phone number, Social Security number, date of birth and email address.
Then it will ask you to review the eligibility rules and confirm that you qualify by clicking a confirmation box. After that, just click submit.