DeWitte co-hosts emergency responders roundtable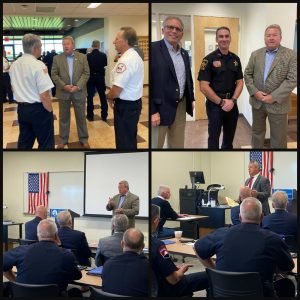 Last week I joined Senator Dave Syverson and State Representatives Dan Ugaste and Jeff Keicher, as we hosted a group of more than 50 representatives of Kane, McHenry, and DeKalb County police and fire protection for a roundtable meeting. We had a detailed discussion of the SAFE-T Act, and also discussed other challenges currently facing emergency responders in the region. Chief Judge Clint Hull of the 16th Judicial Circuit led the discussion about the SAFE-T Act, and provisions that are set to take effect on January 1, 2023.
I felt it was imperative that we get our emergency responders together to discuss issues that are important to them before lawmakers head to the legislative veto session. Especially as the implementation date for costly and controversial provisions of the so-called 'SAFE-T Act' approaches, we need to learn about challenges they are facing as they prepare to put the new measures in place.
Counties across the state are preparing for implementation of no cash bail, body camera, and other mandates within the SAFE-T Act. Kane County law enforcement is requesting a 50% increase in staffing to address new timeline requirements for the review of body camera and police car camera footage, and additional staffing is also being requested to meet expedited timeline provisions for mandatory initial hearings within new judicial processes. Staffing and funding concerns are not limited to Kane County. Across the board, we are hearing from local and county law enforcement that the costs of implementation of the SAFE-T Act are well beyond what municipalities and county government can afford.
The group also discussed changes in detention standards that will require about 130 current Kane County detainees to be released on January 1, because the offenses for which they are being held will no longer be considered "holdable offenses," and expedited requirements for police incident reporting that will force responding officers to meet filing deadlines that are considered by most to be unrealistic.
While a discussion of the SAFE-T Act was of primary focus, the group also discussed the use of chemicals in firefighting, and staff recruitment, mental health response, and overall funding challenges.
Officers and firefighters from Algonquin, Batavia, Carpentersville, DeKalb, East and West Dundee, Elburn, Elgin, Elgin Community College, Fox River/Countryside, Geneva, Gilberts, Hampshire, Huntley, Lake in the Hills, Northern Illinois University, Pingree Grove, Sleepy Hollow, South Elgin, St. Charles, Sycamore, and Waubonsee Community College, from DeKalb, Kane, and McHenry Counties, and EMS from Quadcom 9-1-1, and KaneComm 9-1-1 were in attendance.
Senators DeWitte, McConchie to host free Senior Health Fair in Carpentersville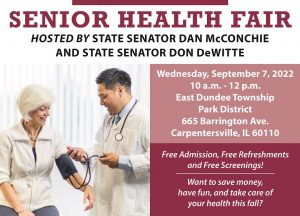 This week on Wednesday, September 7 from 10:00 AM until noon I will be partnering with Senate Minority Leader Dan McConchie for a FREE Senior Fair at the Dundee Township Park District Building at 665 Barrington Avenue in Carpentersville. We are bringing together over 35 vendors this year providing health screenings and support from various State agencies.
Flu shots and free health screenings will be available, and those who attend can learn about alternative ways to lead a happier and healthier lifestyle. A variety of local vendors will also be on hand to discuss programs and services that benefit seniors. Admission is free and refreshments will be served.
Participants include (the list may change as additional vendors are added): Advocate Aurora Health Good Shepard, Algonquin Public Library, Amedisys Home Health, Associates in Behavioral Healthcare, Citizens Utility Board, ComEd, Comfort Keepers, Dundee Township Park District Senior Center, DuPage/Kane Senior Council, Encompass Health Rehab, Encore Memory Care, Fox River Valley, Greater Family Health, Honor Flight, Humana Market Point, IL Attorney General, IL Department of Aging- Office of State Long Term Care Ombudsman, IL Treasurer, IL Department of Veterans Affairs, IL Comptroller, IL Secretary of State, James A Lovell Federal Health Care Center, Village of Lake in the Hills, Oasis Senior Advisors, PACE Bus Service, Paxxon Healthcare, Prairie State Legal Services, Senior Services Associates, The Pointe at Eastgate, United Insurance Services, Walgreens, Roadmap to Health, and Ardenrose.
Masks will be available but not required, and hand sanitizer will also be available at the event. For more information, please contact Hannah at hseaver@sgop.ilga.gov.
Illinois auditor general breaks down latest IDES audit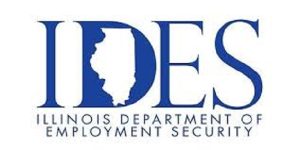 Reports continue to mount that show the Illinois Department of Employment Security (IDES) has been severely struggling for more than two years. The most recent audit conducted by the Illinois Auditor General (IAG) was released this week, and it shows similar findings of past reports which document mismanagement, dysfunction, and widespread fraud at the Pritzker agency.
The two-year audit shows 26 findings of non-compliance, including failure to prepare monthly reconciliations and weaknesses in security over confidential information, among many other concerning findings. It was noted that the massive disorganization regarding unemployment claimants continues to prevent auditors from determining the amount of fraud within the pandemic unemployment assistance (PUA) program.
According to the Department, more than 424,887 claimants had received benefits totaling $8.16 billion by June 30, 2021. Auditors were unable to conduct further testing to see whether those claimants were actually entitled to these benefits, or if they were fraudsters.
Illinois is one of several states that borrowed from federal taxpayer funds to pay unemployment claims during the pandemic. The state racked up $4.5 billion in debt with interest. After failing to fill the deficit this spring, the state still owes $1.8 billion.
Application period now open for energy bill assistance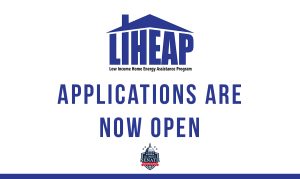 Low-income Illinois families can now begin to apply to receive utility bill assistance for natural gas, propane, and electricity through the Low-Income Home Energy Assistance Program (LIHEAP). The application period began September 1.
The amount of support families can receive varies based on the needs of the applicants, but 2021 recipients received an average of $1,330 per household. Annual eligibility levels are determined based on available funding and may not exceed 200 percent of the federal nonfarm poverty level. Additionally, families can also qualify for assistance with water and wastewater bills if their households are disconnected, in threat of disconnection, or if they are more than $50 in arrears on their current bill.
The eligible income thresholds can be found on the Help Illinois Families website. Families can also call the hotline at 1-833-711-0374 if they think they might be eligible for the program.
Official Illinois Bike Maps are now available
The Illinois Department of Transportation (IDOT) has announced new-and-improved Illinois Official Bike Maps this week. The new maps are said to be more user-friendly.
Maps for each of IDOT's nine districts include features and designs that offer more information on noteworthy stops and attractions easily accessible by bike, as well as details on attractions such as campgrounds, parks, and other points of interest.
To find a map or for more information, click here.