Increase in inflation outpaces experts' predictions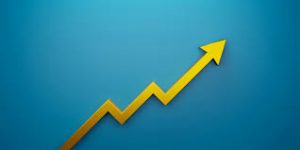 According to a recently released report by the National Bureau of Labor Statistics, inflation has increased to 9.1 percent, marking the largest 12-month increase since 1981. The increase outpaced the Dow Jones estimates, which had believed that the annual June inflation total would be at 8.8 percent.
Meanwhile, nationally, energy prices have soared 7.5 percent for the month and were up 41.6 percent over a 12-month period. Additionally, the food index was up by 10.4 percent over a 12-month period and has now increased by at least one percent for the sixth straight month.
Enough is enough. Legislators in Illinois have the ability to provide some real relief. If and when lawmakers return to Springfield for a special session, the General Assembly must enact legislation that puts real money back into the pockets of struggling Illinois families. We can do this by capping the state's sales tax on motor fuel at 18 cents per gallon and permanently eliminating the state's sales tax on groceries and medicine. I am a leading co-sponsor of this legislation. It was filed months ago and continues to be ignored by the Majority Party.
Meanwhile, the Governor appears to be satisfied publicly touting his temporary elimination of the sales tax on groceries and a six-month delay on the state's two-cent inflationary motor fuel tax increase.
July outreach events draw large crowds in the 33rd District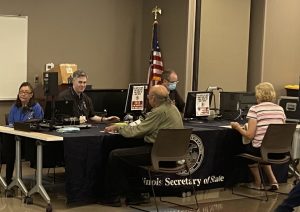 Thank you to everyone who attended my Mobile DMV event on Wednesday and the Conversations Untapped gathering on Thursday. We had great turnouts at both events.
On Wednesday, State Representative Dan Ugaste and I hosted the Secretary of State's mobile drivers' services team for a four-hour event in South Elgin. We greeted around 60 constituents who took advantage of the opportunity to skip the long lines at the brick-and-mortar DMV locations and complete their DMV transactions in a quick, convenient location. These events are always incredibly popular, and I will host another one in this area as soon as scheduling permits.

On Thursday, Senator Wilcox and I had a nice-sized crowd at Crystal Lake Brewing for our joint Conversations Untapped event. We discussed a lot of issues that have been grabbing big headlines lately, like gun control, and parental rights. We also took time to have one-on-one conversations with people about other issues of importance, like taxes, the cost of living, and continued pressures placed on Illinois businesses by state government.
Other upcoming events include:
Tuesday, August 23 Unclaimed Property Day: Representatives from the Illinois Treasurer's office will be at the Crystal Lake Library's Ames Meeting Room, 126 W Paddock St in Crystal Lake to help connect Illinoisans with more than $3.5 billion in unclaimed property and cash. One in four Illinoisans who search the state's database find items or money that is owed to them, so please take a few minutes to participate in this free event.
Wednesday, September 7 Senior Fair: Senate Minority Leader Dan McConchie and I are co-hosting a Senior Fair at the East Dundee Township Building, 665 Barrington Avenue, Carpentersville, from 10:00 AM until noon. A variety of local vendors will be on site to discuss and provide information about several local programs that benefit seniors. There will be free refreshments and health screenings.
Friday, September 16 Senior Fair: State Senator Craig Wilcox and I are co-hosting a free Senior Fair at McHenry County College, 8900 U.S. Route 14, Crystal Lake, from 9:00 AM until 11:00 AM. A variety of local vendors will be on site to discuss and provide information about several local programs that benefit seniors. There will be free refreshments and health screenings.
DCFS Director held in contempt for 12th time this year
On July 7, the Illinois Department of Children and Family Services (DCFS) Director Marc Smith was held in contempt of court for the 12th time since January.
The latest motion was filed by a Cook County Juvenile Court Judge because the Department has kept a 15-year-old girl in a psychiatric hospital even though she has been ready for discharge since Jan. 14.
According to the order, Marc Smith in his capacity as director of DCSF is held in contempt of court for ignoring a February court ruling that ordered Smith and the Department to place the girl by March 5. Instead of complying with that order, DCFS stated that it would place the girl by June 15, which it also failed to do. The girl has now been in a psychiatric hospital for more than 170 days since she could've been discharged, which led the Cook County Judge to place Smith under contempt of court and ordering him to pay a $1,000 per day fine beginning July 28 unless the girl is placed.
These hefty fines could potentially cost taxpayers thousands of dollars if Smith fails to comply with the judge's order. Despite the contempt orders and potential fines, Gov. JB Pritzker has continually backed Director Smith, who he appointed to the position in 2019.
Illinois businesses face tax increase due to unemployment insurance debt
According to the Wall Street Journal, Illinois is one of only four states that refused to fully repay the federally borrowed money used to fund unemployment benefits despite the fact that each state had a budget surplus. Illinois joins California, Connecticut and New York as states that chose to use budget surpluses for other priorities instead of paying back its debt to the federal government.
After the spring legislative session ended, Illinois still owed roughly $1.8 billion in its Unemployment Insurance (UI) Trust Fund even though the state increased its permanent operational budget by nearly $3 billion.
If that $1.8 billion debt, which is the second highest negative balance in the nation, isn't repaid by Nov. 10, the federal government will begin to charge $21 per employee annually on all businesses within the state next year. Additionally, businesses will be forced to pay a still undetermined higher state tax to fund Illinois' unemployment programs.
I believe strongly that state officials should have used this past year's $16 billion of unexpected revenue, which included $8.1 billion from the federal American Rescue Plan Act (ARPA), to shore up the UI Trust Fund. Now, Illinois businesses are preparing to pay the price for the Majority Party's decision.
Governor eases COVID mandates for select groups
After months of Executive Orders forcing individuals tied to certain professions to get vaccinated or tested weekly, Gov. JB Pritzker has finally eased up those mandates— but only for select professions and groups.
In a new Executive Order issued July 13, students and employees at higher education facilities are no longer under the vaccine mandate. Additionally, emergency medical service providers, including EMRs and EMTs had their mandate lifted.
Furthermore, unvaccinated health care staff will no longer be required to submit to weekly testing. Instead, long-term care facilities with the most vulnerable residents, including skilled nursing homes, will now test staff who haven't been fully vaccinated weekly if they are located in an area of moderate community level transmission, and twice weekly in areas of substantial or high community-level transmission.
Additionally, unvaccinated staff at hospitals and other health care facilities that are certified by the Centers for Medicare and Medicaid Services (CMS) will now be required to test weekly only if located in areas of high community-level transmission.
Vaccination mandates are also still in place for state-run 24/7 congregate care facilities and health care facilities not covered under the federal CMS vaccine mandate, which includes independent doctors' offices, dental offices, urgent-care facilities, and outpatient facilities.