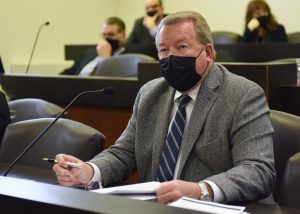 On February 15, the Joint Committee on Administrative Rules (JCAR) voted 9-0-2 to block Governor JB Pritzker's attempt to reissue emergency rules that would force school districts to enforce his mask, vaccine, and testing mandates. The vote was bipartisan, with three Democrats joining the committee's six Republicans in suspending the proposed rule. Following the vote, State Senator Donald DeWitte (R-St. Charles) issued the following statement:
"Rather than respecting a decision handed down by the judicial branch of government, Gov. Pritzker still insisted that he, and only he, should have unilateral control over every aspect of the pandemic response. By issuing essentially the same rule that had already been deemed null and void, even his Democrat allies on JCAR could not support him. Even they felt his reissuance of the rule went too far.
"With full knowledge of the court ruling, Governor Pritzker was essentially asking school districts to violate a constitutional right to due process that must be afforded to students and families. It was yet another example of his 'go it alone' attitude that shuts out all other coequal branches of government.
"As a courtesy, we offered IDPH and the Pritzker Administration the opportunity to withdraw their rule pending a decision by the Appellate Court. Instead, they chose to double down. They made a poor decision, and today they lost."