Hearing set for next week in case against Illinois Democrats' legislative maps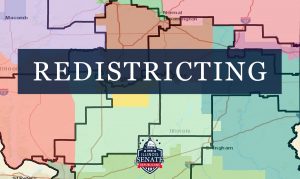 A three-judge federal court panel will begin hearing oral arguments next week in the McConchie v. Illinois State Board of Elections case, which argues that Illinois Democrats' legislative redistricting maps violate the U.S. Constitution and the federal Voting Rights Act of 1965.
The plaintiffs, Senate Republican Leader Dan McConchie and House Republican Leader Jim Durkin, along with the Mexican American Legal Defense and Educational Fund (MALDEF), say that the maps signed by Gov. Pritzker in September underrepresent minority groups. Despite the growth in the Latino population in Illinois, the September maps actually reduce the number of districts in which Latinos make up a majority of the voting age population.
Last month, Illinois Republicans were asked to file their proposed remedy with the court. Their remedial maps fix the flaws in the Democrats' politician-drawn maps by creating more districts with minority voting-age populations above 50 percent that will better provide voters the ability to elect candidates of their choice.
The plaintiffs' introduced map, created by the Republicans' legal redistricting team – not incumbent politicians – included:
11 Latino Citizen Voting Age Population (CVAP) House districts compared to only 4 Latino CVAP House Districts introduced in the Democrats' second map;
5 Latino CVAP Senate Districts compared to only 2 Latino CVAP Senate Districts introduced in the Democrats' second map; and
1 additional CVAP African American House District in the Metro East.
Next week's hearing comes after the three-judge panel already ruled the initial map drawn by Democrats and signed by Gov. Pritzker unconstitutional as it violated the Equal Protection Clause of the Fourteenth Amendment to the United States Constitution.
Oral arguments in the McConchie v. Illinois State Board of Elections, where Democrats will have to defend their second set of politically-drawn maps, are set to begin on Dec. 7, 2021.
Senate Republicans complete 19 listening tour town halls, 5 teleforums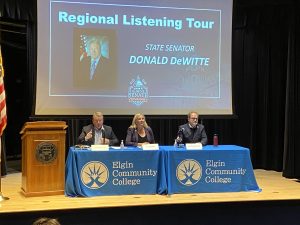 This week the Senate Republican Caucus completed a comprehensive, statewide listening tour that included 19 different town hall meetings and five regional teleforums. Each Republican Senator hosted a town hall in his/her legislative district, and neighboring Senators were invited to attend as special guests. For the 33rd District, I hosted a town hall meeting on November 17 at Elgin Community College. I was joined by Senate Minority Leader Dan McConchie (R-Hawthorn Woods) and Deputy Minority Leader Sue Rezin (R-Morris) for the two-hour in-person forum. In addition to hosting my own town hall, I attended town halls in Algonquin and Oswego as a special guest.
On Monday of this week, the three of us, plus State Senator John Curran (R-Downers Grove), participated in a teleforum, where we took questions for an hour over the phone from constituents. The goal of these town halls and teleforums was to hear directly from our constituents. By learning more about the priorities and opinions of those we represent, we are better able to take those priorities to Springfield and take votes that reflect the will of the people we serve.
Thank you to everyone who came out to one or more of these listening tour events.
Pritzker signs gerrymandered congressional map
Gov. Pritzker broke his campaign promise yet again last week when he signed legislation redrawing Illinois' congressional district maps. In 2019, Pritzker campaigned that he would veto any map drawn by politicians. Last week's signing marks the fourth time he went back on his word to the people of Illinois.
In fact, according to several news stories, as well as an admission from the House Speaker's office, Gov. Pritzker's office was directly involved in drafting the new congressional maps with lawmakers. One thing has become clear throughout the remapping process this year—Gov. Pritzker and his allies have no interest in doing what is best for the people of Illinois. By signing yet another gerrymandered map, he shows us all that power and control are what's most important to him.
Recalled children's items outlined in 2021 Shopping Guide ahead of the holidays
The holiday shopping season is upon us. Before making purchases for the little ones in your life this holiday season, check out the Attorney General's 2021 Safe Shopping Guide, which highlights hazardous toys, children's products and clothing items that have been recalled during the past year.
This year, the Safe Shopping Guide highlights more than 50 recalls issued by the U.S. Consumer Product Safety Commission. Descriptions of the children's products are accompanied by photographs to make hazardous products easier to identify. Descriptions also include actions families can take if they already have any of these products in their homes.
Click here to view the 2021 Safe Shopping Guide.
Illinois Rental Payment Program portal reopens on Dec. 6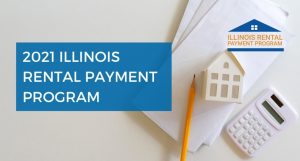 The portal for receipt of applications for rental assistance through the state's Rental Payment Program reopens next week on Monday, Dec. 6. Applications will be accepted through 11:59 p.m. on Jan. 9 at illinoishousinghelp.org.
Tenant eligibility requirements are as follows:
Household lives in Illinois and rents their home as their primary residence.
Household must have experienced a financial hardship directly or indirectly due to the pandemic.
Household income is below 80 percent of the Area Median Income (AMI), adjusted for household size.
Household must have an unpaid rent balance.
Proof of citizenship is not required.
Tenants residing in state-or-federally-subsidized housing are eligible to apply.
The portal was originally scheduled to reopen on Nov. 8. While the date for the program was delayed, money from this round will still be distributed to approved Illinoisans before the end of the year as originally scheduled.
Winter holiday safety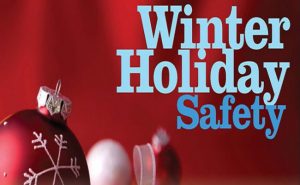 With the holidays in full swing, Illinoisans are beginning to get into the festive spirit by decorating their homes. As residents begin to spruce up their nests, the Illinois State Fire Marshal has some safety tips to keep in mind:
Be careful with holiday decorations. Make sure decorations are either flame-retardant or flame-resistant.
Keep lit candles at least 12 inches away from decorations or anything that can catch fire.
Keep children and pets away from lit candles.
Check to make sure holiday lights are rated for indoor or outdoor use, or both.
Replace any light strands that have worn or broken cords. Make sure to read the recommendation for number of light strings you can string together.
If you have a real Christmas tree, make sure to check water levels daily! It is not unusual for a tree to drink two gallons of water the first day it is in the stand.
Keep real Christmas trees away from a heat source. It can dry out the tree quickly.
Additionally, the State Fire Marshal suggests that if you are planning to host family and friends during the holidays, make sure they are aware of your fire escape plan.