Senator DeWitte to Host Listening Tour Town Hall on Nov. 17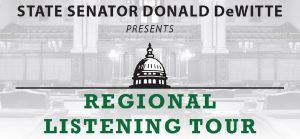 My staff and I are putting the finishing touches on a town hall meeting that will be held on Wednesday, Nov. 17 at Elgin Community College. The 6:00-8:00 p.m. event will take place in the Spartan Auditorium in Building G. The address is 1700 Spartan Drive, in Elgin.
I will be joined at this event by Senate Minority Leader Dan McConchie and Deputy Minority Leader Sue Rezin. All three of us serve on the Senate Republican Leadership Team. We will provide a short summary on key issues, and then open up the event to questions from the audience.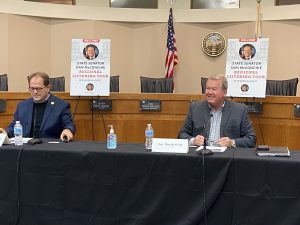 RSVPs are appreciated for this event. To reserve a spot, please register at: www.ILSenateGOP.org/DeWitteRLT.
Earlier this week it was my pleasure to join Leader McConchie at his town hall meeting in Algonquin. The current gerrymandered map splits the Village of Algonquin down the middle, so residents of this town have one of two different Senators depending on where they live. We had a great turnout and during the Q & A section, residents asked some really good questions. I'm looking forward to another successful event when the Senate Republicans' Listening Tour Town Hall comes to the heart of the 33rd District on Nov. 17. I hope you can join us.
Governor Signs Controversial COVID Carve-out in HCRCA
Despite unprecedented opposition from everyday Illinoisans who urged the General Assembly not to make exceptions within the Health Care Right of Conscience Act (HCRCA) for COVID-19 vaccines and testing, Gov. Pritzker signed Senate Bill 1169 into law on Nov. 8.
The HCRCA has been on the books for decades, and provides vital protections to Illinoisans. It prohibits any form of discrimination against individuals who refuse to take part in any healthcare service or procedure that is contrary to a person's religious beliefs, morals, or convictions. But when Gov. Pritzker unilaterally put vaccine mandates in place for many Illinois businesses and fields, Illinoisans pointed to protections guaranteed in the HCRCA and pushed back against the mandate. It was at this point, when the courts were poised to agree with plaintiffs challenging the Governor's authority on the issue, that Pritzker decided to create a carve-out within the HCRCA relative to COVID-19.
I voted against SB 1169 and believe the issue is bigger than vaccines. I believe the legislation sets a dangerous precedent that says it's OK to discriminate against or even fire someone who stands firm in their religious or personal convictions.
As the carve-out to the HCRCA moved through Springfield's committee process, legislators witnessed an unprecedented level of opposition from Illinoisans. Overall, close to 85,000 witness slips were filed in opposition to the legislation, with one amendment receiving more than 54,000 opposing witness slips. Democrats ignored these residents, and together with the Governor instead said it is OK for people to be discriminated against in the workplace and even to lose their jobs if they do not submit to the heavy hand of state government.
As written and signed by Gov. Pritzker, the COVID-19 carve-out takes effect on June 1, 2022.
Utility Assistance Still Available for Lower-Income Illinoisans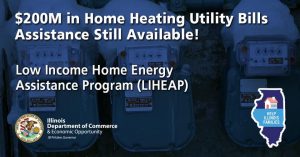 Funds made available through an expansion of the state's Low Income Household Energy Assistance Program (LIHEAP) are still available to qualifying households in Illinois. The remaining $200 million is made possible through ARPA funds. The LIHEAP program provides assistance to qualifying Illinoisans to help pay for heat and energy costs during the colder months.
The Citizens Utility Board (CUB) is hosting two upcoming online informational events where the LIHEAP program will be explained, and during the virtual events, residents will be able to ask questions during live Q & A sessions. A Nov. 17 session will be presented in English, and a Nov. 18 session will be presented in Spanish. Both will be streamed live on the Citizens Utility Board Facebook page. Learn more and access registration forms at http://helpillinoisfamilies.com.
Senators DeWitte, McConchie, and Wilcox Host Successful Senior Fair in Crystal Lake



On Friday, Nov. 12, I co-hosted a comprehensive, free senior fair with Leader McConchie and Senator Wilcox. In the main gym at McHenry County College, we brought together dozens of organizations and agencies that specialize in caring for the senior population. With CDC and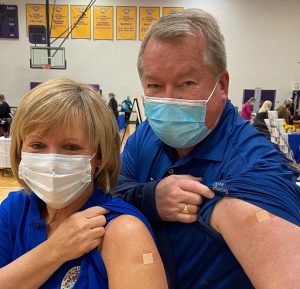 IDPH safety precautions in place, we had more than 120 seniors attend the two-hour event. My deepest thanks go out to the vendors who provided valuable information and giveaways to seniors, and I also thank everyone who attended.
Several attendees took advantage of COVID 1, 2, and booster shots and flu shots that were made available. As you can see from the photo to the right, my Chief of Staff Becky and I both got our COVID booster shots this morning.
Redistricting Lawsuit to be Heard in December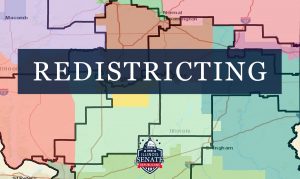 After declaring the initial legislative map drawn behind closed doors and signed into law by Gov. Pritzker as unconstitutional, a panel of three federal judges has set the week of Dec. 6 to hear challenges from a combined group of plaintiffs to the Democrats' second set of maps.
The set of maps in question establish the legislative boundaries for the 118 House and 59 Senate Districts that will be in place from 2022-2032. Multiple groups, including Senate Republican Leader Dan McConchie and House Republican Leader Jim Durkin, the Mexican American Legal Defense and Educational Fund (MALDEF), and the East St. Louis branch of the NAACP, are suing based on a belief that the Democrats' new redistricting maps still violate the U.S. Constitution and the federal Voting Rights Act of 1965.
During a Nov. 5 status call on the case, plaintiffs challenging the second set of maps agreed to submit their own maps or remedies to the court by Nov. 10. Defendants, which include Senate President Don Harmon and Speaker of the House Chris Welch, would then have until Nov. 22 to file a response.
U.S. District Judge Robert M. Dow Jr., who presides over the panel, said the case will be heard in an expedited manner, so as not to disrupt the 2022 election calendar, which allows candidates to begin circulating nominating petitions in mid-January.
Shoppers to Feel New Tax Pinch this Holiday Season
As shoppers use the internet to do their holiday shopping this year, many Illinoisans will notice a new spike in sales tax rates from online retailers. A change in state law now requires online retailers to charge the sales tax rate collected in the municipality where the shopper lives. For Chicagoans, this tax rate for online purchases is 10.25 percent. Prior to this year, online retailers like Amazon only had to charge the 6.25 percent state sales tax. Not too long ago, they were not required to charge sales taxes at all if they didn't have a physical brick-and-mortar presence in the state.
Due in large part to this new online sales tax law, sales tax revenue is up 17 percent in Illinois from January to September this year compared to the same period in 2019, prior to the pandemic. The new online sales tax legislation is just one of 24 tax and fee hikes that have been put in place since Gov. Pritzker took office. Through these increases, a combined $5.2 billion more has been spent by Illinois consumers.
Sen. DeWitte Launches 2021-2022 Youth Advisory Council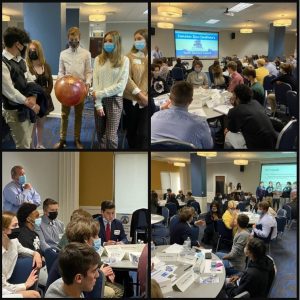 My 2021-2022 Youth Advisory Council got underway this week with a day-long session at Judson University in Elgin. High School juniors and seniors from throughout the 33rd Senate District had an opportunity to learn about state government. Students broke into small groups to discuss legislation they would like to see passed in Springfield, and after presentations by all of the groups, the students selected one legislative idea that would be the focus of our work this school year.
Students will continue refining their legislative initiative, and their proposal will be written into proper "bill" form. The group will then come to Springfield during the legislative session in the spring of 2022, and we will hold a mock hearing on their bill. While at the Capitol they will also have an opportunity to see their state government up close in action. I really enjoy the Youth Advisory Council and the excitement they bring to their sessions.
During our introductory session on Nov. 9, students got to hear inspirational and informative talks from Judson College President Dr. Gene Crume, Circuit Judge Susan Clancy Boles, and Schaumburg Village Manager Brian Townsend about their work in the public sector, and how kids can prepare themselves for public service jobs in the future. Thank you to these three amazing guest speakers!
IHDA Delays Reopening of Illinois Rental Payment Program Portal
The Illinois Housing Development Authority (IHDA) has delayed the reopening of the Illinois Rental Payment Program to Dec. 6. Applications will now be accepted beginning Dec. 6 through 11:59 p.m. on Jan. 9 at illinoishousinghelp.org.
Tenant eligibility requirements are as follows:
Household lives in Illinois and rents their home as their primary residence.
Household must have experienced a financial hardship directly or indirectly due to the pandemic.
Household income is below 80 percent of the Area Median Income (AMI), adjusted for household size.
Household must have an unpaid rent balance.
Proof of citizenship is not required.
Tenants residing in state-or-federally-subsidized housing are eligible to apply.
The portal was originally scheduled to reopen on Nov. 8. While the date for the program reopening is now delayed, money from this round will still be distributed to approved Illinoisans before the end of the year as originally scheduled.
For renters who are in need of immediate assistance, the Illinois Department of Human Services (IDHS) is currently accepting applications for rental assistance. Households looking for assistance should contact an IDHS Service Provider Agency to ask about rental assistance. Provider Agencies can help people determine if they are eligible and can help them apply for rental assistance. A list of Provider Agencies can be found at https://www.illinoisrentalassistance.org/.