Republicans push for state offices to resume operations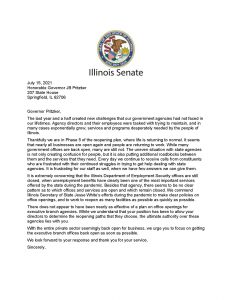 With the State of Illinois solidly in Phase 5 of the reopening plan, Senate Republicans continue their calls to have all state offices reopen, especially the Illinois Department of Employment Security (IDES), which continues to remain closed. These state agencies, especially IDES, provide critical services, and the prolonged closure of these agencies is becoming increasingly frustrating to Illinoisans. This week I joined several of my Senate Republican colleagues in sending a letter to Governor Pritzker, urging the reopening of all state offices.
While some state offices, such as the Illinois Secretary of State, have resumed full operations, others such as IDES remain inexplicably shuttered. This is creating confusion for residents and is adding unnecessary barriers to receiving state services.
IDES, which handles issues with unemployment benefits for employees throughout the state, has been closed for almost 500 days and continues to be criticized for fraud issues, the slow response time, and the backlog of unaddressed claims. The entire private sector is back open for business. There is no excuse for state offices to not be fully opened and operational.
DeWitte surprises Advocate Sherman Hospital employees with treats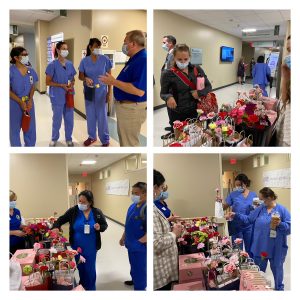 As Advocate Sherman Hospital celebrates 133 years of service to Elgin and the surrounding communities, this week I surprised 400 healthcare workers with "breakfast on the go" bags during the 7:00 AM shift change. As doctors, nurses, therapists, chaplains, and support staff personnel moved through the hospital's employee entrance, my staff and I greeted them and thanked them for their dedicated service. Each employee received a bag including a donut, a drink, and a flower.
The healthcare professionals at Sherman Hospital are frontline heroes, and they are deserving of our admiration and appreciation. I was struck by the smiles and pleasant demeanors of every individual who visited our treat table, from those who were coming off a 12-hour shift, to those who were just starting their day. We are incredibly fortunate in this region to have such bright and wonderful people providing quality care to residents, and this was just a small gesture to make sure they know their hard work does not go unnoticed.
DeWitte hosts busy week of events in 33rd Senate District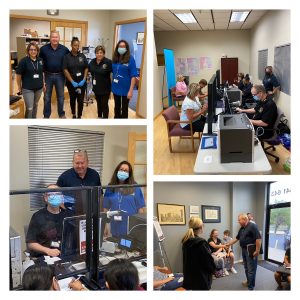 What a busy week of outreach events in the 33rd Senate District! I want to thank everyone who came out to events I held this week, including my Coffee & Conversation event in Algonquin and my Secretary of State DMV event on Thursday. I am especially pleased with the DMV event, as a mobile team was able to assist nearly 50 constituents at an event held at my West Dundee office. The talented SOS staff shown in the photo worked incredibly hard to move constituents through quickly and professionally. I received a lot of positive feedback from constituents, who appreciated the service and really appreciated not having to stand in long lines at regular DMV offices. As you can imagine, these mobile DMV events are in very high demand, and I'm told I can host another one in six months. Please visit my website www.SenatorDeWitte.com to learn about this and other upcoming events as plans come together.
But we're not done! Tomorrow I will be hosting a free COVID-19 vaccine clinic in Elgin in partnership with the Boys & Girls Club of Elgin and the Illinois Department of Public Health from 10:00 AM until 3:00 PM. The event will take place at the Boys & Girls Club of Elgin, located at 355 Dundee Ave. Vaccines are available for anyone age 12 and older. At this clinic, professionals from the Illinois Department of Public Health will be administering the following vaccines:
First dose Pfizer
Second dose Pfizer
Single-dose Johnson & Johnson (only one shot needed of J & J vaccine)
Those who attend this event will NOT have to show an ID or provide proof of insurance.
School-Aged Children 12+
As you may have heard, IDPH has issued new guidance for the wearing of masks in K-12 schools this fall, and those who are fully vaccinated will not have to wear masks unless they are riding a bus. The vaccine is available to anyone age 12 and older, and there will be plenty of vaccine supply available on Saturday for age 12+ students who would like to avoid the wearing of masks at school this fall.
College Students
Additionally, a growing number of colleges and universities in Illinois and neighboring states are requiring students to be fully vaccinated before the start of fall classes. These schools include the University of Illinois (Champaign-Urbana, Chicago, and Springfield campuses), Illinois State University, Northern Illinois University, Eastern Illinois University, DePaul University, Columbia College, Loyola University, and Northwestern University. I invite these students to get their required vaccine at my event this weekend. Again, both the Pfizer and the Johnson & Johnson vaccine will be available, and participants will leave the event with a vaccine card showing the date and type of vaccine they received.
We are accepting pre-registration appointments and walk-in appointments. To pre-register, click here. Otherwise, simply walk in to receive a vaccine.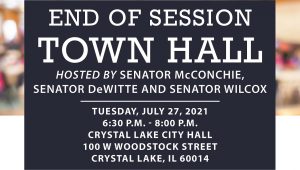 Looking ahead, on Tuesday, July 27, I will join Senate Republican Leader Dan McConchie and State Senator Craig Wilcox for a town hall meeting in Crystal Lake at City Hall, 100 W. Woodstock Street. This public event begins at 6:30 PM and will include a short PowerPoint that highlights the successes and challenges of the recently completed spring session, and we will leave plenty of time to take questions from those who attend the town hall. It's not often you get all three Senators who cover McHenry County into the same room for a public meeting, so please don't miss this opportunity to learn how your Senator has worked on your behalf this year, and to ask questions about issues that are important to you.
McConchie v. Illinois is underway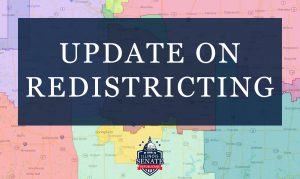 Preliminary hearings in the case of McConchie v. Illinois have begun. Filed by Senate Republican Leader Dan McConchie to challenge the partisan legislative maps signed into law earlier this year, the lawsuit had its first hearing on July 14.
Filed against Illinois House Speaker Emanuel Chris Welch, Illinois Senate President Don Harmon, the offices of the Speaker of the House and the Senate President, and the Illinois State Board of Elections and its members, the lawsuit argues that the American Community Survey (ACS) data used to draw the legislative maps violates federal law.
During redistricting hearings earlier this year, Republican lawmakers argued that the use of such inaccurate and outdated data would undercount minority, rural and growing communities throughout Illinois. Despite their requests to Democrat lawmakers urging them to wait for more accurate Census data to draw legislative borders, Majority party leaders pushed through partisan maps before the conclusion of the spring legislative session. On June 4, Gov. JB Pritzker broke his campaign promise and signed the gerrymandered legislative maps into law.
Republican lawmakers maintain, however, that ACS data violates the "one-person, one-vote" principles of the U.S. Constitution, making the maps unconstitutional. I am optimistic that the courts will agree to overturn the maps and allow for them to be drawn using accurate and comprehensive Census data.
Farmers and agribusinesses now eligible for emergency drought relief
Farmers and agricultural businesses are now eligible for emergency relief due to the ongoing drought in northern Illinois. Last week, Secretary of Agriculture Tom Vilsack designated McHenry and Kane Counties and 11 neighboring counties disaster areas, which allows farmers hurt by the drought to pursue emergency loans.
The US Small Business Administration subsequently made Economic Injury Disaster Loans available to small businesses such as agricultural cooperatives, aquaculture, farm markets, nurseries and others. Small businesses can learn more and apply through the SBA's online portal, at DisasterLoanAssistance.sba.gov/ela/s, or by calling 800-877-8339. Farmers can learn more about the drought loans and other recovery tools available to them at www.farmers.gov.
The eligibility area for the farm and SBA loans also includes Boone, Cook, DeKalb, DuPage, Kendall, Lake, LaSalle, Lee, Ogle, Will and Winnebago counties.
Legislation helps generational farmers
Recently signed legislation, which received bipartisan support in the General Assembly, will help farms and other family businesses navigate the often complicated process of estate planning. I was proud to support this bill.
Senate Bill 47 expands the use of the TODI (Transfer on Death Instrument), which allows for ownership of property to transfer upon the death of the owner. Under current Illinois law, the use of a TODI is only allowed for residential real estate including at least one residential dwelling, but no more than four dwellings, and containing 40 acres or less of farm ground. SB 47, however, allows a TODI to be used for all real estate, including farm ground. The legislation was proposed as a way to help farmers who frequently face challenges when it comes to passing on their operations to the next generation.
SB 47 was signed into law on July 9.
Sweet Victory for young entrepreneurs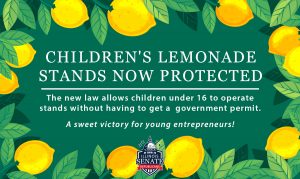 Legislation that aims to protect young entrepreneurs was recently signed by the Governor. Senate Bill 119, commonly known as Hayli's Law, will give children the freedom to operate lemonade stands without having to obtain a permit or license from local health departments. The legislation was in response to a report of an 11-year-old child in Illinois whose lemonade stand was shut down by the local city and county health department. Now, under Hayli's Law, the Illinois Department of Public Health or local health departments or districts are prohibited from regulating lemonade or nonalcoholic drink stands operated by a person under the age of 16. Senate Bill 119, which unanimously passed out of the General Assembly earlier this year, was signed into law on July 9.
IDNR now accepting applications for firearm and archery deer hunters
We may be in the dog days of summer, but the Illinois Department of Natural Resources has announced it is now accepting applications for youth firearm deer hunters and adult archery deer hunters for Fall 2021 deer hunting on private land through the Illinois Recreations Access Program (IRAP). Click here to learn more or to access an application.
IRAP also offers an Illinois Learn to Hunt program that provides FREE educational workshops aimed at teaching ADULT participants how to hunt deer, turkey, small game, upland game, and waterfowl.