Senator DeWitte to offer FREE two-shot Pfizer vaccine clinic
My summer events calendar is filling up with a variety of events for those who live in the 33rd Senate District, and I want to make you aware of a two-shot Pfizer vaccination clinic that I'm hosting with the Boys & Girls Club of Elgin that is coming up on June 26 and July 17. This free clinic is the perfect opportunity for children over the age of 12 to get vaccinated, especially if it is recommended for school or for sports teams. It is also a great time for those who want to be vaccinated but have not yet made arrangements. Participants do not have to show IDs or proof of insurance. You can use the QR code below to schedule an appointment, or you can email DeWitteVaccine@gmail.com to get help with registration. Walk-in appointments will also be available. Again, this event is free and open to everyone over the age of 12.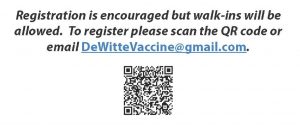 A partial list of summer events is listed below, but additional events will be added throughout the summer. Please visit senatordewitte.com for more information as event dates approach, but please mark your calendars now for these upcoming events:
June 24: Post Session Town Hall w Rep. Suzanne Ness, 11:30 AM – 1:00 PM at Emmett's in West Dundee (sponsored by the Northern Kane County and Elgin Chambers of Commerce)
June 26: Vaccine Clinic (first dose Pfizer) in collaboration with Elgin Boys & Girls Club (use QR code to pre-register or email DeWitteVaccine@gmail.com)
June 30: Mobile Office Hours, 9:30-11:30 AM in Geneva
July 15: Mobile Secretary of State DMV event, 10AM – 2PM
July 17: Vaccine Clinic (second dose Pfizer) in collaboration with Elgin Boys & Girls Club
July 29: Mobile Office Hours, 9:30-11:30 AM in Elgin
Aug. 12: Blood Drive in collaboration with Versiti Blood Center, 2:30 – 6:30 PM in St. Charles
Omnibus energy bill stalls again
When Senate President Don Harmon called Senators back to the Capitol for a one-day session on June 15, Senate Republicans were told to expect a vote on an omnibus energy bill that would eliminate coal-powered energy by 2035 and natural gas by 2045. In addition to closing the Prairie State Energy Campus and Springfield's City Water, Light and Power facility before the ends of their useful lives, the legislation included another massive bailout for scandal-ridden Excelon/ComEd, which has repeatedly threatened to close nuclear energy plants if the State did not provide significant financial support.
After waiting all day for a negotiated bill to be filed and heard, the Senate abruptly adjourned shortly before 6:00 p.m. after learning that no deal had been reached.
I favor a cleaner energy future for Illinois but believe environmental benchmarks must be balanced with what is best for ratepayers and the labor force.
Over the weekend leading up to the anticipated energy vote, a bipartisan group of 18 Senators and 34 members of the House sent a letter to Gov. Pritzker, urging him not to close the Prairie State Energy Campus and Springfield's City Water Light and Power facility. A similar letter signed by multiple labor groups was also sent to the Governor, and on June 14 the Illinois Manufacturing Association and the Illinois Retail Merchants Association chimed in with their opposition.
Negotiations are ongoing, and legislators expect to return to Springfield for at least one more day later this summer.
Sloppy FY 2022 budget requires legislative fix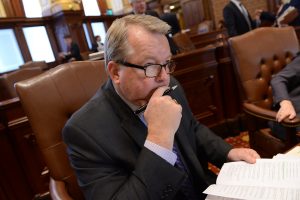 In the overnight hours of May 31-June 1, majority party Democrats rammed through a nearly 4,000-page budget that guides spending for the fiscal year that begins July 1, 2021. No committee hearing was held, and legislators were not provided with an adequate amount of time to read and understand the document.
As approved and sent to the Governor, the Fiscal Year (FY) 2022 budget had several drafting errors including the absence of many key effective dates. Without the effective dates, 85 percent of General Funds money could not be spent by State agencies until June of 2022, 11 months into the fiscal year. It was a sloppy mistake and one that could have been avoided if there was transparency within the budget process and if ample time had been provided for a thorough review of the lengthy document.
The budget fix required an amendatory veto by the Governor. While fixing the multiple drafting errors, the Governor could have used his veto pen to strike out the line item for legislative pay raises. Senate Republicans urged the Governor to do the right thing and remove legislative pay raises, but their request was ignored and the Governor kept the raises in the budget. Gov. Pritzker had an opportunity to right a wrong, but instead chose to go along with giving senators and state representatives an undeserved raise for FY 22.
Following adjournment on June 14, I issued an official statement on the lack of an energy bill vote and the need to clean up the Democrats' sloppy budget. Click here to read it.
'Fix' the FOID legislation clears General Assembly, includes optional fingerprinting
The House of Representatives took up a measure this week that had already passed the Senate on May 31, which would allow for individuals to voluntarily offer their fingerprints in exchange for a more automatic renewal of their FOID cards and CCL licenses. Approved by the House on June 15, the bill now heads to the Governor.
House Bill 562, as passed by both chambers, does the following:
Encourages but does not require fingerprinting. Those who agree to fingerprinting are granted a streamlined process for renewal of FOID cards and CCL licenses.
Requires person-to-person firearms transfers to be subject to the National Instant Criminal Background Check System (NICS) at a federal licensed firearms dealer or through online validation by Illinois State Police using NICS.
Requires seller to provide a record of a private transfer of a firearm to an FFL within 10 days of sale. Caps the fee that the FFL may charge at no more than $25. Requires FFLs to keep the record of transfer for 20 years. On the demand of a peace officer, transferees have to identify the FFL dealer maintaining the transfer record (penalty is a Class A misdemeanor).
Requires Illinois State Police to establish a public database of all firearms that have been reported stolen to be checked prior to the transfer of any firearm to prevent the inadvertent transfer of stolen firearms.
Tasks the Violent Crime Intelligence Task Force to conduct enforcement operations against those with revoked FOID Cards.
Rockton Chemical Fire
A massive explosion at a grease manufacturing plant in Rockton (near Rockford) created giant plumes of smoke and led to the evacuation of about 1,000 residents within a two-mile radius of the plant. Remarkably, more than 50 employees inside the Chemtool plant at the time of the explosion got out safely.
Fire officials were limited in their ability to use water to extinguish the fire due to environmental concerns over potential chemical runoff into the nearby Rock River. Instead, firefighters remained on alert as fluids that caught fire burn out on their own. An estimated 1,000 residents near the plant were evacuated. A disaster proclamation, which will allow for additional state help and potentially federal assistance, is in effect at least until June 21 across Winnebago County.
Capitol Complex to reopen to visitors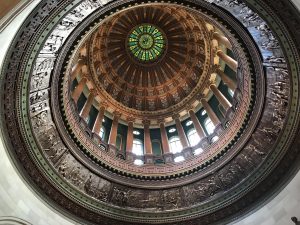 Since the start of the COVID-19 pandemic in March 2020, the Springfield Capitol has been closed to visitors. Even when senators returned to conduct business beginning in January of this year, residents were kept out of the building to help prevent the spread of the virus. As rules relaxed and the State of Illinois finally reached Phase 5 (full reopening) of Gov. Pritzker's Restore Illinois Plan, visitors were still banned from entering the Capitol and the Stratton Building. On June 15, Senate Republicans learned the Capitol and its accessory buildings will finally reopen to visitors on June 21.