Back For More – Legislators Return for Session
Lawmakers will return to the Capitol next week to take action on items that did not clear the Senate and House prior to our June 1 adjournment. The scheduled two-day session – June 15 for the Senate and June 16 for the House of Representatives – will likely include a vote on a controversial energy bill that is still being drafted. Proponents of the legislation say it will help lead Illinois toward a carbon-free future while keeping the state's nuclear power plants online. Opponents worry it may prematurely kill large numbers of coal-industry related jobs.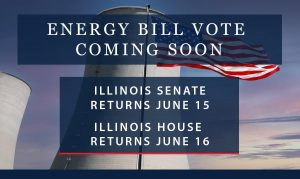 A negotiated energy bill almost came up for a vote during the final days of the Spring Session with a verbal agreement between Exelon and the Governor's office. However, due to disagreements among stakeholders and other aspects of the legislation, negotiations stalled before lawmakers left Springfield.
I have a strong opinion on energy legislation because many of the communities I represent rely on the Prairie State Energy Campus in Southern Illinois for power. Prairie State is slated for premature closing under the energy plan negotiated by Governor Pritzker. Communities across the state rely on this source of power, and if Prairie State is shuttered before the end of its useful life, those communities will face a significant financial burden as they are forced to find replacement sources of power in short order. This not only impacts municipal budgets, but those costs would be passed along to consumers in the form of higher utility bills and higher taxes.
Additionally, Prairie State and a second power provider (Springfield's City Water, Light and Power coal generation plant) employ 1,100 workers and support an additional 1,000 skilled union tradesmen and women in good, high paying jobs. Shutting these plants down prematurely will put these people out of work, stifling economic activity in areas of the state where jobs are often hard to come by.
Both plants have demonstrated a commitment to work toward mitigating CO2 emissions, and both have received significant grants in recent years to help with carbon capture research. Rather than closing these two plants, we should support this carbon capture research so they can become the bridge to a cleaner, more stable energy future for Illinois.
DeWitte Summer Events Calendar Coming Together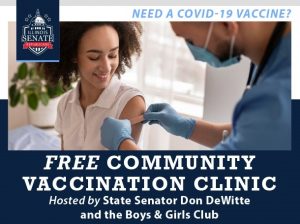 My staff and I are putting the finishing touches on a comprehensive summer calendar of community outreach events, and we're excited to once again be able to host face-to-face activities. Please visit my website senatordewitte.com for more information as event dates approach, but please mark your calendars now for these upcoming events:
June 24: Post Session Town Hall w Rep. Suzanne Ness, 8:00 -10:00 AM in West Dundee
June 26: Vaccine Clinic (first dose Pfizer) in collaboration with Elgin Boys & Girls Club (see QR code below to pre-register)
June 29: End of Session Wrap Up with Senate Minority Leader McConchie and Senator Craig Wilcox, 6:30-8:00 PM in Crystal Lake
June 30: Mobile Office Hours, 9:30-11:30 AM in Geneva
July 15: Mobile Secretary of State DMV event, 10AM – 2PM
July 17: Vaccine Clinic (second dose Pfizer) in collaboration with Elgin Boys & Girls Club
July 29: Mobile Office Hours, 9:30-11:30 AM in Elgin
Aug. 12: Blood Drive in collaboration with Versiti Blood Center, 2:30 – 6:30 PM in St. Charles
Broken Promises
Governor JB Pritzker broke his campaign promise to Illinoisans on June 4 when he signed two partisan, gerrymandered legislative maps into law that were drawn by Democrats behind closed doors.
Democratic lawmakers had rushed the map-making process forward despite the fact that federal U.S. Census data was not available yet. Majority party map-makers instead relied on outdated and less accurate American Community Survey (ACS) data. Numerous advocacy groups testified in redistricting hearings, pleading with Democrats to wait for the release of actual Census data later in the summer, but their requests were ignored.
As a candidate for Governor, Pritzker had repeatedly expressed his support for redistricting reform, going so far as to explicitly promise to veto any map drawn by politicians.
At a June 1 press conference, just a few days after the passage of the Democrats' maps, the Governor told reporters that he had not reviewed the maps but would be reviewing them soon. Three short days later, the Governor failed to live up to his campaign promise and signed both partisan maps into law.
In addition, the Governor also signed a similarly gerrymandered Supreme Court map. Despite the fact that the Supreme Court districts hadn't been changed in 60 years, Democrats had decided to redraw them this year. The Supreme Court remap effort follows a fall election in which a sitting Democratic Supreme Court Justice lost his retention vote, threatening the Democrats' majority on the high court.
Lawsuits Filed to Challenge Legislative Maps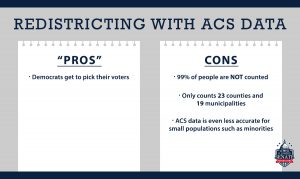 Illinois Senate Republican Leader Dan McConchie (R-Hawthorn Woods) and Illinois House Republican Leader Jim Durkin (R-Western Springs) filed a lawsuit yesterday in federal court to challenge the legislative maps drawn and passed by Illinois Democrats in the General Assembly and signed into law by Governor JB Pritzker. This morning a second suit was filed to block the new maps. In action filed in U.S. District Court and on behalf of several plaintiffs, the Mexican American Legal Defense Fund challenged the maps, claiming they improperly rely on ACS data rather than U.S. Census figures.
The Leaders' lawsuit argues that the use of American Community Survey (ACS) estimates violates the federal law, including well established "one-person, one-vote" principles under the U.S. Constitution. More than 50 good government and community advocacy organizations and leaders implored the General Assembly to wait for the release of official census counts, which are expected by August 16, 2021. The use of ACS estimates will undercount minority, rural and growing communities and will result in a population disparity between districts that exceeds what federal law allows. Even the U.S. Census Bureau has said that ACS estimates are not appropriate for drawing legislative boundaries.
The lawsuit requests that the court declare the Democrats' plan to be unconstitutional, invalid, and void ab initio. A copy of the Republican Leaders' filing can be found here.
Phase 5: Illinois Set To Fully Reopen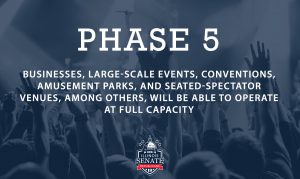 Illinoisans can officially return to near-normalcy after more than a year of COVID-19 restrictions, following the Governor's announcement of the move to Phase 5 effective June 11.
This change is just in time for kids to get out of school and for summer plans and trips to be scheduled.
Phase 5 will do the following:
All sectors of the economy reopen with businesses, schools, and recreation resuming to normal operations with new safety guidance and procedures
Large events, conventions, and festivals can resume
Moving to Phase 5 requires that testing, treatment, and tracing are widely available throughout the state, and that positivity rates and certain other COVID-19 metrics are below certain levels.
Recently, the Illinois State Board of Education voted for students to return to in-person learning this fall.
Car Insurance or Bust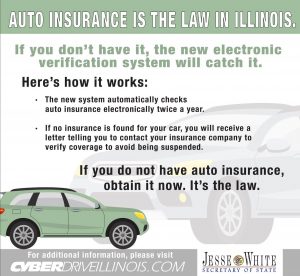 On July 1, the Secretary of State's office is launching a new electronic system of motor vehicle liability insurance verification. State law requires motorists to have a valid insurance policy for any vehicle with a current Illinois registration. The information on file with the State must also include an up-to-date address. If you need to update information regarding your vehicle registration, please do so online at www.cyberdriveillinois.com.
As the SOS office moves through the process of verifying that all vehicles in Illinois are attached to a proper address and a current liability insurance policy, those found to be in violation will see their vehicle registration suspended. The suspension can only be removed after the vehicle owner pays a $100 reinstatement fee and files a valid certificate of liability insurance for their vehicle electronically via www.ILIVS.com. Those who receive a letter of non-compliance from the SOS office should NOT go to the DMV, but instead should check verification of insurance online or by phone.