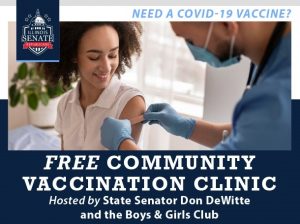 State Senator Donald DeWitte (R-St. Charles) is partnering with the Boys & Girls Club of Elgin for a two-shot Pfizer vaccination clinic on June 26 and July 17.
"We want to do everything we can to ensure that every Illinoisan who wants to be vaccinated against COVID-19 has easy access to two shots," said Sen. DeWitte. "We will have the capability of delivering up to 500 shots at each clinic."
The Illinois Department of Public Health will be administering the Pfizer COVID-19 vaccine, which is administered as a two-dose series, three weeks apart. Those who attend the first clinic on June 26 will need to be available to attend the second clinic on July 17.
1st Shot Clinic
Saturday, June 26, 2021
10:00 AM to 3:00 PM
Boys & Girls Club of Elgin
355 Dundee Ave.
Elgin, IL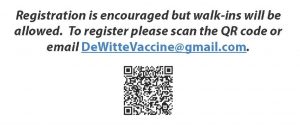 2nd Shot Clinic (must attend 1st shot clinic to be eligible
Saturday, July 17
10:00 AM to 3:00 PM
Boys & Girls Club of Elgin
355 Dundee Ave.
Elgin, IL
Participants can book an appointment ahead of time by emailing DeWitteVaccine@gmail.com to pre-register. Walk-in vaccinations will also be available, but limited.
"I want to stress that proof of insurance and identification is NOT required to receive these vaccinations," added Sen. DeWitte. "This clinic is open to all Illinoisans ages 12 and older."
While anyone ages 12 and older is eligible for a vaccine, parents will be required to sign a consent form for those under the age of 18. For additional information about this clinic, please contact Sen. DeWitte's district office at (847) 214-8245 or send an email to DeWitteVaccine@gmail.com.