DeWitte earns unanimous Senate support for PTELL legislation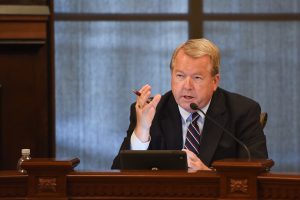 As frustrating and burdensome as property taxes are in this state, we must ensure our governmental entities that depend on those revenues to provide important public services that we rely upon are funded at expected levels. I'm pleased to announce that legislation I am sponsoring that improves local taxing bodies' ability to properly budget based on property assessment data received unanimous Senate support this week.
Senate Bill 508 is a technical change to the Property Tax Extension Limitation Law PTELL that will make a big difference for our local taxing districts, like schools, that rely on assessment data to properly budget and plan for issues such as programming and staffing. This measure is not a tax increase; it simply closes a loophole that has created unanticipated revenue reductions for taxing bodies.
Click here to learn more about this legislation and it's approval in the Senate.
Sen. DeWitte joins senior groups, state officials to require access to virtual visits with loved ones in nursing homes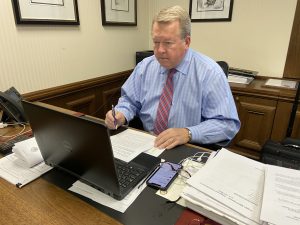 This week I joined other lawmakers and advocacy group leaders to urge passage of Senate Bill 2137, which requires virtual visitation options at long-term care facilities. SB 2137 would connect nursing home residents virtually with family members, loved ones, and to religious or recreational activities when in-person visits are prohibited or restricted due to federal or state rule or guidance.
The bill comes in the wake of 2020 research that shows that the harsh consequences of isolation and loneliness on a resident's quality of life are alarming: a 50% increased risk of developing dementia, a 32% increased risk of stroke, and a nearly fourfold increased risk of death among heart failure patients.
Click here to read more.
Senate Ethics Committee meets for first time this General Assembly
Despite a seemingly endless cycle of corruption news involving Illinois politicians, the Senate Ethics Committee finally held its first meeting of the 102nd General Assembly this week. It's important to note that other Senate committees have been meeting for almost four months now. Originally not listed on the week's committee schedule, the Ethics Committee meeting was posted late Tuesday night for a 9:00 AM meeting Wednesday morning. As a result, many who would have been interested in following the proceedings did not know about the meeting until after it was over.
The committee considered just one bill, Senate Bill 4, which is an omnibus bill that seeks to reform legislative ethics laws in Illinois. The legislation includes some good ideas but doesn't go nearly far enough to truly start rooting out corruption and rebuilding the public's trust.
In light of numerous indictments and charges against Illinois elected officials in recent months, Senate Republicans have filed a variety of ethics reform bills, none of which have been given a hearing. Some of these measures include:
Amending the State RICO law to give wiretap authority to state's attorneys to investigate crimes of public corruption.
Giving the Legislative Inspector General the ability to investigate and issue subpoenas without prior consent of the Legislative Ethics Commission (which is comprised of sitting lawmakers).
Prohibiting legislators from becoming lobbyists for at least one year after leaving office or until the end of their current term, whichever is longer.
I appreciate Senate Bill 4 as a starting point of a conversation, but believe much more work must be done if lawmakers are truly serious about changing Illinois' political culture.
Senate passes state and local tax deduction bill
Small businesses in Illinois, which suffer from some of the highest taxes in the nation, stand to benefit from legislation I am co-sponsoring (Senate Bill 2531) to alter tax deductions. The bill utilizes an IRS-approved method to allow pass-through entities to bypass the $10,000 cap on the State and Local Tax, or SALT, deduction.
This legislation has the potential to help up to 400,000 Illinois business owners save thousands of dollars annually on their federal tax filings. This bill does not cost the State of Illinois a penny as the tax savings are at the federal level. Currently, 14 other states have passed or are in the process of passing similar legislation. SB 2531 passed the Senate unanimously on April 21 and now heads to the House of Representatives for consideration.
Tax Freedom Day: How Illinois Compares
Tax Freedom Day represents how long into the year Americans must work before they have earned enough money to pay all federal, state, and local taxes for the year. Illinois ranks 45th of all the states with April 24 being our state's Tax Freedom Day. Some states, such as Alaska (ranking 1st), have tax freedom days as early as April 1. Click here to view all data for all 50 states.
National Prescription Drug Take Back Day is TODAY April 24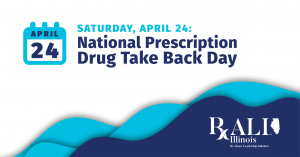 RALI, a nationally-recognized advocacy organization, is now doubling down on efforts to address the opioid crisis in communities throughout Illinois.
April 24 is Drug Take Back Day, when Illinoisans can all take proactive steps to dispose of old or unneeded medications by cleaning out their medicine cabinets to keep our state and its residents safer.
RALI brings members of the healthcare, education, law enforcement, social services, and mental health communities together to combat opioid misuse. One of RALI's biggest missions is educating the public on how they can safely dispose of unused medications that could potentially be misused by individuals with drug addictions. Drop-off sites for unused medications can be found here.
DeWitte to co-host document shredding event on May 8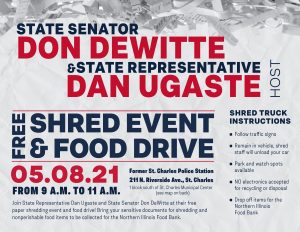 Mark your calendars now for a May 8 residential document shredding event I'll be co-hosting with State Representative Dan Ugaste (R-Geneva).
Residents can bring up to 2 boxes of paper documents they would like shredded to the event that will run from 9:00am—11:00am at the former St. Charles Police Station, 211 N. Riverside Ave (one block south of St. Charles Municipal Center). At the event, we will also be collecting non-perishable food donations for the Northern Illinois Food Bank.
The shred truck provides residents with a safe and secure way to dispose of sensitive documents like old bank statements, tax documents and receipts. People can just drive up and let our volunteers unload papers to be shredded and collect food items to be donated to the Food Bank. Parking will be available for those who wish to watch their items go through the shredder.
If you have any questions about the upcoming event, please contact my office at (847) 214-8245.
Sen. DeWitte hosts successful Youth Advisory Council event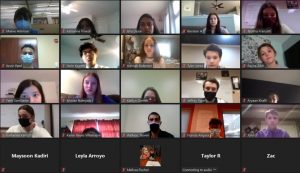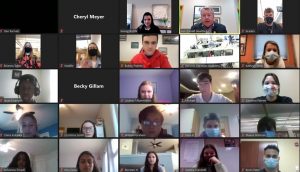 More than 50 high school students from the 33rd Senate District joined me this week for my annual Youth Advisory Council. The meeting, which typically takes place in person at the State Capitol, was held over Zoom due to COVID-19. Despite having to hold our event online, students were able to hear from and ask questions of some really great guest speakers.
Guest speakers included Springfield news reporter Hanna Meisel, who spoke about the career path that led her to the Illinois Capitol, motivational speaker Jeff McGoy, who provided useful advice for the students as they prepare for life beyond high school, and Springfield lobbyist Matt O'Shea, who shared personal stories about his path through legislative staff, to holding a seat in the Illinois Senate, to ultimately creating his own lobbying firm. They kept the students engaged and entertained as they spoke about various paths available to them post-high school, and how they can maximize their future successes.