JCAR agrees to emergency rule extending FOID and CCL validity for renewals caught in backlog
On Tuesday, the General Assembly's Joint Commission on Administrative Rules (JCAR) accepted an emergency rule from the Illinois State Police that provides a new 150-day extension to Illinoisans whose Firearms Owners Identification (FOID) cards or Concealed Carry Licenses (CCLs) have expired due to a huge backlog within the State Police's renewal system. Cards and licenses for affected individuals are now valid through July 18, 2021.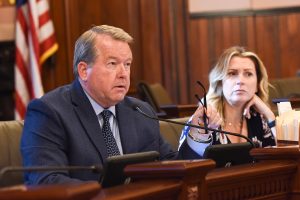 I am a member of JCAR and was pleased to see this extension rule come forward. Aside from unemployment issues, FOID and CCL problems are the top issue that causes constituents to contact my office. We field multiple calls and emails every week from folks who applied for their renewals months and months ago, who have heard nothing from the State Police Firearms Services Bureau. Right now, I have at least 30-35 open FOID and CCL constituent cases from law-abiding gun owners whose renewals are jammed up in the system.
It is important to note that while this extension provides temporary relief to some constituents, it does nothing to address lawful Illinoisans who have applied for a first-time FOID card and/or CCL, or those who are trying to process an address change or name change. I understand the State Police has hired additional staff to help with the backlog, but when people follow Illinois law to gain the proper identification needed to exercise their Second Amendment rights, and that documentation is delayed for unreasonable periods of time, there are Constitutionality concerns.
Bill Providing for Cell Phone Location in Emergencies Clears Senate Committee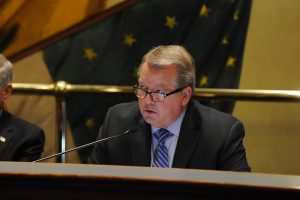 On Thursday, legislation that would allow law enforcement to pinpoint cell phone location in cases of kidnapping and other emergencies cleared the Senate Energy & Public Utilities Committee. This legislation, known as "Kelsey's Law," has already been enacted in 27 other states. I am proud to serve as a Chief Co-Sponsor of this important safety legislation.
Tragically, in 2007, Kelsey Smith was kidnapped and murdered. She had a cell phone on her, but law enforcement was unable to obtain her cell phone location until more than three days had passed. Through Senate Bill 2530, law enforcement would be able to quickly ascertain the location of a wireless telecommunications device if a person has been determined, by law enforcement, to be at risk of death or serious physical harm. The bill now moves to the Senate floor for full consideration and a vote.
Senators Utilize "Agreed Bill" List to Approve Non-Controversial Legislation
This year, just short of 2,900 Senate Bills were filed by Illinois' 59 Senators. In an effort to meet statutory deadlines for bill consideration, the Senate has decided to utilize a voting maneuver that has not been used for approximately 15 years— an "agreed bill" list. This procedural move will allow the Senate body to approve several bills under one sweeping vote.
The agreed bill list, which was drafted together by Senate Democrats and Republicans, includes legislation that is determined to be without controversy or opposition. Still, a mechanism is in place for senators to be recorded as a no, present, or not voting. As of this writing, I have had four bills advance from substantive committees. Two of my bills are included on the agreed bill list.
Senator Barickman and Representative Butler ask Gov. Pritzker to testify at redistricting meeting
Earlier this week, my colleague State Senator Jason Barickman (R-Bloomington) and State Representative Tim Butler (R-Springfield) sent a letter to Gov. JB Pritzker, asking that he or a high-level member of his administration testify at a joint Redistricting Committee meeting scheduled for Monday, April 19. Specifically, the legislators want to know if Gov. Pritzker plans to keep a campaign promise regarding the drawing of legislative maps.
When he was a candidate for Governor in 2018, JB Pritzker pledged to veto any legislative map that was in any way drawn by politicians. When a Springfield reporter asked: "Will you pledge as governor to veto any state legislative redistricting map proposal that is in any way drafted or created by legislators, political party leaders and/or their staffs or allies?", Pritzker replied, "Yes, I will pledge to veto. We should amend the constitution to create an independent commission to draw legislative maps, but in the meantime, I would urge Democrats and Republicans to agree to an independent commission to handle creating a new legislative map."
As redistricting committees and public hearings continue for the new map, I am advocating for Senate Bill 1325, which would place the map responsibilities in the hands of an independent commission. If you agree that the map-drawing process should be taken out of the hands of politicians and given to an independent commission, I invite you to sign my petition in favor of fair maps drawn by non-legislators.
Johnson & Johnson vaccine use temporarily suspended
In response to guidance from the Centers for Disease Control (CDC) and the Food and Drug Administration (FDA), use of the Johnson & Johnson single-dose COVID-19 vaccine was temporarily halted on Tuesday, after six women who received the vaccine developed a blood clotting issue. On Thursday, a seventh case was announced. According to the CDC, the rare clotting issue occurred 6-13 days after vaccination in women ranging in age from 18-48. More than 6.8 million doses of the Johnson & Johnson vaccine have been administered in the U.S., and Tuesday's suspension was announced just one day after Illinois officially expanded vaccine eligibility to all people age 16 and up.