Redistricting committee hearings continue to receive criticism
The Senate's Redistricting Committees continued hearings last week, with a Wednesday afternoon hearing held at the College of Lake County in Grayslake to seek input from residents of McHenry and Lake Counties. Hearings are being held across the state to seek input from the public on how to best draw a new legislative map.
Despite decennial census data not expected to be released until mid-August, Senate Democrats seem to be forging ahead with the map-making process using the much less accurate American Community Survey (ACS) data, which is a sampling of the population. Use of this data has the potential to disenfranchise voters and communities of color that have changed over the past ten years. I liken the use of "sample" data to draw maps to basing election results on poll numbers rather than the actual counting of each individual ballot. After spending millions to encourage all Illinoisans to participate in the U.S. Census, falling back on estimates rather than waiting on real numbers is wrong, and it shows us all how important it is to the Democrats to control the map process.
As hearings continue this week, I will continue to advocate for Senate Bill 1325 (the People's Independent Maps Act), which would create an independent map-making process—free of politicians. I am a proud Chief Co-Sponsor of SB 1325. Identical legislation has been supported by a group of bi-partisan legislators in previous years; however, not a single democrat legislator has expressed support for SB 1325.
Click here to learn more about the People's Independent Maps Act.
Sen. DeWitte champions bipartisan legislation benefitting nursing home seniors

Having first-hand knowledge of the challenges associated with long-term nursing home care and the challenges these facilities and their patients have had to face during the COVID-19 pandemic, this week I signed on as a Chief Co-Sponsor of legislation that addresses the isolation and other issues seniors experienced over the last year.
Senate Bill 2137 would require all long-term care facilities in Illinois to adopt and implement written policies and procedures to help prevent social isolation of nursing home residents, including making technology available for online visits with loved ones. The legislation sets forth specific requirements for addressing social isolation prevention and mandates that inspections of facilities include a determination of whether facilities are in compliance with social isolation prevention protocols. Adherence to the social isolation prevention policies would be a condition of licensure.
A recent survey of 365 nursing home residents in 26 states by the non-profit Altarum Institute produced startling results. Seventy-six percent of the respondents reported feeling lonelier under COVID-19 restrictions, and 64 percent said they didn't even leave their rooms to socialize with other nursing home residents while restrictions were heightened. The legislation is currently pending before the Senate Health Committee, where a hearing is scheduled for Tuesday, April 13.
Specifically, SB 2137 would require protocols be put in place that encourage and enable nursing home residents to engage in in-person contact via visitation schedules, and other social contact through use of technology, including access to technology that is cleaned regularly.
I did a TV news interview on Friday with Springfield's News Channel 20. Click here to watch that segment.
Sen. DeWitte co-hosts successful ACA Special Enrollment Period event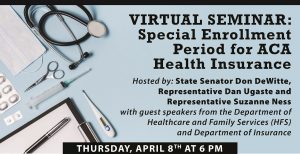 Thank you to all who participated in my informational session on Thursday about opportunities to enroll in Affordable Care Act Health Insurance or change plans within the ACA during the current Special Enrollment Period (SEP). We had close to 50 participates in the virtual event. State Representatives Dan Ugaste (R-Geneva) and Suzanne Ness (D-Crystal Lake) joined me in co-hosting this online event, and representatives of the Illinois Department of Healthcare and Family Services (HFS) and the Illinois Department of Insurance discussed the special enrollment period of the ACA Marketplace and provided information about the new SEP, including eligibility for the Medicaid program and how to enroll.
More than one million Illinoisans experienced unemployment over the last year during the COVID-19 pandemic, and many who lost their jobs also lost access to health care benefits. It was a pleasure to help connect those in need of health insurance with experts that could help them enroll or change plans.
Click here to view the PowerPoint that was used during the event.
Uptick in Scott's Law crashes cause concerns
With crash totals on the rise, I want to urge drivers to slow down and move over for stopped emergency vehicles. Scott's Law, known as the state's Move Over Law, is designed to protect law enforcement and emergency responders who are stopped along the side of roadways. However, Illinois State Police are warning that violations against this safety law are increasing at an alarming rate.
According to the Illinois State Police, Scott's Law crashes are significantly up from this time last year, with 12 crashes reported so far in 2021. At this time last year, two crashes had been reported. To address the uptick in crash occurrences, new legislation has been filed in the Senate to increase the penalty for Scott's Law violators. Senate Bill 1913, which was unanimously passed out of the Senate Criminal Law Committee on March 24, would give judges the authority to mandate community service hours to violators of the Move Over Law.
Illinois Surpasses 6.5 Million Vaccinations
Illinois continues to make significant progress in its efforts to vaccinate the public against COVID-19, and this week a new mass vaccination site opened in Elgin at the Eastside Recreation Center, 1080 East Chicago Street, in Elgin.
My deepest thanks go out to the City of Elgin, the Kane County Board and the Kane County Health Department for their work in launching this new vaccine site. While the mass vaccination clinics in Aurora and Batavia are providing great service to residents from the southern side of the County, this new clinic will provide for much more convenient access for those who live in the northern areas of Kane County. Especially for those living in underserved communities in Kane County's north side, this new facility is a welcome addition to our local effort to get as many people vaccinated as quickly as possible. This location is not limited to just Kane County residents, so those living in southern McHenry County may also find this new location more convenient
The Elgin vaccine site will be open six days per week with days and hours coordinated based on vaccine supply and availability. Registration is required for this vaccine site, and residents can get appointments through the www.kanevax.org web site, or by calling 855-452-6382. Those requiring additional assistance are encouraged to call the Illinois Vaccine Appointment Call Center at 833-621-1284.
Kane County Farm Bureau Foundation to Host  Touch-a Tractor Event
The Kane County Farm Bureau is hosting its 15th Annual Touch-a-Tractor event later this month on Friday, April 16 through Sunday, April 18. This annual event promises fun for the whole family. Visitors will be able to talk with local farmers and explore modern and antique tractors, and kids can climb into the seat of some tractors. Click here for more information.
McHenry County to Host Two Electronic Recycling Events in April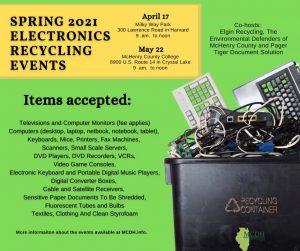 Electronics recycling is available in McHenry County Mondays through Saturdays in Crystal Lake at 5114 Terra Cotta Avenue. Special Saturday events are coming up on April 17 in Harvard and on May 22 in Crystal Lake (see graphic). There is a fee for recycling televisions and computer monitors, but most other items are accepted free of charge. In addition to these April and May events, plans are underway for a September 11 electronics recycling event at Woodstock North High school, and on October 16 at a location that has yet to be determined. Click here for more McHenry County information and exact fees for TVs and computer monitors.
Residents of Kane County have ongoing opportunities to drop off electronics recycling at the St. Charles branch of Kane County government operations, 540 S Randall Road, St. Charles. Year-round centers are also open in Batavia, West Dundee and Naperville. Click here for Kane County electronics recycling information and click here for specific event information.
Transportation projects scheduled in Kane and DuPage
On Thursday, Illinois Department of Transportation (IDOT) officials announced that multiple improvement projects in Kane and DuPage counties are scheduled to get underway this spring. Seven projects in the two counties represent a total investment of more than $41 million for the region.
Kane County projects include:
Illinois 31 (Lake Street) from Reagan Memorial Tollway (I-88) to Rathbone Avenue, Kane County
Resurfacing project with new ADA-compliant sidewalk ramps. Daily lane closures will be needed to complete the project, which is scheduled to begin this spring and completed this fall.
Illinois 31 (State Street) from Strom Drive to West Road, Kane County
Ongoing resurfacing project with new ADA-compliant sidewalk ramps, improved drainage, and repairs to the State Street bridge over U.S. 20 (Elgin Bypass). Daily lane closures needed to complete resurfacing work. The project started last summer and is anticipated to be completed this fall.
Illinois 47 at Main Street, Kane County
Ongoing project to replace the existing bridge, reconstruct the intersection and modernize traffic signals. One lane in each direction is maintained during construction. The project started in 2019 and is anticipated to be completed in summer 2022.
Illinois 72 (Oak Knoll Drive) at Getzelman Road/State Street, Kane County
Intersection improvement project, with new traffic signals, paving, ADA-compliant sidewalk ramps, along with improved drainage and lighting. One lane in each direction will be maintained on Illinois 72 during construction. State Street will be closed for several months and Getzelman Road will be closed for several weeks. Detours will be in place. The project is scheduled to begin this summer and completed in late 2022.
Passed in 2019, Rebuild Illinois is investing $33.2 billion into the state's aging transportation system, creating jobs and promoting economic growth. Rebuild Illinois is not only the largest capital program in state history but also the first one that touches all modes of Illinois transportation: roads and bridges, transit, waterways, freight and passenger rail, aviation, and bicycle and pedestrian accommodations.